On an August evening in 2015, a group of about 80 video game industry insiders and tech gurus crowded into a lounge on the top floor of the former AT&T Building in downtown Madison. The goal of the meetup, organized by the Madison Region Economic Partnership (MadREP), was to bring all the key players in Madison's video game scene — from studio executives to independent developers to University of Wisconsin-Madison researchers — together in the same room.
In the three decades that video game development has existed in Madison, that had never happened before.
"It was the first time that many of them were in the same room together with each other," said Craig Kettleson, enterprise development director with MadREP.
Many of those in the room were well-established in the industry. Tim Gerritsen, the business development director of Madison's Human Head Studios, had cut his teeth working on the popular Mechwarriors franchise on the West Coast in the early 1990s. Since then, he had overseen the development of games like "Bioshock Infinite" — one of the most critically celebrated and artistically influential releases of the last decade.
Mobile games were also represented: Forrest Woolworth, a young tech entrepreneur, had co-founded the company PerBlue with fellow computer science nerds in 2008 with the goal of making games for the then-new iPhone. PerBlue ended up releasing some of the most popular smartphone games on the market. "DragonSoul," one of its more recent titles, currently boasts about 9 million players worldwide.
Then there were the likes of Dan White and Dan Norton, co-founders of Filament Games, a company that many observers say has become a market leader in the realm of education-oriented games over the past decade.
It was in part because of such industry heavyweights that MadREP had organized the meeting at Filament's brand-new headquarters. The agency realized that Madison seemed to be poised for something special in the realm of video gaming. MadREP's hope was that by gathering all the major studios and independent developers in the same room, they would hammer out some ideas on how the industry could flourish.
What came out of the meeting was the Madison Games Alliance (MGA), a network of about 25 studios in the metropolitan area working together to change Madison from a deceptively quiet video game town into an internationally recognized hub of game activity.
"We're trying to say, 'We're here — we're on the map,'" said Gerritsen, who has become a leader of the initiative.
"When people say, 'Name the top five cities for video games,' we'd like to be on that list," said Jennifer Javornik, the vice president of sales for Filament Games and the executive director of the MGA.
The MGA faces some major hurdles to success. Just this past year, key players at the UW announced their resignations, leading to the disintegration of the Games+Learning+Society, one of the city's major gaming institutions that had helped put the city on the map as a center of video game scholarship.
On top of that, insiders say Madison faces other challenges toward growth — a lack of a formal talent pipeline and a risk-averse investment culture. Plus, the industry itself has a reputation of being high-risk and volatile.
Regardless of the challenges, the MGA is an initiative that companies say they're taking very seriously.
"We'll be doing business here for the next 30 years," said PerBlue CEO and co-founder Justin Beck. "It's in our best interest for Madison's game industry to thrive."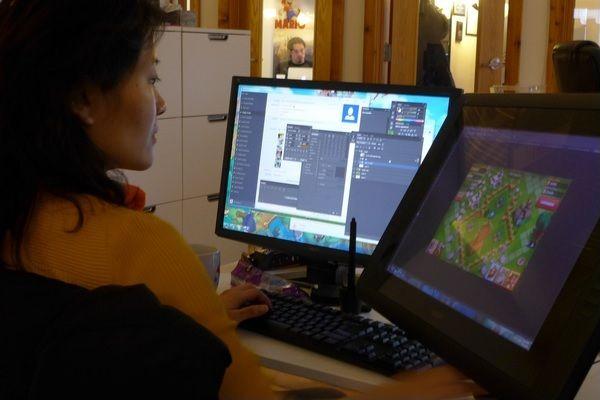 Well before they became members of the MGA, Tyler Krucas and Adam Heier were casual sports enthusiasts. They first became friends through recreational kickball. They later became business partners through disc golf.
It was after the two Madisonians bonded over hitting the chains at Token Creek County Park that Heier decided to show Krucas the hobby project he'd been working on: a video game for mobile devices called "Disc Golf: Unchained." Heier, an IT worker for an insurance company, had been inspired to try game design after watching a documentary on independent game production.
"I knew that I had the skill set to make games," Heier said. "I kind of just wanted to try it."
The game was a relatively straightforward recreation of disc golf — aim a throw, then swipe the screen to send a disc flying down the fairway. But Krucas quickly recognized that Heier's project was unique. Unlike other disc golf games, it took itself seriously — it took into account headwinds, disc size and composition, even whether the player opted to throw backhand or forehand.
"The flight engine is accurate enough where you can see the differences in how the discs fly," said Krucas.
Krucas wanted in. Before long, the two joined forces as the indie studio Local Route Labs to bring Heier's realistic simulator to disc golf junkies around the world.
Currently, their game has racked up tens of thousands of downloads on both Google Play and the Apple Store markets, all the more remarkable given that the game is still in an early testing phase.
The project says a lot about how video games have changed since Madison's video game scene first became active three decades ago. On the technical side of things, crude 8-bit sidescrollers like "Super Mario Bros." have been supplanted by sophisticated 3D juggernauts, many of which can often fit comfortably on the phone in your pocket.
Local Route Labs is also an example of the different faces of video game development that exist in today's landscape. While Madison's "big four" studios — Raven Software, Human Head, Filament and PerBlue — account for millions of dollars in economic activity in the region and employ almost 300 people, MadREP says there are more than 20 other independent development studios that provide economic stimuli in the eight-county region.
The organization estimates that there are 27 studios in the south-central Wisconsin cluster.
"There is a growing sense of development," said Gerritsen, adding: "There are places where there is just one studio in town."
There are various reasons why Madison developed its robust collection of video game studios. Some economic officials suggest that a Wisconsin history steeped in tabletop gaming has something to do with it — Gary Gygax invented Dungeons & Dragons in his hometown of Lake Geneva.
In fact, Brian and Steven Raffel have said that it was Dungeons & Dragons that inspired them to try making a computer game in 1990. The two brothers founded Raven Software, Madison's oldest and most well-known game studio, an important part of the growth of Madison's game scene.
Raven developed influential games like 1994's "CyClones," one of the first shooter games to use mouse-controlled aiming, and later titles like the "Star Wars: Jedi Outcast" games. Over the past six years, Raven has also played a key role in developing the "Call of Duty" franchise — one of the best-selling video game franchises ever.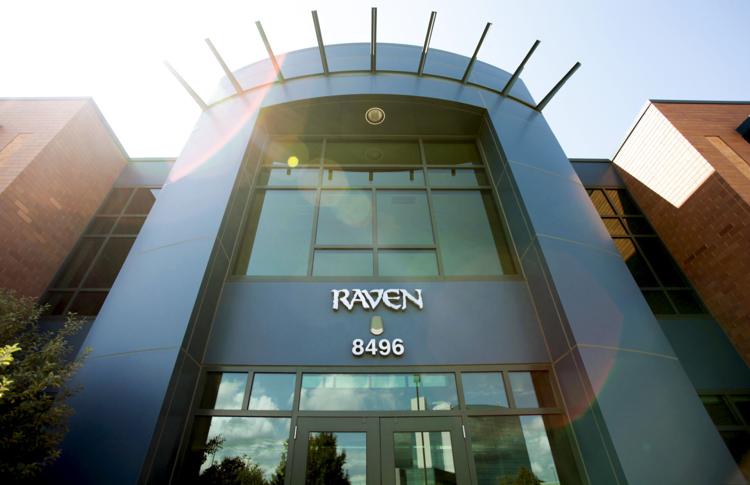 Some people say that the company, which today employs nearly 200 people at its studio in Middleton, has helped drive industry growth in the region in part by spurring the creation of offshoot projects. Human Head Studios, for example, was founded by a group of former Raven developers.
"Raven acts to this industry like Epic acts for digital health IT," said Kettleson. (Brian Raffel, who continues to serve as Raven's studio head, did not respond to requests for an interview.)
Others point to the the city's history as a hub of learning-centric games, which stems from the foundation of the Games+Learning+Society by UW-Madison professor James Gee in the mid-2000s. It was that center of scholarship that spawned Filament Games.
On top of that, there's the pedigree of the university itself — in particular, a computer sciences department with enough clout for the likes of Google to set up remote offices in Madison for recruitment purposes.
In the case of PerBlue, the founders say the comp sci department played a major role in their formation.
"A big part of why we started, and why we're in Madison, is all of us were from UW's computer sciences department," said Woolworth.
Economic development officials say there's enough activity in the area to treat Madison as a gaming-based business "cluster" — a group of firms connected within a shared geographical space, and at least in theory, a network that can be fostered into a larger engine of job growth.
There's a good reason for why MadREP has lately been focusing on a cluster-based development strategy: Researchers have pointed to clusters as building blocks of regional markets, and an important lens to use for assessing a given area's strengths and weaknesses economically.
According to Joseph Cortright, an economic development consultant in Portland, Oregon who has researched clusters for the Brookings Institution, the idea has been a hit with economic development officials across the country.
"There's a trendiness to the cluster term, a lot of people have adopted it — and bastardized it," he said.
What Cortright means is that it's all too easy to do cluster development "wrong." For one thing, he said, officials can try to create a cluster where there isn't one already. The desire to make something out of nothing is wishful thinking, he said — the best officials can do is nourish something that already exists.
Another flaw in cluster strategy thinking can be the "cheerleader approach," in which a state simply tries to boast about an industry to attract investment dollars or new talent.
"Almost every state has tried to implement this kind of strategy in the last 15-20 years. Close to all of them have not really worked," said Yasuyuki Motoyama, a senior research analyst with the Kauffman Foundation.
That said, there's reason to believe that the MGA is an example of a business cluster-focused initiative that has started on the right path. While that initial meeting at Filament Games may have been set up by MadREP, the group has become an industry-driven effort, not an agency-driven one — something Motoyama and Cortwright agreed is critical for success.
While the eventual goal may be to play cheerleader for Madison, MadREP's Kettleson said the more pressing goal is to address the barriers that seem to be hampering the industry's growth. Based on what he's heard, Kettleson said that the primary barrier is the acquisition of talent.
When insiders talk about Madison's strategic advantages and disadvantages when it comes to its video game workforce, it can at times sound like a paradox. Kettleson said the city's best asset is its talent pool — by that, he means the body of industry veterans like Gerritsen and the Raffels.
At the same time, Kettleson said the city's most immediate challenge is also, well, its talent pool. By that, he means everything else — developers, designers, artists, engineers. In particular, he said, senior managers can be tricky to find.
Getting talent often means appealing to people living on the West Coast in video game hubs like Seattle, San Francisco or Los Angeles, and making the case for Madison as a reasonable place for an experienced video game insider to move. That isn't an impossible sell. Leadership at PerBlue claims that they've been able to attract talent from the coasts because of the city's quality of life.Madison has appeal due to its low cost of living, family-friendliness, and its alternative transportation options.
Gerritsen also said that in his experience, Madison companies have consistently promoted a healthy work-life balance, which may play well to people who work for larger studios where major deadlines often mean developers have to work 80-plus hours a week.
That said, the city has its disadvantages.
"There are certainly a lot of great things Madison has going for it," said Kurt Squire, a UW-Madison digital media expert. "But we have to realize we're competing with some of the best cities in the world."
Squire said that one negative could be the political environment — video game developers typically gravitate toward progressive environments, he said, meaning the current Republican political dominance at the state level could scare recruits away.
Another downside could be the size of the city, and the relatively small number of businesses in the mix compared to other major hubs.
"Madison's small," said PerBlue's CEO Justin Beck. "That's why density long term is important."
It's no small consideration: One of the top concerns someone considering a relocation may have is whether they can find work in the field if the initial gig falls through.
In other words, said Javornik: "I'm going to move my life to Madison frickin' Wisconsin to work for PerBlue or whatever. What's going to happen when I run out of work?"
But developing a rich talent pool means more than just attracting talent from the coasts, said Kettleson. It also means figuring out how to interface with the existing talent in Madison — namely, talent that exists at the UW-Madison.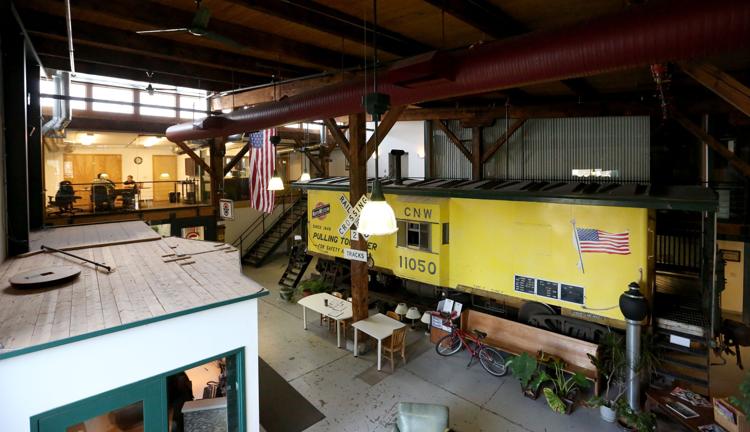 Mark Chae has wanted to make a video game ever since he played "Final Fantasy: Tactics" for his handheld PlayStation Portable as a teenager. He was obsessed with customizing the game's design, he recalls — he even ended up taking apart his device in order to hack into the hardware and modify the game.
"I really got into the idea of, 'I want to build something some day,'" he said.
Chae, a senior in the computer sciences department at the UW-Madison, did end up building something: He's currently the chief technology officer of the startup Squirel, a "demand economy" app that lets people buy food others make in their home kitchens.
But now, said Chae, he's interested in revisiting his original passion. He's recently turned up at MGA events, looking for people to talk to, seeking opportunities. He doesn't necessarily want a job, he said — he just wants to learn.
Students like Chae would seem to be the kind of new talent that Madison's industry needs. Through pure get-up-and-go spirit, Chae has found a way to network with video game developers in town. However, had he not shown up to MGA happy hours, it's not clear he would be on anyone's radar.
The lack of connection with local talent is a concern for Javornik.
"I suspect we hire more talent out of state than we hire in our own backyard," said Javornik. "A lot of the studios here hire people who are just done with the coasts."
Kettleson said that a lack of a clear bridge with the UW-Madison was a big challenge the industry would need to surmount.
"That has been deemed a gap," said Kettleson. "And we're working to close that."
Those concerns echo another development that recently sent shock waves through Madison's game scene: After over a decade at the university, two preeminent scholars on the learning attributes of video games are leaving the UW for supposedly greener pastures at the University of California-Irvine, citing concerns with the political climate at the UW-Madison. When Squire and Constance Steinkuehler go, the influential academic institution Games+Learning+Society — a program that brought millions of dollars-worth of gaming projects to the university — will shut down.
Strictly in terms of Madison's national reputation as a gaming hub, the departure of Squire and Steinkuehler has an impact, said video game industry expert Dmitri Williams, a professor with the USC Annenberg School for Communication and Journalism. The UW-Madison has long been regarded as a center of academic research on games, particularly with learning games and other "games for impact."
"Many of the original scholars have left," wrote Williams in an email. "The political climate in Wisconsin has become less attractive for top researchers."
Kettleson said there's no denying that the departure of Squire and Steinkuehler has been a blow.
"It's something that I didn't anticipate, that's for sure," said Kettleson. "When it was announced, there was a little bit of a seismic shift in terms of, 'What are we going to do?'"
Without the urging of the two academics, there's a chance that the alliance would never had been formed in the first place. The two were instrumental in pushing key players in the industry to get involved.
On top of that, the departure of the scholars means that a formal program centered around video game development will be unlikely — something that Squire and Steinkuehler had been pushing for.
Squire acknowledged that it's not necessary for the UW-Madison to offer a such a program — there are many courses that already exist within the computer sciences that touch on the core skills needed in the game industry, from design to 3D modeling. Plus, other institutions offer game development programs, from the Madison Media Institute to the UW's campuses in Menomonie and Whitewater — institutions that studios like Raven have been known to recruit from.
"I think having a game tie would be helpful, but I don't think it's critical," said PerBlue's Woolworth.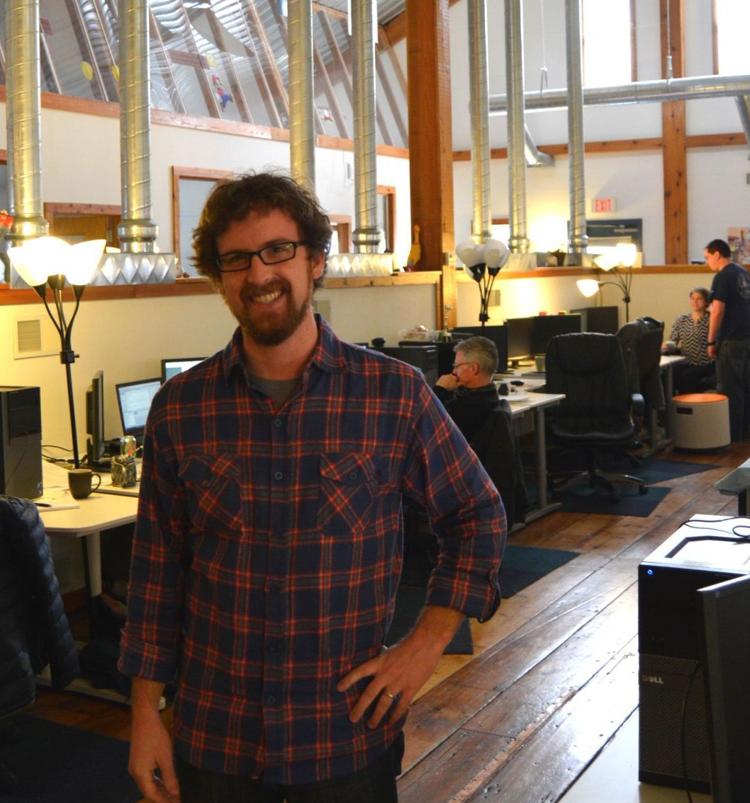 Beck agreed. He said that anyone from any background could get involved in video game production, so long as they had a spark to do it.
"It ignites the passion of talented people in all realms — art, engineering, writers, the works," he said.
Squire and Kettleson both see promise in another program: The burgeoning Human-Computer Interaction + Design program spearheaded by UW computer sciences professor Bilge Matlu. The track would be one that combines design with computer engineering, with a focus on emerging technologies.
Already, MGA members have met with Matlu to talk about the needs of the industry, and how to better connect the UW with the Madison industry.
Chae, for his part, said that if there had been a video game program offered at the university, he almost certainly would have tried it out. That said, he's more of a believer in learning through doing.
"If it had been up to me, I would have dropped out two years ago and got a developers degree and started working," said Chae.
The one thing stopping him from doing just that are his parents — they really want him to stay in school, he said.
There's another challenge that Madison's industry faces that's hypothetical in nature, and to some extent, out of officials' control: The risk of Madison's "big four" studios closing or relocating.
Many successful, renowned studios around the world have shut down over the last decade, despite track records of success. Even a studio that Gerritsen worked at for a brief stint, the Boston-based Irrational Games, suffered massive layoffs recently.
"Games are inherently risky," said Gerritsen. "We're a hit-driven business and hits make money while everyone else hopes to break even or make enough to move on to the next game."
It's possible that Human Head Studios itself dodged a bullet recently, when the game publisher Bethesda canceled a major project that the studio had sunk all its teeth into. Thanks to Gerritsen, Human Head was able to line up more projects in short order without taking too much of a hit — either financially, or in terms of credibility.
There's reason to believe that Madison companies may be relatively safe. Raven and Human Head predominantly work on developing games under contract for other studios, instead of solely developing their own material — a less risky path to tread.
On top of that, said Squire, there's a culture of risk aversion in the Midwest that may make companies less likely to shut down.
"When you think of all the classic Silicon Valley rhetoric of 'Fail early, fail often,' Madison doesn't look at failure as the same badge of honor," he said.
Kettleson believes that relocation could be a real threat, more so than closure. If MadREP doesn't succeed in creating more sources of talent, he said, he's afraid that studios may leave.
"If they can't gain a workforce, they begin to look elsewhere," said Kettleson. "We do need to meet their talent needs so that they don't bolt to the coasts."
Gerritsen acknowledged that Human Head has been courted often by officials elsewhere who offer tax incentives or other goodies for relocation. However, he said that he's never seriously considered the offers.
PerBlue's Woolworth said that initially, he didn't foresee staying in Madison — he imagined that like other developers, the team would eventually head to the coast. Now, he says, he's committed to the city.
Teams at Filament have likewise said they wouldn't likely consider a move.
For what it's worth, Squire said that he truly believes that the game studios in town are good actors with Madison's best interests at heart.
"We have uniquely good citizens," said "They really want to help the region."
The MGA has a to-do list that it believes will strengthen the industry in the near term.
For one thing, it's working with MadREP to do an in-depth analysis of the gaming subsector. That data, said Javornik, will reveal a wealth of information on everything from the actual economic impact of the industry to what the industry looks like in terms of diversity.
"Gamers are a really diverse bunch. And yet, in Madison, a lot of studios struggle to attract diverse talent," she said. "That's my suspicion — we don't have diverse studios in terms of gender, sexual orientation and race."
On top of that, the MGA is working on creating a "center of excellence" — a space in the proposed entrepreneurial hub StartingBlock geared toward creating a nexus where developers, freelancers, academics and government institutions could collaborate.
Such a space would enable some easy fixes to the workforce issue, suggested Kettleson — freelancers could connect with developers, while studios would be able to share workers on contract in times of need at "friend and family rates."
Eventually, once a better talent pipeline is cemented and a center of excellence is established, Kettleson hopes to begin broadcasting what's happening in Madison to the global industry, both through the initiative's website and perhaps even by creating a developers conference in town. MGA leaders say that such an event could showcase the city in the same way that the erstwhile GLS Conference did, all the while giving local tech talent an opportunity to learn about the trade.
At the current rate of progress, MGA leaders said, it's possible that they could hold their first conference by the end of 2017.
The hope is that such efforts would not only attract more talent, but investment, new projects from major studios and perhaps even studios that want to relocate too.
Most important for Kettleson is creating an economy that gives rise to new companies that can fuel job growth.
PerBlue's Beck said that he believes that the conditions are already ripe for people looking to get into game development to just do it. The primary hurdle there isn't any structural obstacle in Madison — rather, it's fear of taking a leap.
Beck and Woolworth said that's another way that the MGA could play a beneficial role: by providing models for what's possible to entrepreneurial game nerds.
"A big part of it is leading by example," said Woolworth.
PerBlue in and of itself could be seen as such an exemplar. The company was founded by a handful of UW-Madison students willing to take a risk on a new, emergent technology.
Now, their games have become blockbusters, and just recently, PerBlue announced that its game "DragonSoul" had been bought by GREE International Entertainment. The price tag? $35 million.
"With PerBlue, you saw you can take a bet on a studio — and you can win," said Kettleson.
The studio puts its money where its mouth is when it comes to modeling that success. Just recently, PerBlue gave a tour of their studios to Krucas and Heier — the two entrepreneurs behind the "Disc Golf: Unchained" mobile app.
Krucas said it's a great example of how welcome he's felt getting exposure to Madison's video game scene for the first time. It was only three months ago, he said, that he became aware of all the activity going on in the area.
Now, he and Local Route Games have decided to sign up as members with the MGA. He said he feels privileged to have a seat at the table in Madison.
"I couldn't see myself moving anywhere else," he said.