Before she started teaching at Madison's Black Hawk Middle School this year, Deidre Green developed an attribute all teachers need: eyes in the back of her head. She got them working as managing editor of the Simpson Street Free Press.
"From my desk in the back of the room, I could watch the entire newsroom and pay attention to everything," she said. "I could notice if a kid was up and walking around, not on task. Now, as a classroom teacher ...having that keen sense of what is happening with all of my kids is something that I'm used to."
For 25 years, staff at the Simpson Street Free Press have refined what works to help kids become successful students, maintaining an innovative spirit in both education and journalism. They ground their work in academic outcomes, cultivating a pipeline where students write, learn to edit and sometimes return to work or volunteer as adults. In addition, they have adapted to changing demographics in Dane County and shrinking resources for print journalists.
The after-school program supports 260 student reporters from schools across Dane County. Students write editorials and cover local events. There are also stories about history, technology and the environment. Its office in South Towne Mall on Madison's south side is Dane County's first "all-academics" youth center, which means there are no ping-pong tables or board games. Students are there to work, not play. Its curriculum covers topics across subject areas, with a focus on research, reading comprehension and writing.
In its 2016 annual report, Simpson Street touted that over 90 percent of its students improved their school grades in the 2015-2016 school year. Ninety-four percent of Simpson Street students had an attendance rate of 90 percent or better in the fall 2016 semester.
"Academic confidence is a real mantra for us… it is absolutely central to getting over these unacceptable (academic) disparities this community faces," said Jim Kramer, executive director of the Simpson Street Free Press. "We lose generation after generation of kids to the cancer of low expectations."
Multiple rounds of edits from their peers and adults encourage students to refine their craft. The idea is if students are invested in turning in their best work for the paper, that commitment to excellence will benefit them in all of their classes.
This notion is what brought Jewel Adams to the Free Press' door over eight years ago. A longtime south side resident, Adams remembers Simpson Street kids "always had books in their hands," and she was impressed by their professionalism. Students clock in and out each day and carry business cards.
Adams said her son, a talented athlete, struggled in math but lacked the confidence to ask for help. She said Simpson Street was one of the only after-school programs in the neighborhood she could find with an academic focus.  
"It's fun to have something going on in the gym for sports, but we need more academics for our kids," Adams said. "When it came down to getting him that material (for school) I had to run to Simpson Street Free Press for it."
She remembers how excited her son was after seeing his first article in print.
"Oh, I could have cried," she said.
"He used to tell me, 'Mom, I'm college material,'" she said. "He started digging a little deeper, studying an hour more, staying a little longer. He learned how to ask for help here … they opened him up to learning."
Today, Adams' son is in his second year at Southern Illinois University.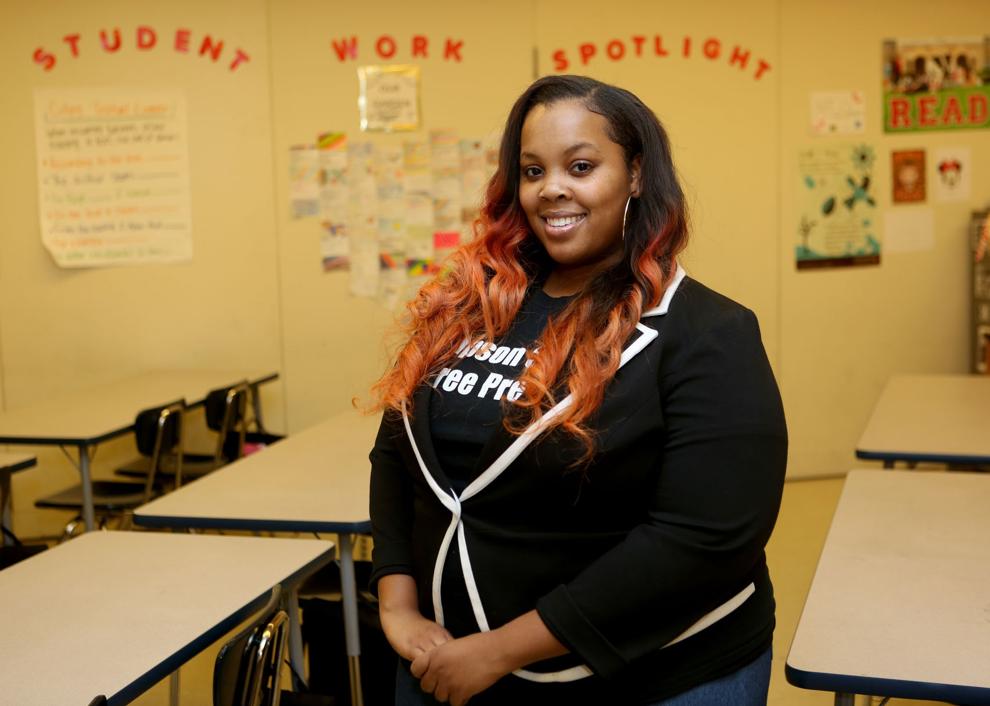 Simpson Street Free Press started as a free monthly newspaper in the Broadway-Simpson neighborhood on Madison's south side, just south of Lake Monona, in 1992. Six students from La Follette High School — Keysha McCann, Tammy Washington, Tasha Bell, Patricia Bell, Dee Graham and Tomiko Osbey — wanted a platform for teens to share their thoughts and combat what they saw as negative stereotypes and incomplete coverage about their neighborhood in the mainstream media.
Fannie Mims, president of the now defunct Broadway-Simpson neighborhood association (now called the Bridge-Lakepoint-Waunona neighborhood) and Kramer, a resident and volunteer, served as adult editors for the fledgling paper. They helped the teens hone their voices as they wrote about violence, teen pregnancy, domestic abuse and other issues that were important to them.
By 1998, Simpson Street welcomed teens from all over Madison to write for the paper. Through donations, Kramer and Mims were able to pay students modest stipends for their work, which continues today.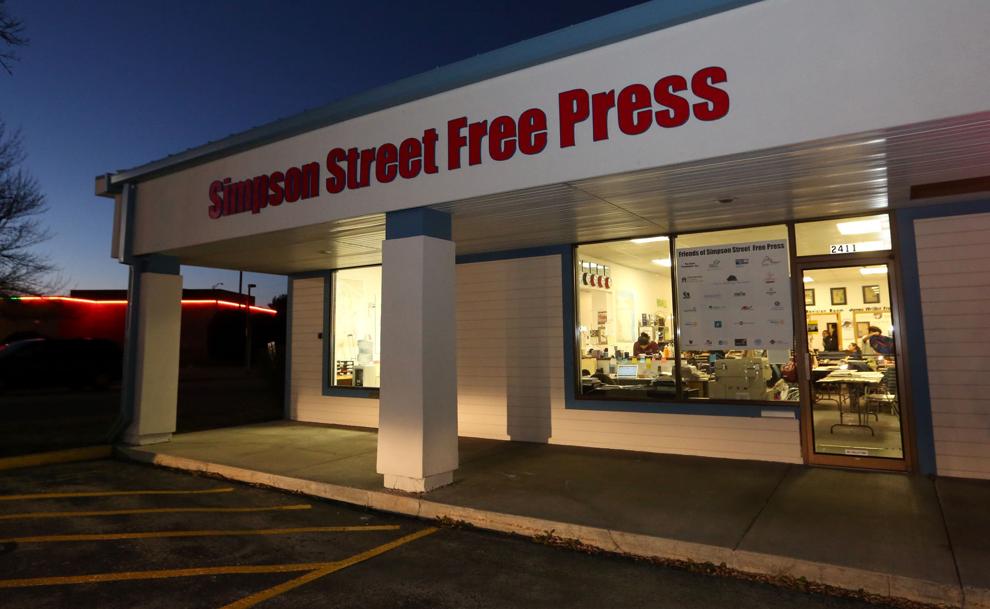 "The question was, how do you get kids to want to work on spelling and grammar?" said Kramer. "Our solution was to have a newspaper. The writers were the kids and they get paid, but only if their work is good enough to get into the paper. That basic formula led kids to want to do the third, fourth and fifth drafts… polish and catch mistakes."
In addition to the original newspaper bearing its name, Simpson Street now has five other publications, including Sennett Free Press, Falk Free Press and Glendale Free Press. Wright Free Press students work at Capital Newspapers — home of the Cap Times and the Wisconsin State Journal — one block south of their school on Fish Hatchery Road. There is also a Spanish-language publication, La Prensa Libre de Simpson Street. Students have flexibility in the schedules, and most clock in a little over four hours each week.
After 25 years, a generation of Dane County students have benefited from the Free Press.
Simpson Street champions its "pipeline model" to professionally develop its staff. Students join the program as early as second grade and move up the ranks. If they demonstrate a commitment to the work and a knack for helping others, they are promoted to teen editors in high school.
Cris Cruz, 15, a West High School sophomore, joined Simpson Street when he was a student at Chavez Elementary School. Today, his two younger siblings are also in the program.
Cris is a teen editor for both the Simpson Street Free Press and his alma mater, the Wright Free Press.
"I thought it was really cool how I started off there, people helped me and now I am a teen editor," he said. "I think it is really cool that I am able to help other kids in this giving back cycle."
Adams, whose son attends Southern Illinois University,  also has a granddaughter at Memorial High School who writes for the Simpson Street Free Press.
"I have six more grandkids on the way here because I believe in Simpson Street and what they do," Adams said.
If students remain in Madison after graduating high school, some of them become adult editors.
Taylor Kilgore joined the Free Press in eighth grade and graduated from the University of Wisconsin-Madison in December where she majored in journalism and mass communications. As the managing editor at Simpson Street, she has stepped into Deidre Green's shoes and provides one-on-one writing support for students. She also oversees daily operations at the Simpson Street and Wright Free Press locations. Like Green, Kilgore joined the Free Press as a student at Sennett Middle School and stayed on though high school at La Follette and college at UW- Madison.
Kilgore said there are "huge benefits" in continuing to work at Simpson Street after high school, and adult staff are committed to investing in younger students.
"We definitely push people to prepare for the role," Kilgore said. "We give (teen editors) more and more responsibility here and there to see how they do.
"If they remain in Madison for college, some stay on," she said.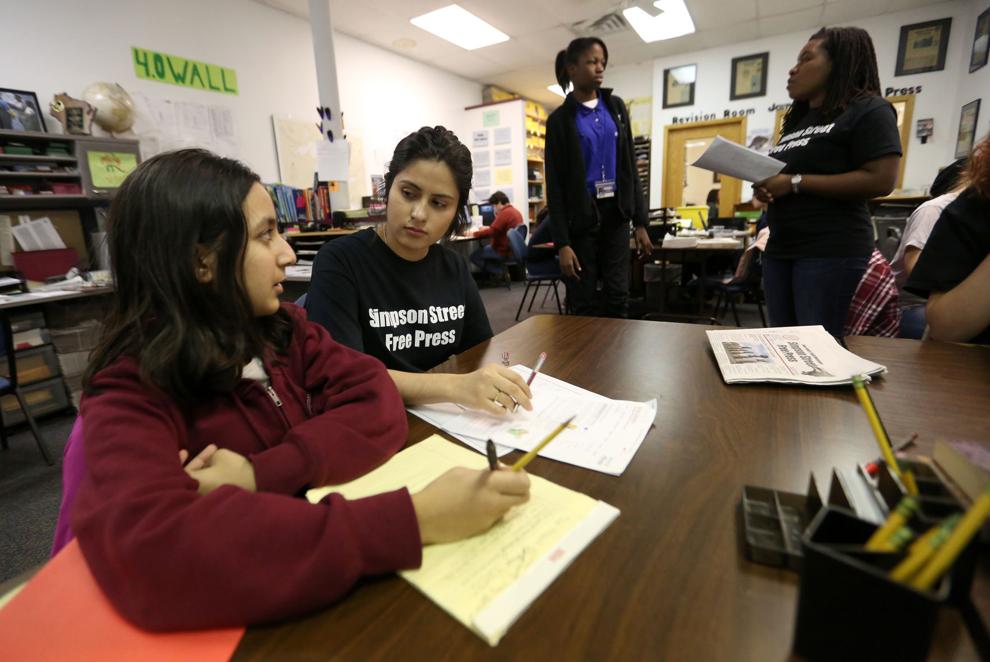 As the Madison area's student population has changed over the last two decades, the Simpson Street Free Press has adapted to meet the needs of a diversified student body.
In Dane County schools, the percentage of multilingual students has risen over the last 10 years. According to data from the Wisconsin Department of Public Instruction, about 22 percent of Madison Metropolitan School District students were English language learners in the 2016-2017 school year. Just over 14 percent of Verona public school students were ELLs last school year, followed by 7.5 percent in Sun Prairie and 5.5 percent in the Middleton-Cross Plains Area School District.  Students from all of these districts work at Simpson Street.
In 2006, as a teen editor at the Glendale Free Press on Madison's south-east side, Gloria Justo remembers working with young bilingual students. 
"I noticed that a lot of the English language learners were struggling with their English grammar," Justo said. "They were also not very good at Spanish. They were kind of stuck in the middle."
When Justo graduated from the UW-Madison, she returned to Simpson Street as an adult editor and helped launch La Prensa Libre de Simpson Street in 2013, just as MMSD's first class of dual-language immersion students entered high school. 
"It was the perfect time to do it," Justo said.
Students who speak Spanish as their first language and DLI students make up the majority of La Prensa contributors. Kramer said he wants students to acquire practical language skills through working across the curriculum and across languages.
 "We started with 22 kids," Kramer said. "Within months, we were just inundated with parents and kids trying to sign up for the La Prensa program.
"La Prensa isn't just a Spanish-language newspaper… I want kids to acquire these very practical language skills and really feel powerful in how they use the language."
Today, 75 students from across the Free Press bureaus contribute to La Prensa. They all write stories in Spanish and English.
"When you have a model that works, a lesson plan that works, I feel like it doesn't matter what language it is in. That is what made it easy to add another component to it," Justo said.
Students say working at the Free Press helped them to see being bilingual as an asset.
Jacqueline Zuniga Paiz, a freshman at the UW-Madison, remembers feeling ostracized in elementary school because Spanish was her first language.
"I remember vividly being put into separate groups with other students who were bilingual or multilingual and being taught at a slower pace," she said. "When I spoke Spanish in school, people would look at me weird."
 Zuniga Paiz joined the Free Press in middle school and said it was the first time she was able to use her Spanish in an academic setting.
"(Simpson Street) is where I started really seeing my Spanish-speaking abilities as a good thing. I was super excited to have the ability to practice writing articles in Spanish because I didn't learn it anywhere else," she said.
Sarah Useche is a freshman at Madison College who also started working at Simpson Street in middle school. She credits the paper with helping her master both English and Spanish.
"Being bilingual, I struggled a bit being proficient in both languages. Coming to a place that helped me not only with my English, but also my Spanish, really helped my writing and confidence," she said.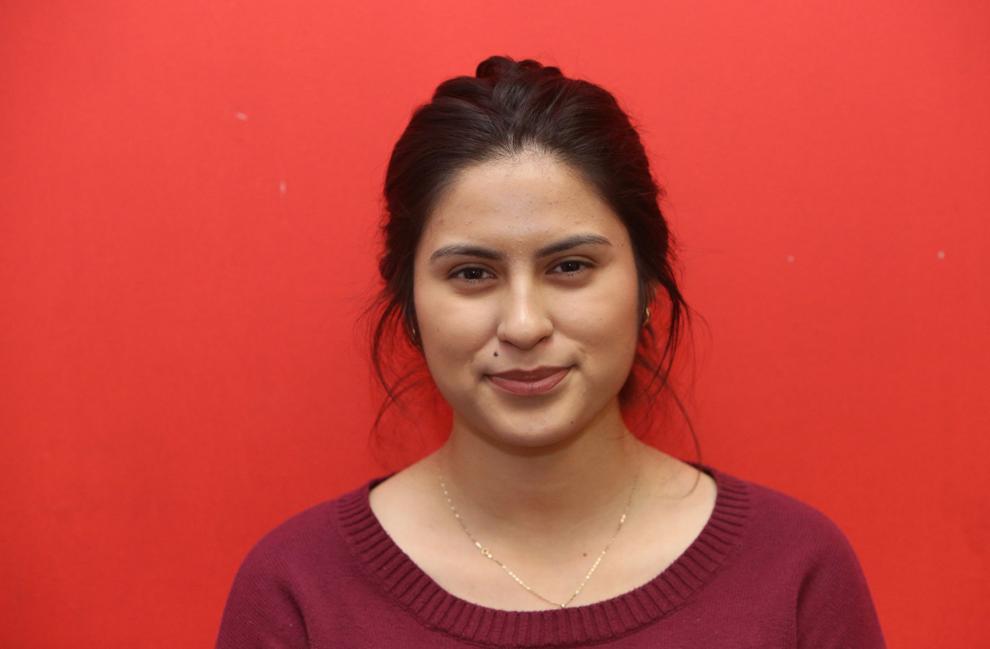 "Sometimes schools will make you feel like being bilingual is a bad thing. Here, we really stress it's an advantage."
After contributing to La Prensa as student writers, Useche and Zuniga Paiz are now adult editors and inspire bilingual students like Laura Rivera, 13, an eighth-grader at Sennett Middle School, who joined Simpson Street earlier this year.
"I was thinking, 'Nobody here knows Spanish. My vocabulary sucks. I'm not going to make it,'" Laura said. "Then, I met these two women who are always helping me."
Before joining Simpson Street, Laura said she was struggling academically and "hanging out with the wrong crowd." Making friends with kids at Simpson Street helped her raise her GPA by two letter grades and take school more seriously.
"Here, I met a bunch of positive people and they actually showed me how to love (reading and writing)," she said.
Now, she's started to think about college.
"I have a life to work for and I have a future that I'm looking forward to," she said."I deserve to be able to go to college and I know this place is going to help me a lot."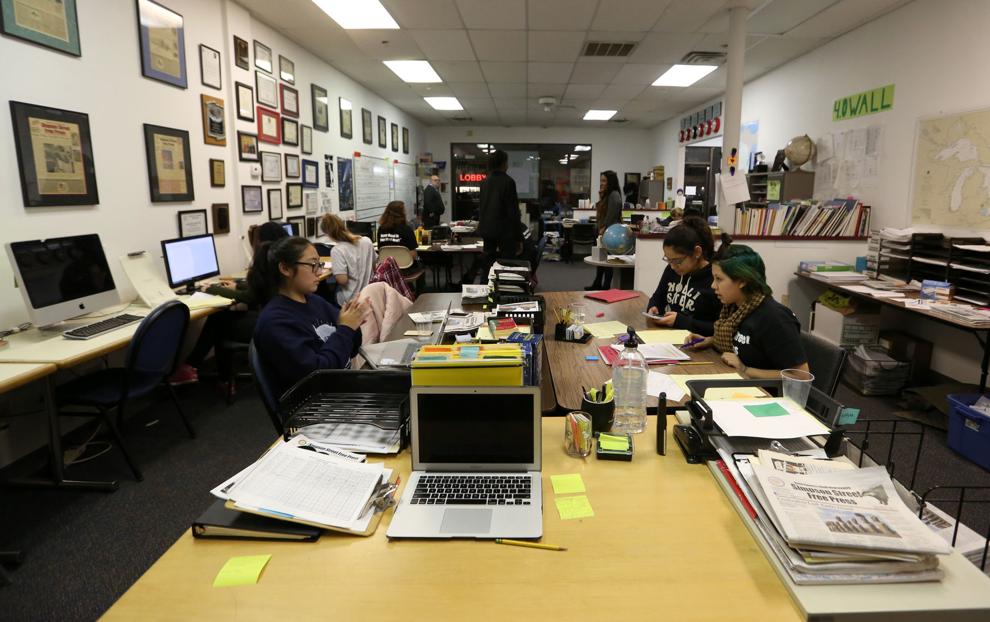 Although it is an after-school program, Kramer runs Simpson Street like a business and encourages students to think of themselves as professionals. Simpson Street faces many of the same financial constraints as other small, local publications that manage to survive on tight budgets.
According to tax documents, between 2011 and 2015, Simpson Street's average annual revenue to operate its year-round evening and weekend programs was $230,000.
To stay on pace with industry shifts and serve more students — there are dozens of student currently on the waiting list — Simpson Street launched its website in 2001.
Ben Reddersen has been Simpson Street's web content manager for almost four years. He also tutors and mentors students. Reddersen is not an alumni of Simpson Street, but found out about the program while looking for service learning opportunities during his senior year at the UW- Madison.
As a computer science major, Reddersen understands the importance of a strong web presence. Although his area of study focused on back-end computer programming, he's been able to flex his front-end web design skills to make the site look and feel user-friendly.
"I've learned a lot about (Adobe) InDesign since I took this job," Reddersen said with a chuckle. "I had no idea how to use it before, and now I am getting pretty good."
In addition to written articles, students also create multimedia content for the website. Students participate in book clubs as another avenue to promote literacy. Three years ago, Simpson Street partnered with the Madison Public Library's Teen Bubbler program for their book trailers project. Students read books and use stop-motion animation to produce short trailers to promote them to their peers.
Kadjata Bah, 12, is a seventh-grader at O'Keeffe Middle School. An avid reader with a passion for African-American history, feminism and social justice, Kadjata enjoys Simpson Street because it provides space for her  to read, write and create around black history and culture.
Kadjata has written editorials for Simpson Street covering topics like learning to love her hair and the need for more books focused on people of color. She also produces book trailers about titles written by black authors.
"I wrote about my experience of not seeing enough representation of people that look like me in my books," she said. "A lot of people that I read and write about are powerful black leaders, especially black women."
As Simpson Street's statewide and national profile grows, one thing remains constant: a commitment to creating a safe, familial environment for students where their work is valued and their voices are heard.
"No matter what race, color, ethnicity or language you speak, I feel like you are always accepted here," said Zaria Glover, 13, an eighth-grader at Wright Middle School. "I am able to write and grow around these people and have a different connection to the type of community I'm in."
The Simpson Street family may soon grow as Black Hawk Middle School's Green plans to incorporate some elements of the curriculum into her lesson plans.
"We're actually going to start writing a newspaper after we get back from winter break," she said.
"I'm really looking forward to starting that process and having a ball doing their individual articles (tailored) to their (reading) levels and interests."