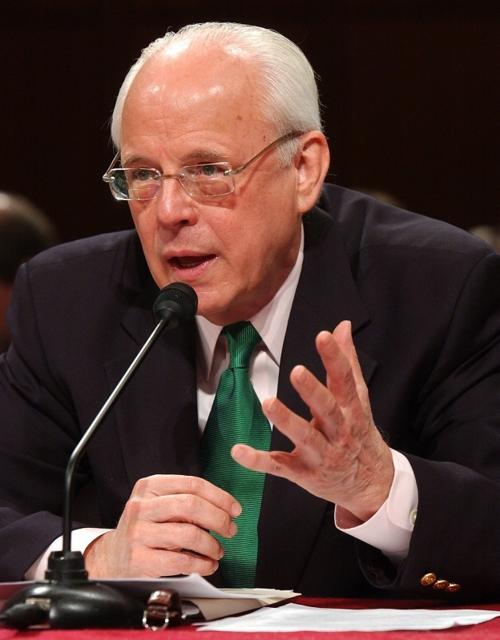 For baby boomers and anyone older, John W. Dean's name conjures up 1973 television images of an earnest, bespectacled young White House lawyer testifying before the Senate Watergate Committee.
That summer, Dean's precise monotone belied his stunning testimony about the impeachable role of President Richard Nixon and illegal activities by Dean and others in the cover-up after the 1972 break-in at Democratic National Headquarters inside the Watergate complex in Washington, D.C.
Four decades later, Dean is an author in Beverly Hills, Calif., and is taking special note of Scott Walker, our embattled Republican governor.
Dean wrote of Walker: "If I lived in Wisconsin, I would be uncomfortable with this man, whom I find more Nixonian than even Richard Nixon himself (the authoritarian leader with whom I was, and am, so very familiar)."
From an ordinary Walker critic that would seem like hyperbole, but Dean is an authority, having famously warned Nixon in an Oval Office conversation that the Watergate cover-up was "a cancer on the presidency."
In a nutshell, Dean says his research suggests Walker is a "classic authoritarian," which he defines as someone who seeks to dominate others, opposes equality, strongly desires personal power, and is amoral.
Intrigued by the analysis, I began an exchange with Dean, sharing a column I wrote last year that focused on Walker's bizarre and outsized sense of his own historical stature.
In it, I recalled a jam-packed 2005 memorial in the state Capitol Rotunda for the late Gaylord Nelson, the beloved former governor and U.S. senator, and contrasted that with how Walker, only weeks in office amid protest turmoil, was already boastfully forecasting his own "legacy."
Dean shared my column with his Twitter followers (@johnwdean) and I then asked Dean how he became aware of Walker.
Dean said he saw Walker's "union-busting" and our massive protests in the national media. "His style struck me as strikingly Nixonian, so I began reading more about him," Dean said in an email.
"As I said in my column, I find Walker more Nixonian than Nixon, meaning that Nixon did not always live up to his reputation, but Walker never seems to fall short of the Nixonian standard. … Walker is a power-abuser like Nixon."
Dean continued, "I had hoped that Watergate would end Nixonian politics, but as Dick Cheney showed as vice president, some long for the pre-Watergate abuse of power standards." (Cheney was also a youthful GOP aide in the Nixon era.)
In his column, Dean said he analyzed online news reports about Walker in the context of social science studies. Said Dean: "Typologies have their problems. But based on what I found, there is little doubt in my mind that Scott Walker is a classic authoritarian."
Before we delve further, how did Dean get from Watergate to here? Convicted of one felony count and briefly imprisoned for his role in the scandal, Dean became an investment banker and a prolific author on diverse political subjects.
One of his books savaged former President George W. Bush and called for his impeachment for authorizing illegal wiretaps. In 2006, when Dean testified at a congressional hearing in favor of censuring Bush, former U.S. Sen. Russ Feingold, D-Wisconsin, lauded Dean as a patriot.
The title of Dean's "Conservatives without Conscience" plays on an earlier book by Barry Goldwater, former GOP senator and 1964 presidential candidate. Dean charges that the modern Republican Party has been co-opted.
Its leaders demand unwavering obedience by supporters while promoting inequality, intolerance and an intrusive government even as they espouse freedom, wrote Dean. In his 2006 book, Dean cited research by social psychologist Robert Altemeyer to argue a GOP trend toward authoritarian personalities. Reading the book today, it seems Dean anticipated the later arrival of Walker as governor, making his Walker-as-authoritarian argument in four parts.
First is a personality that seeks to be a "social dominator." Dean cited how Walker formed a "Jesus USA" club as a young child, mixing Baptist religion and patriotism, and he seems to have been running for something ever since.
"He attended Marquette University (but has no college degree from there or any other school)," wrote Dean. "At Marquette, he was elected to the student senate, and twice sought but failed to get elected president of the student body. He ran for the Wisconsin state Assembly the same year that he lost his bid to be student president at Marquette, losing the Assembly race as well." He added, "Walker has never stopped running. This is the behavior, writ large, of a dominator."
Second, Dean said, is how Walker opposes equality. "There are many examples of Walker's harsh and uncaring treatment of those whom he does not believe to be entitled to equality," Dean wrote. "None is more glaring than his intolerance of gays and lesbians," referring to Walker trying to stop same-sex couples from being recognized as next of kin for hospital visitation rights.
On the third "authoritarian" theme, seeking personal power, Dean pointed not only to how Walker undercut public employee unions to increase his own power, but on how he has made many more jobs political positions instead of civil service positions.
Fourth, Dean writes about Walker's approach to morality. "To be amoral, of course, is to be insensitive to moral matters," writes Dean. "A politician like Scott Walker will wrap himself in a cloak of morality, while, in fact, acting anything but morally."
Dean says his attacks on poor women (a reference to his opposition to Planned Parenthood's free services) and education spending while giving tax breaks to corporations is not what he is talking about. Nor is the current "Joe Doe" investigation of activities in Walker's office when he was Milwaukee County executive. "The grand jury proceeding simply remains a dark cloud following him, and no conclusions can or should be drawn from it," Dean wrote.
But Dean said Walker's "amorality" dates back to his time at Marquette University, when the school paper said he was unfit for office.
Dean wrote Walker's "lying is notorious," pointing to his record with PolitiFact Wisconsin, which found that the vast majority of Walker's statements it examined ranged from "half-truths" to "pants-on-fire false."
Dean has an entire separate thread to his analysis, focusing on how Walker is also an "authoritarian follower," and describes how the governor has -- on his way up the ladder -- dutifully followed wealthy and very conservative sponsors.
This connects to Dean's thesis about "double high authoritarians," a seemingly inconsistent blend. Dean wrote, "They are submissive to authority but aggressive on that authority's behalf."
I asked Dean whether it surprises him that a state with a progressive reputation like Wisconsin's would elect such a leader.
"The social scientists with whom I have discussed this subject tell me they estimate about 20 to 25 percent of any population are authoritarian followers," suggesting that yes, he is surprised.
"One of the reasons I write about authoritarian conservative politicians is that many people confuse a strong leader with an authoritarian leader," he continued. "Presidents Franklin Roosevelt and Dwight Eisenhower were strong leaders, but not authoritarians. We have never had a so-called 'double high' authoritarian in the White House."
Dean went on: "So most people do not understand what a 'double high' authoritarian like Scott Walker is capable of doing. The recall vote will be an interesting test to see if the innate wisdom of the people of Wisconsin prevails and they send Walker into another line of work.
"If they do not, you can be sure they will ultimately regret that decision, and Democrats will eventually take charge in a greatly weakened state government," he predicted to me.
In his column, Dean concluded: "Democracy and democratic institutions do not function well with dogmatic, unbending authoritarian leaders."
"Authoritarians are great as dictators, and even at times benevolent. They are often outstanding at running businesses, and when serving as high-ranking officers in the military, not to mention law enforcement. But they are failures as presidents and governors and … they can be dangerous to democracy."
Finally, I asked Dean if he would be following the Wisconsin recall.
His response? One word, one emoticon.