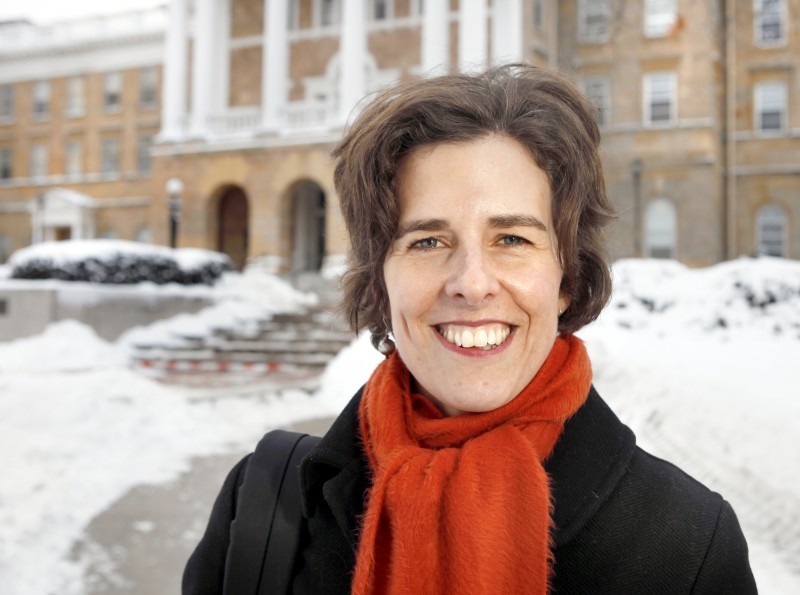 "Hi, I'm Kathy. I'm from UW-Madison. Do you mind if I join you?"
Those words, or some variation, provided an introduction at gas stations, coffee shops, cafes and churches across small-town Wisconsin.
While those of us ensconced in Madison scratch our heads about why so many in Wisconsin appear to dislike or distrust us, associate professor Katherine Cramer Walsh ventured out to hear it first-hand. So how did people respond? They were uniformly friendly, she says, but bewildered as to why she was there. "You should have seen their faces," she says, smiling.
What she found is a big disconnect. For example: "When you ask, 'What does hard work mean to you? Who does hard work?' I would give examples like a waitress or someone who works in the lumber industry. Then I would say 'professor' and people would just laugh. Like, 'give me a break.'"
Walsh seems the perfect researcher on the topic. She is a UW-Madison political scientist whose focus is deliberative democracy, public opinion, political communication and civic engagement. She graduated from UW-Madison before earning her Ph.D. in political science at the University of Michigan. In person, she is warm and self-deprecating, anything but a stuffy academic. She grew up in Grafton, north of Milwaukee, which she says was a blue-collar place before it morphed to become "hoity-toity."
"When I was growing up, Madison was the lefty part of the state and the place you went to school if you were any good in high school," she says over coffee on Monroe Street. "I grew up around people who thought Madison is out there, a crazy, elitist, left-leaning place."
Walsh is an expert on polling and directs the university's Badger Poll that asks residents statewide about their views on political issues, but she says her polling questions are better informed by Wisconsin travels, or, as she puts it: "I needed to get my butt out of here and actually go around the state and ask people, 'What are you concerns?'"
Her insights have special resonance these days as Madison braces for an incoming Republican government — a governor and legislative majorities — that gained great political advantage exploiting the out-state image of Madison and its huge university as smug, selfish and out-of-touch.
She started her project in 2007 by dividing the state into eight regions, and then visited 23 communities and 37 different groups, some as many as five times. She would call extension offices and newspaper editors to learn the best hangouts. Gas stations were popular. "In a lot of places in Wisconsin, that's where you get the morning news," Walsh says, noting the good talk was often accompanied by bad coffee.
Most of her work was focused before the 2008 election cycle, but she has gone back on a limited basis since. What she heard as early as 2007 was the front edge of the tea party movement with mentions of tea party meetings.
It's worth noting that she started conversations without mentioning Madison and Milwaukee per se, but that's where conversations repeatedly turned.
"I could tell in the way they talked about Madison this is something they talked about a lot," she says. "They launched into this conversation really quickly and had so much to say about how Madison ignores their interests, doesn't listen and how bizarre it was for me from the university to go there," she says.
"The story out there is that Madison sucks in all the resources and spends it on itself or diverts it to Milwaukee and we never see it again," Walsh says. "There is just so much resentment about how the cities decide everything, don't listen to rural people, do not have any understanding. That sentiment is certainly there."
She says she heard it in 2007 and 2008 as well as in this election cycle, and gets why tea party messages worked so well. She says it was not only a Republican attitude, that she heard it in non-urban Democratic parts of the state as well. "Government is not working for them," she says they would say. "We in Madison are all of a piece. We are all overpaid, lazy bureaucrats to some extent."
She says there is also a perception that unemployment is not as big an issue in cities. "A lot of those perceptions aren't accurate," she says. "But when people are down and out, they have a lot of resentment, and the cities are a huge target."
Walsh says the most common worry in 2007 was about access to health care, but that this year "they became convinced that it wasn't worth spending the money to reform the system." While academics are prime targets for this populist anger, millionaires getting income and estate tax breaks are apparently not. She says the view is that "if you work hard enough, you are going to succeed and that is your money to keep."
What Madison and university leadership would like the rest of the state to think is that the university is essential to transforming Wisconsin's economy from a never-to-return manufacturing base to a new economy about technology, research and discovery, that the UW's success as a player in the world economy will, figuratively, raise all boats.
Walsh says that's a tough sell. "I believe the UW has a huge input to the economy," she says, "but it's such a tricky argument to make without saying those of us on campus — who you think are out of touch with your lives — know what is best for the state."
She says the animosity is ironic because she sees UW's effort. "We really do have our heart in the right place," she says, adding that the Wisconsin Idea — the philosophy that the boundaries of the university are the boundaries of the state — is strong on campus. "They don't want to be elitist, they want to be excellent, but not elitist," referring to colleagues.
That message came through, at least to a small extent, when Walsh spoke individually with people outside Madison. She says she's been told more than once: "You know, you are the first person from UW-Madison I have ever met. You are actually kind of normal."
"Well," she adds with a smile, "I don't work with a bunch of wackos."
Be the first to know
Get local news delivered to your inbox!