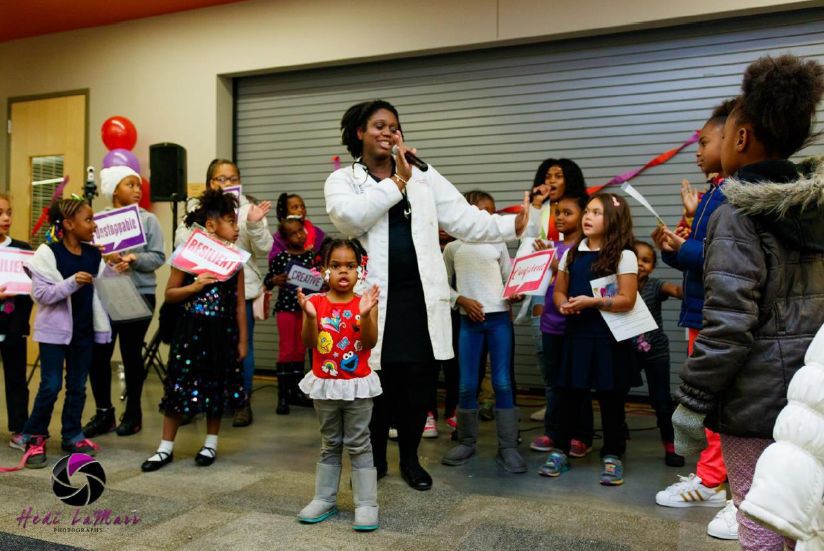 Dr. Jasmine Zapata's daughter, now 7, was born prematurely and almost didn't survive. As her daughter grew up, she was teased for the scars from her many surgeries.
"I told her, 'Your scars make you beautiful,'" Zapata said. "She said, 'No, they just make me look weird.'"
That moment was just one of the many motivations leading Zapata, a local pediatrician, to write a book and launch a girls' empowerment movement. Now, she's taking her message to girls aged 7 to 17 all around the Midwest in a seven-city Girls Empowerment Tour.
The tour launches this weekend in Hammond, Indiana, and will make stops in Madison, Beloit, Milwaukee, Racine, Detroit and Cincinnati throughout the summer and fall. All conferences are free. The Madison conference will be this Monday, July 23, at the Vernee Nycole House of Beauty, 1702 S. Park St., from 5:30 p.m. to 7:30 p.m. Attendees can register online. 
As a doctor, Zapata is "always looking for innovative ways to get outside of the clinic walls to make an impact." She's witnessed the struggles of teenage and preteen girls inside and outside her practice. Bullying, fighting and sex trafficking affect teen girls throughout the state, she said.
"When I go speak ... the girls as young as 9, 10-years-old are engaging in sexual practices," she said. "They just need our support, they need our love, they need an outlet to talk about some of the issues that they're facing."
In her practice, she's seen girls who have attempted suicide, leading her to ask, "How could this have been prevented?" and dive into research about the social determinants of health.
"My quest to figure that out, that's what led me to do all the girl's empowerment work that I do," she said.
Zapata launched Beyond Beautiful, an international girls empowerment movement and wrote a book. She's spoken at events like the Black Girl Magic Conference, and hosted a some smaller conferences. She knew from the "extreme positive feedback" to those efforts that she needed to do more. Parents at events would ask her to talk to their kids about tough topics like puberty and relationships.
"A lot of the parents were just saying their girls were going through so much more than they had been through," she said. "They were like, 'We need support, we need help.'"
For the upcoming conferences, Zapata is teaming up with social workers, authors, youth counselors, ministers and the musical group Trilogy to bring a message of empowerment and promoting social, emotional and mental health. The conferences will include break-out sessions, musical performances, games and inspirational talks.
Zapata can't wait to "just look the girls in the eye and give them hugs, and tell them, 'You're beautiful, someone loves you,'" she said.
In her own life, empowerment came from her mother and grandmother, who supported her dream to become a doctor, a life decision she made at 5. Her grandmother, who has since passed away, would tell her she could "reach every single dream that I set my mind to."
She'll be giving out copies of her book "Beyond Beautiful: A Girl's Guide to Unlocking the Power of Inner Beauty, Self Esteem, Resilience, and Courage," and a fairy-tale version, written by her mother, aimed at younger audience.
The book is based on a poem Zapata wrote, chock-full of affirmation. She performs it as a rap at conferences, getting the girls to chant along with her: "I'm courageous, I'm resilient, I'm confident, I'm creative..."
Her book has been translated into Swahili for the Samburu Girls Foundation, a safe harbor for girls who have fled child marriage and female genital mutilation in northern Kenya. The seven-city tour is part of a seven-month "7 in 7" fundraising campaign to sponsor the education of seven Samburu girls and give away 700 books to community members and local organizations.
If you or someone you know needs help, call the National Suicide Prevention Lifeline at 1-800-273-TALK (8255). Trained crisis workers are available to talk 24 hours a day, 7 days a week.
If you think someone is in immediate danger, do not leave him or her alone — stay there and call 911.
Share your opinion on this topic by sending a letter to the editor to tctvoice@madison.com. Include your full name, hometown and phone number. Your name and town will be published. The phone number is for verification purposes only. Please keep your letter to 250 words or less.
Be the first to know
Get local news delivered to your inbox!