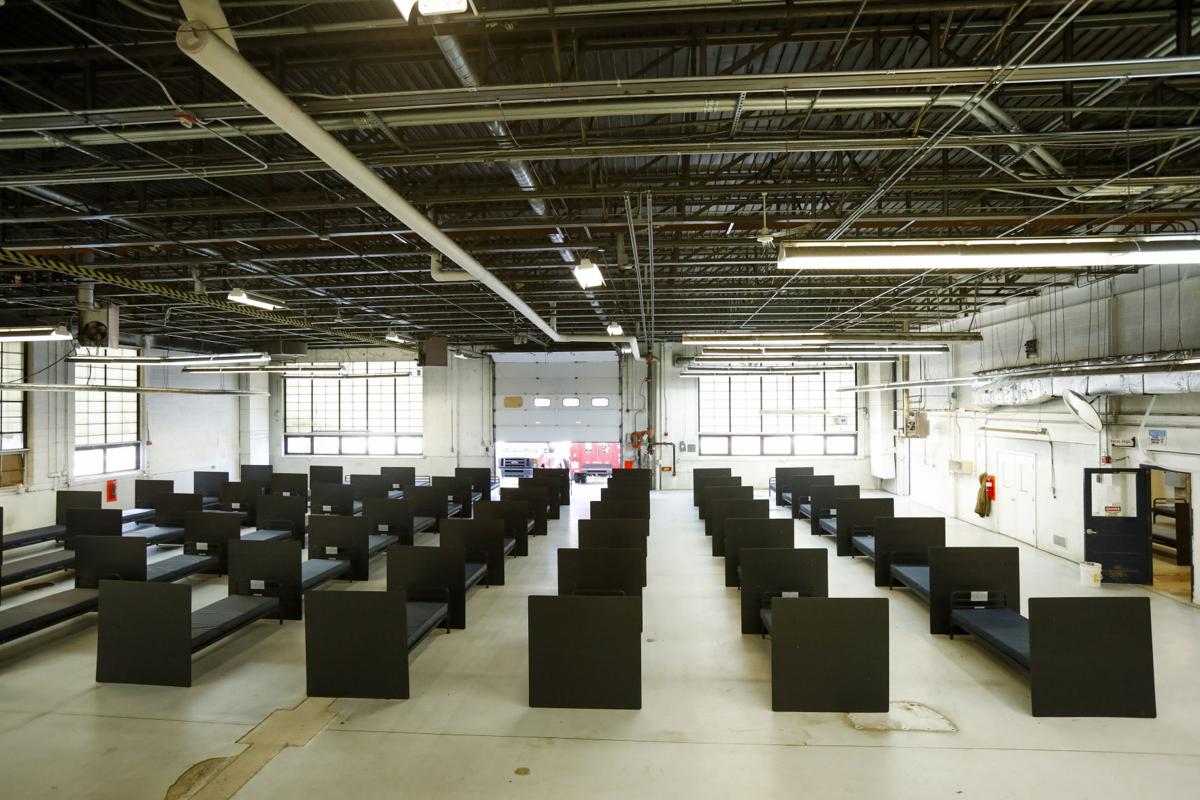 The move Wednesday of Madison's homeless shelter for men to a larger, central location is the culmination of several months of work by officials and service providers. The goal was to upgrade services ahead of the coldest days of winter, along with the anticipated end of a federal moratorium on evictions.
Now the work of getting the word out about the facility, located in the city's Fleet Services Building at 200 N. First St., begins.
Jim O'Keefe, director of the Madison Community Development Division, said about 100 men have been staying at the shelter's previous location in the Warner Park Community Recreation Center in recent weeks, a number he hopes will increase.
"There are still 100 or more people in the community who are unsheltered," he said. "Not all of them will choose to avail themselves of shelter, but we hope to convince more and more of them to do so."
Operated by Porchlight Inc., a nonprofit organization serving Madison's homeless community, the shelter takes over what was once a repair shop for city-owned police cars, maintenance trucks and other utility vehicles. Ceilings are tall and natural light illuminated the spartan space through large windows Wednesday morning. Dozens of beds are lined up in two large areas of the 45,000-square-foot building, along with two semi truck trailers containing sinks, toilets and showers.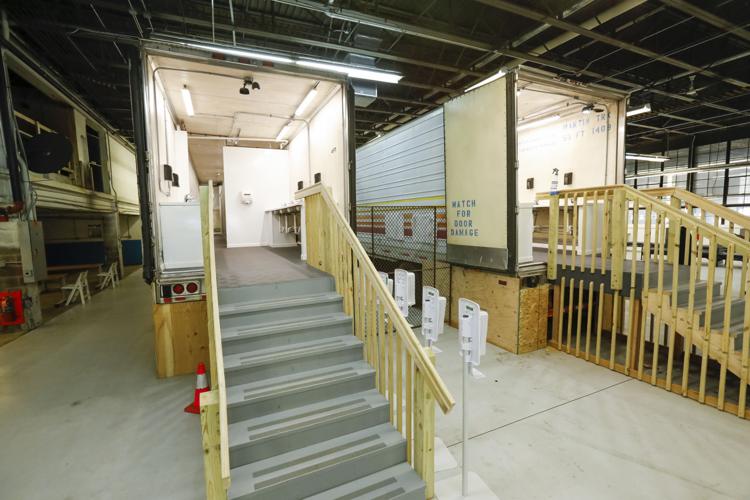 "This is not your father's shelter," O'Keefe said. "It's much larger, more spacious and safer. It's got much better amenities than a lot of folks are used to."
Dinner and breakfast will be served daily and a case manager will staff the shelter to help connect clients to services. O'Keefe said he hopes the space, location and services will help overcome the objections some homeless men have about staying in the shelter.
"One of the challenges that some people have is just being in a confined space where there are a lot of other people. It's very difficult for them to do so," O'Keefe said. "Obviously this is a better setting for that than the basement of Grace Episcopal Church. So that's an issue. There are some people who just can't or won't abide by some of the rules and regulations that come with being in a congregate setting."
At a neighborhood meeting last week, Porchlight services director Kim Sutter said those seeking shelter who are under the influence of drugs or alcohol will no longer be turned away and that the length of suspensions for those who cause problems will be reduced. The organization has also paused the enforcement of a policy that limited an individual's use of the shelter to 90 days. 
"Hopefully by removing some of the barriers of using shelter, we can convince people who might not have otherwise chosen shelter to do so," O'Keefe said Wednesday.
The location is a temporary one, as the city plans to begin converting the space to a Public Market — a $13 million project years in the making — by this time next year.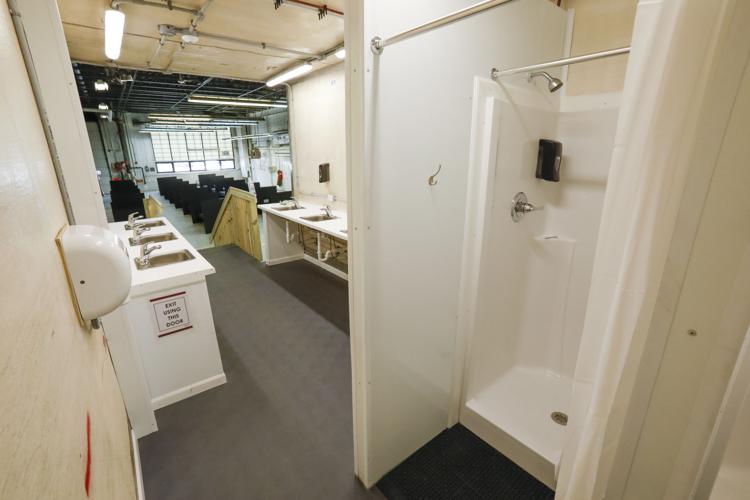 "The plan is to operate this until sometime in the fourth quarter of 2021 when, if the Public Market group is successful in securing federal funds, they would be ready to begin renovation to make way for the Public Market and then we would expect to be leaving this site to be moving into the permanent shelter," O'Keefe said.
Mayor Satya Rhodes-Conway spoke with reporters at the facility Wednesday, nearly two months after the city cheered the expected purchase of a property near East Towne Mall for a new men's shelter, only to have the seller back out of the deal almost immediately after it was announced.
She said the city has a short list of properties to purchase for housing a permanent men's shelter and expects that to happen in time for the Public Market to take over the First Street property by this time next year.
"I think the most important thing about a location is transit and access to services," she said. "Do you want to think about moving the people to the services or moving the services to  the people? That's part of the conversation."
O'Keefe agreed that while the Fleet Services building checks off a lot of boxes for the kind of homeless shelter sought by city officials and advocates for many years, "it's also a great location for a Public Market." 
Share your opinion on this topic by sending a letter to the editor to tctvoice@madison.com. Include your full name, hometown and phone number. Your name and town will be published. The phone number is for verification purposes only. Please keep your letter to 250 words or less.