Madison's transportation system has been the subject of much debate between the two candidates for Madison mayor, incumbent Paul Soglin and challenger Satya Rhodes-Conway.
And in recent weeks, Madison area residents have also shared their thoughts and ideas around transportation in Madison in small group discussions. A project called the Local Voices Network is collecting these conversations in an effort to include more voices as public policy is shaped. 
The initiative is a partnership between the Cambridge, Massachusetts' MIT Media Lab and Cortico, a nonprofit organization that works to foster constructive public conversation in the community and media. In Madison, University of Wisconsin-Madison political science professor Kathy Cramer, author of "The Politics of Resentment," is a partner in the effort.
Residents gather in small groups for conversation to listen to and learn about each other's lives, and are led by volunteer facilitators. The conversations are recorded on a "digital hearth," then transcribed and posted on the LVN.org website. During the conversations, facilitators also play excerpts from other groups to expose participants to new ideas. The idea is to create a unique listening channel that lifts up the voices of community members to local policymakers and the media.  
In the course of conversation, participants are asked what issues they think are important in Madison, and how the city might go about addressing them. Transportation was frequently mentioned.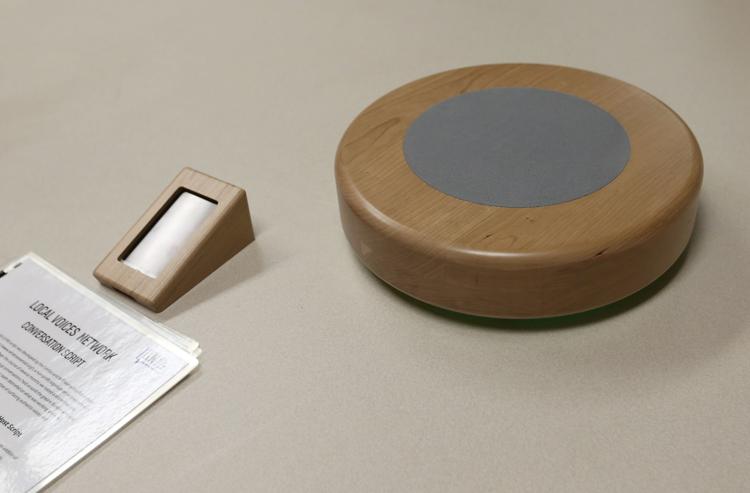 Sophie, recorded downtown near the Capitol:
"Downtown is becoming a giant parking garage .... We're getting more people. Everybody's driving, and not only is that, environmentally, not so cool, so many more spaces would be accessible to so many more people who can't afford to live in central Madison, and then they can't participate in so many of the activities or go out to all kinds of things because the bus system ends early. (Buses are) infrequent; they're unreliable."
Deb, recorded at UW-Madison:
"I think what we also need is better public transportation. (People) can't get from here to there… You have to choose between your rent or your car, they could take the bus... We have a system that is used pretty well, I think when they look at it, but I think subsidies for public transportation would be probably one of my first, just in general things because it would help on many layers."
Linda, recorded in Cottage Grove:
"We've got great transportation, but it's limited. By where we live, it comes by, the bus comes by once a day. ... It seems like they're cutting back on routes and so only it's good in limited areas. It makes it hard for people to get where they need to go."
Maura, recorded in Sun Prairie:
"I think something that would improve Madison a great deal, or the greater area of Madison, is a better transit system. I think we need to have transit to connect to Verona, to Sun Prairie to Oregon to Milwaukee. To Chicago. Why don't we have a countywide transit system? … There's one bus line that goes out to Verona just because of Epic, and it's only for commuter hours. But if Epic wasn't there, they wouldn't have anything.
You have kids who, like Verona and Oregon, have kids who are all in kind of the Fitchburg, Allied-ish area depending on where you live. You got kids who can get to the school on a school bus, but they can't stay after for sporting events. They can't, say, get a job close to school because they have no way to get there outside of school hours.
They're not being able to go see their friends. That's still another way of separating people. All the white kids live out in Verona and all the black and Hispanic kids live in Fitchburg. They're never going to intermingle on weekends or outside of school because they have no way to get to one another. ...
I come from Seattle and they have the King County Transit System, which connects to the Pierce County Transit System, which connects to the Snohomish County Transit System (It) just blows my mind that we don't even have (one)."
Rebecca, recorded in Vilas:
"I would like to see a lot more public transportation. And, it would be great if it was ... the price was reduced. And, I would like to see a lot more buses, a lot less cars. More bicycles... not that I'm going to get on a bicycle."
Jenny, recorded in Vilas:
"Transportation came to mind for me. I'd like to be able to feel like I can get downtown and to the university easier. I don't live that far away but sometimes yeah, it's like, 'Okay, there's a bus once every hour. So if I go in for dinner, I've got to ...'"
Meg, facilitator: "You've got to time it."
Jenny: "And then you know, a train to Milwaukee, a train to Chicago. … That would make living here more appealing. Especially for people who work along that route."
Gina, recorded in Westmorland:
"Public transportation. More of it. More types of it. Light rail in Minneapolis is awesome. I know it costs a lot of money, and whatever but it would be worth putting a little more time and thought into them."
Deb, recorded in Westmorland:
"When we're talking about anything related to an aging population, (transportation is) front and center right now — where can I live that has access to public transportation. If there's no way for me to get to a doctor's appointment — recently when my car failed at the last minute, was for an Uber, I think it was one way, 45 dollars. So that made that doctor's appointment kind of prohibitive in terms of financially. So yeah. I would love to support increased public transportation."
Verda, recorded in Monona:
"I wish that we would have had the train line from Madison to Milwaukee, whatever, 10 years ago. Maybe we'd have a link to Chicago and Minneapolis by now. That would enrich my life, I think, if we had actually a better transit system and have the ability to travel by train. Even between downtown Madison and Middleton could be even a combination of light rail or inner city. Thankfully, I walk to work now, but the traffic has become pretty horrendous with the growth of Epic and Middleton."
Becky, recorded in Isthmus area:
"Smart planning is really necessary especially because Madison is expected to continuously grow a lot in population. So having things like a faster, more frequent bus service could make a big difference, I think, in still having the city be a really nice place to live and easy (to) get around. If everyone who joins the city or ends up living here, if everyone owns a car it will make the walk-ability and the bike-ability less safe and easy and the bus system probably slower too, I would imagine. Trying to plan for that growth would be really important right now."
Conversations in the Local Voices Network are happening across Madison. If you would like to participate in a conversation or learn how to host a conversation, please visit lvn.org/madison.