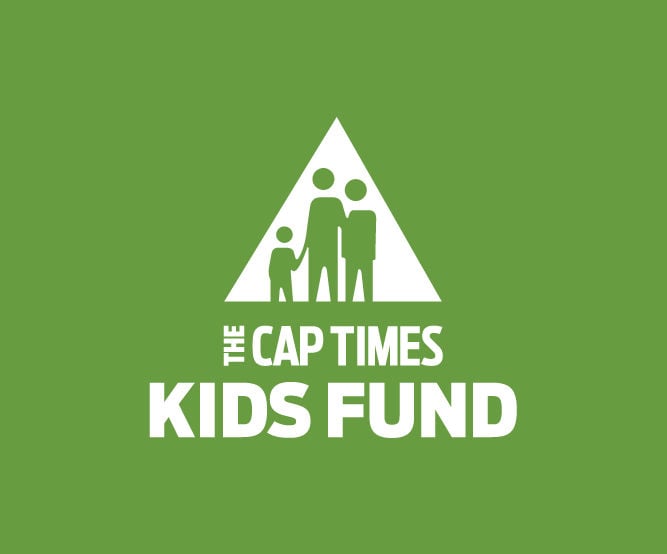 The Kids Fund's board of directors — all volunteers who have worked in some capacity on the challenges facing young people in our community — are divided into three committees to make initial recommendations about which programs should be funded with the dollars donated by readers during the annual fund drive in The Capital Times.
One committee examines grant requests from organizations that work with preschool and elementary-aged children, a second deals with requests to serve middle and high school kids while the third committee evaluates grant proposals from nonprofits that work with developmentally disabled children.
Each committee in 2018 distributed $45,000 to approved grant seekers. All told, some 66 organizations received some funding.
The drive to raise money to distribute money to the nonprofits during 2019 is currently underway.
You can help make sure that crucial programs are funded by making a donation of any amount to The Kids Fund, c/o The Capital Times, PO Box 8060, Madison WI 53708, or by going online to thekidsfund.org and making a donation with your credit card by clicking on the "Donate" button.
Following is a list of recent donations to the Kids Fund:
Patricia Offer, Cottage Grove, $25
Jerry Klabacka, Madison, $200
Richard and Nancy Schultz, Madison, $50
Jane Coleman, Madison, $100
Cary and Susan Graf, Madison, $30
Deb and Bill Elsing, Lodi, $40
Stanley Kanter, Fitchburg, $500
Kenneth and Hope Soroos, Elgin, South Carolina, $50
Russell and Suzanne Gardner, Madison, $25
Douglas and Janet Laube, Madison, $100
Marianne and Kenneth Paker, Madison, $100
Renae Schroeder , Madison, $22
Sally Behr and Robert McDonald , Madison, $50
Linda Brown , Cottage Grove, $100
Paul and Kristine Hesch, Madison, $25
Susan and Stephen Carpenter, Madison, $250
Laurie Albrent, Mount Horeb , $200
The Schmid Family, Madison, $25
Kathleen Herman, Oregon, $25
James Herman, Oregon, $25
Celia Bolyard, Madison, $10
Richard and Mary Ann Ihlenfeld, Madison, $50
Roger and Carol Brumm, Middleton, $75
Triny and Billie Chavez, Sun Prairie , $50
James Ryan , Fitchburg, $30
C. Vanderwoude, Verona, $50
Robert Buhk, Sheboygan Falls , $100
Joseph and Marlene Blaser, in honor of Dave and Sandy Zweifel's 50th wedding anniversary, Monona, $30
Robert and Betty Kraemer, Plain , $25
Jeanette and Ronald Koski, Madison, $10
Jan Tymorek, in honor of Susan Albert, Kids Fund volunteer, Madison, $100
Alvin Bernard Schubert, Madison, $40
The Pflughoeft Family, McFarland, $50
Penny Reynolds, Sun Prairie , $25
The Olson Family, Sun Prairie , $100
Larry and Merita Sabroff, Madison, $40
Steve Sprague and Nancy Howard, In Memory of Mary Jane Sprague, Middleton, $30
Nan and Bob Schaefer, Madison, $20
Charles Gietzel, Madison, $25
Thomas and Linda Hanson, DeForest, $100
Jon Coombe, Stoughton, $50
Mary Cochems , Fitchburg, $100
Linda Zeck, Cross Plains, $50
Kathleen Thompson, Madison, $10
Richard and Ginny Diehl, Prairie du Sac, $25
Angela Gullikson, Madison, $200
Keith Kerle , Verona, $121
Susan Ihler and Rick Reichardt, Madison, $25
Regina Michaelis, Sun Prairie , $30
John and Gail Kuech, Deerfield , $100
Sharon and Stan Koenig, Madison, $40
Claire Shaffer, Middleton, $100
John and Jane Hart, Sauk City, $50
Sharon and Warren Gaskill, Black Earth, $50
Jean Knickmeyer, Prairie du Sac, $25
Marianne Morton, Madison, $100
Russell Henderson, Madison, $20
Stefanie Moritz and Vince Jenkins, Madison, $100
Maureen Torphy, Madison, $500
Phillip and Elizabeth Willems, Waunakee, $50
Diana Helmenstine, Monona, $25
Patricia Lucey, Madison, $100
Mary Ashley, Oregon, $200
Mary Joseph, Middleton, $50
Joseph Corry and Barbara Weston Corry, Madison, $100
Dave and Nancy Topp, Madison, $40
Thomas Skinner, Madison, $50
Jane Hallingstad, Sun Prairie , $20
Tom and Linda Schmitt, Sun Prairie , $20
Dana Lin Bernstein, Middleton, $100
Dick and Kathleen Holthaus, Monona, $40
Richard Blaschke , Middleton, $50
Ivan Knezevic, Madison, $250
Ruth Acker, Middleton, $50
Martha and Douglas Maxwell, Verona, $25
Charlotte Woolf, Madison, $50
Mary Conroy, Madison, $15
Pam Schultz, DeForest, $50
Carla and Daniel Lynch, Madison, $200
James and Sharon Olle, Madison, $50
Ellen Hochst, Fitchburg, $25
Betty Kruska, Monona, $50
William and Janice Gavinski, Madison, $100
Joe and Mimi MacFarlane , Verona, $50
Shirley Sundquist, Madison, $100
Douglas and Kathleen Zwank, Middleton, $25
Charlie and Rosemarie Herman, Sun Prairie , $25
Eugene and Sharol Setwyn, Reedsburg, $20
Gloria Thaldorf, Monona, $25
Deborah Brescoll, Madison, $35
Mr. and Mrs. David Fahrbach, Madison, $75
Russ and Nancy Moody, Monona, $20
Roger Gilles, Madison, $50
Brian Clark, Middleton, $15
J.J. Ferguson, Madison, $75
Margie Hays, Madison, $50
Mark and Jennell Ballering , Madison, $250
Jon and Jane Hisgen, Middleton, $100
John Blackburn, Stoughton, $250
Michael Moskoff, Madison, $40
Norma Busser, Madison, $30
The Lehmann Family, Oregon, $50
Mary Strickland , Madison, $100
Thomas Boll, Monroe , $25
Peggy Kiss, Stoughton, $5