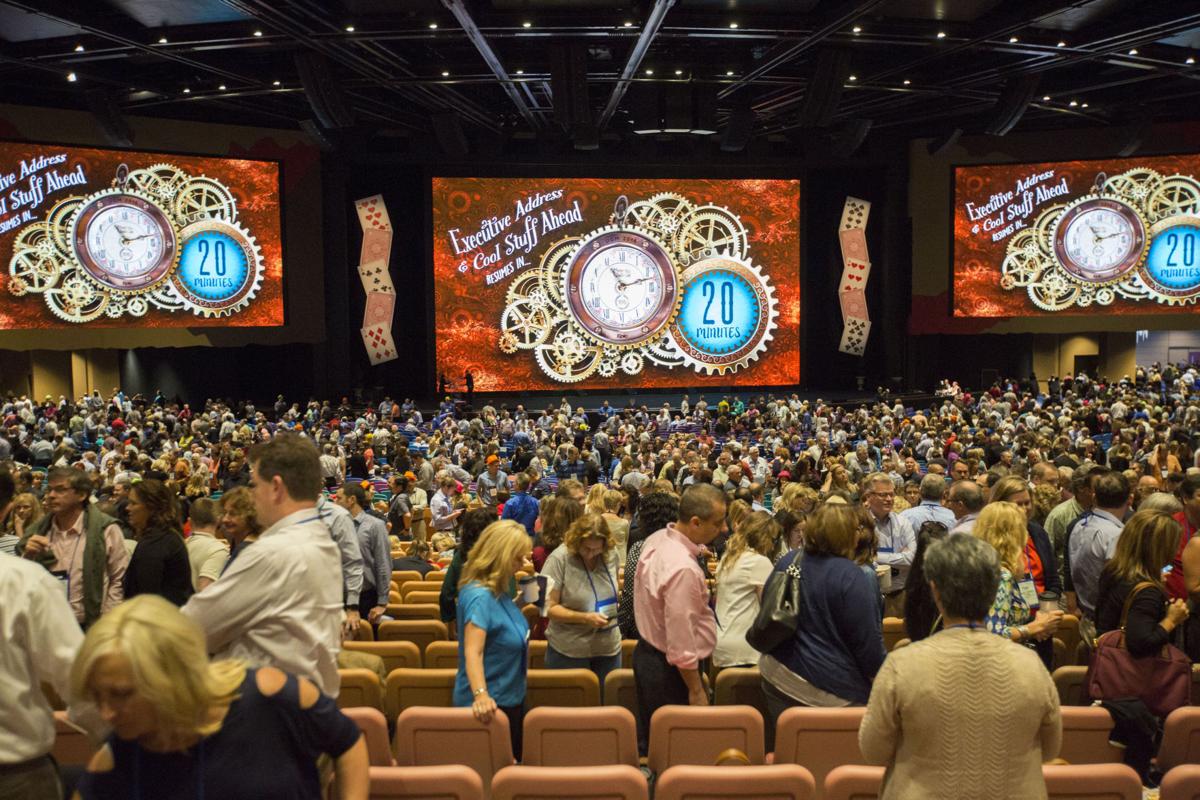 Epic CEO and founder Judy Faulkner took the stage at the company's Verona campus Tuesday in neon checkered socks, a red velvet overcoat, a bright green vest, and a top hat festooned with a flouncy ribbon.
Like other users group meetings in years past, she was going to give her executive address in costume — this time as the Mad Hatter.
"I bet you thought I was going to be Alice," she chortled.
The costume corresponded with the 2016 Users Group Meeting's Alice in Wonderland theme, and was just one example of the whimsy on display at the conference. In the lobby outside the Deep Space auditorium — nearly filled to its 11,400-seat capacity with conference attendees — performance artists dressed as playing cards waltzed among the crowd. Just outside the auditorium was an enormous canvas tent set up as a gathering place for the thousands of visitors, cluttered with miniature tea pavilions, halls of mirrors, and rabbit-hole recreations.
The address from Faulkner wasn't just another of the conference's set pieces. It also provided a rare glimpse at what one of the Madison area's biggest employers has been up to — as well as what it will be up to in years to come.
Faulkner's address was strikingly forward-looking. For the last 15 minutes of the speech, Faulkner talked about the future of not just Epic, but of the health of human beings as a whole — from the potential impacts of self-driving cars, to the future of monitoring patients through wearable technology and things like "smart pills."
Faulkner also addressed a major theme when it comes to the future of health care: big data. She said that Epic could potentially help clinicians navigate a future in which, thanks to the advent of things from Fitbit to the spread of genomic mapping, volumes of health data become overwhelming. Already, the company is developing what's known as Cosmos — a machine learning project that analyzes shared data to make predictions about a patient's health.
"What is happening is there's an information tsunami coming for the clinician," said Faulkner. "Epic is the platform whose job it is to take all that information, synthesize it, and help the clinician make a right decision."
Also in development at Epic, said Faulkner, were some humanitarian initiatives  — including an effort to work with the American University in Beirut to put the health information of Syrian refugees on thumb drives for them to take with them. Currently, she said, that health information is "scattered."
Another part of the speech's focus, as usual, was on the company's growth — not so much in terms of employees or profits, but in terms of user base. Faulkner noted that 25 new hospitals have adopted Epic's software, along with pharmacies like CVS and Walgreens, and also noted that the company now has clients in Finland and Lebanon.
Faulkner also spent a good portion of the speech stacking Epic up against its competition. One thing she stressed that she said made her company's software superior: Epic doesn't buy software developed by others.
"We've built all of our own software," said Faulkner. "When you acquire software, it isn't the same. When you build it, then you have to think of the whole framework, you have to think of the product you're building."
Faulkner also asserted that hospitals using Epic's health care records software tend to have higher margins of revenue.
Epic's rivals have in turn given the Verona company flak over the years, largely for its record on interoperability, or the ability to exchange patient health records between providers. The company has long been battling criticisms about its being "closed," and for allegedly blocking the exchange of data.
Faulkner did highlight two programs Epic is involved in that are meant to promote interoperability. One of them is Carequality, a data sharing network between health record vendors. The other is Epic's own "Happy Together" initiative, a tool that brings data across different records systems to a patient's own health care web portal.
Faulkner also praised customers that have gone entirely paperless with their records — attaining a "Stage 7" ranking from the HIMSS Analytics groups — along with companies that she claimed have been exploring the full potential of Epic softwares they've installed.
"So many people come to us and say, we need x," said Faulkner. "And they don't realize that they've had x — whatever that need is, whatever that application is — for six years."
Faulkner's address was paired with a presentation delivered by the company's president Carl Dvorak on other updates users can expect to Epic's network and its software.
This year's UGM will continue through midday Thursday.
Correction: An earlier version of this story misquoted Judith Faulkner -- she joked about dressing up as Alice, not as the rabbit.