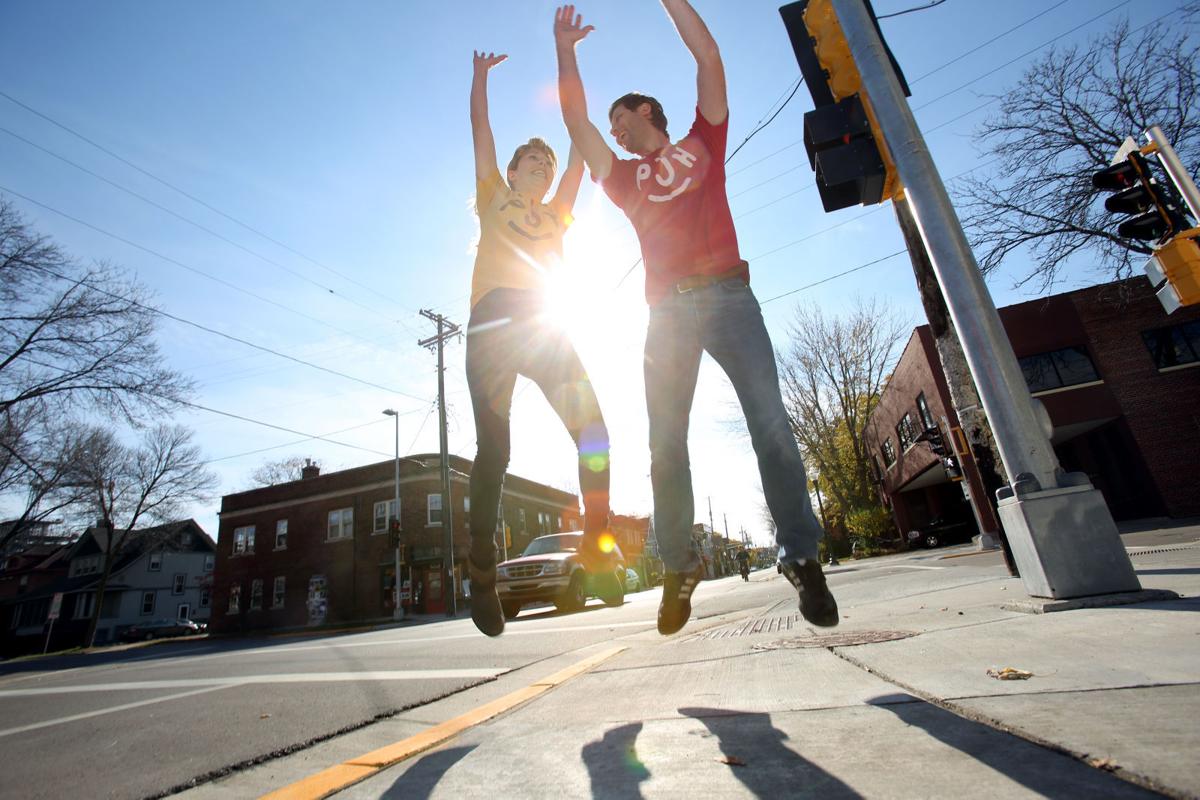 When Johnson Public House opened in April 2011, that stretch of East Johnson Street was pretty quiet.
Gwen and Kyle Johnson, Chicago transplants with young children, chose the In the Company of Thieves location at 908 E. Johnson to develop a more contemporary concept, serving pour-over, single-origin coffees and hosting music and storytelling events.
To the Johnsons, finding the café on a street with their name felt like fate, even if they were among just a handful of businesses.
"The location's amazing," said Gwen Johnson, 30. "It's not too far from downtown. Tenney Park is absolutely beautiful. Johnson Street is super eclectic.
"It feels like an urban oasis."
Set to open within the next few months are a tea and chocolate shop, craft cocktail bar, tattoo shop and lifestyle and home goods boutique. For every business that closes, it seems, two more are poised to move in.
Empty retail space has been snatched up by creative businesses like Juneberry, an artist's workshop and store that opened in fall 2014. The year before, UpShift, a clothing swap shop, took over the space where an international market briefly was.
The uptick in new businesses says that East Johnson, technically part of the larger Capitol East District, is developing its own identity as a shopping and dining destination. It has a different feel from spots like Sujeo and Cargo Coffee or the new Julep, Barolo and A-OK restaurant group, all on East Washington Avenue.
These new businesses indicate a shift in thinking about the East Johnson corridor.
East Johnson used to be a place where businesses would get a foothold and then move to more prosperous parts of town. For one, the children's clothing shop Wild Child started in the 900 block of East Johnson in the 1980s before moving to Monroe Street.
Lately, businesses like Macha Tea Company (formerly Macha Teahouse) are doing the opposite. The owners of the former Monroe Street tea shop plan to open a new tea tasting bar and retail space at 823 E. Johnson St. next month.
During all of this activity, the Johnsons' neighborhood café has become a gathering place for young entrepreneurs and service industry professionals who live and work nearby.
"When we first moved here, the businesses on Johnson were few and far between," Gwen Johnson said. "Now you can make an afternoon of East Johnson. You can get your hair done, get your coffee, get jewelry from Burnie's, have dinner at multiple places and shop your way down the street.
"It's a really cool place to be."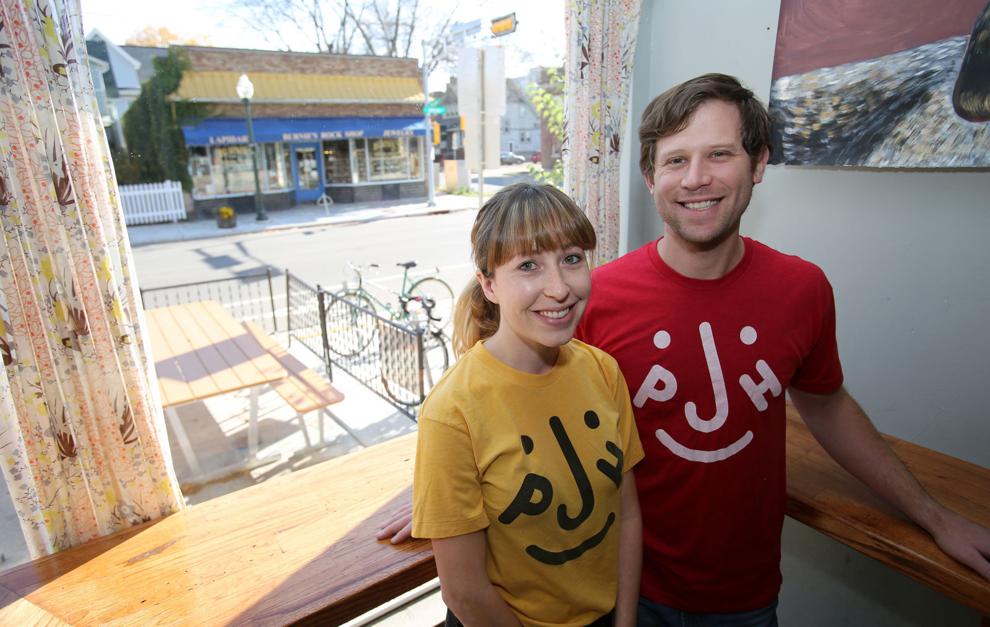 The first new business to open its doors next month is likely to be Drunk Lunch at 821 E. Johnson St. The space used to be Iona, a women's clothing store.
The Drunk Lunch concept, named for the free-wheeling conversations that built the friendship of two of the founders, combines retail in front with a small workspace and photo studio in back. Drunk Lunch plans to market that space to freelancers and creative professionals, like graphic designers and photographers.
"We're bringing practical yet elevated design and lifestyle goods to town," said Alyssa Williams Taylor, 30, one of four partners in the business.
There will be a small magazine and book collection, as well as home products from designers from around the world, she said.
"We're going to work on having a pretty lively events calendar," Taylor said. "The concept is to bring a lot of things that me and my partners love and travel for into this little space."
Products to be found at Drunk Lunch when it opens on Nov. 13 may include a west coast jewelry line called Baleen ("handmade with clean lines at a super reasonable price," Taylor said), Wildsam Field Guides about cities like Nashville, San Francisco and Detroit, and ceramics by Workaday Handmade (a "great mix of sophisticated craft and playful").
Drunk Lunch also reflects the cooperative business model Taylor found while working at Forequarter, Underground Food Collective's restaurant at 708 E. Johsnson St.
Taylor's husband, Justin Taylor, will handle the company's web presence and internet sales — a long term goal is to extend the Drunk Lunch brand beyond the storefront. Lindsey Slack, the other half of those "drunk lunches," is an interior designer who helps choose inventory and design the look of the space.
And Slack's husband, Steve Slack, is "the money guy," managing the books and administration.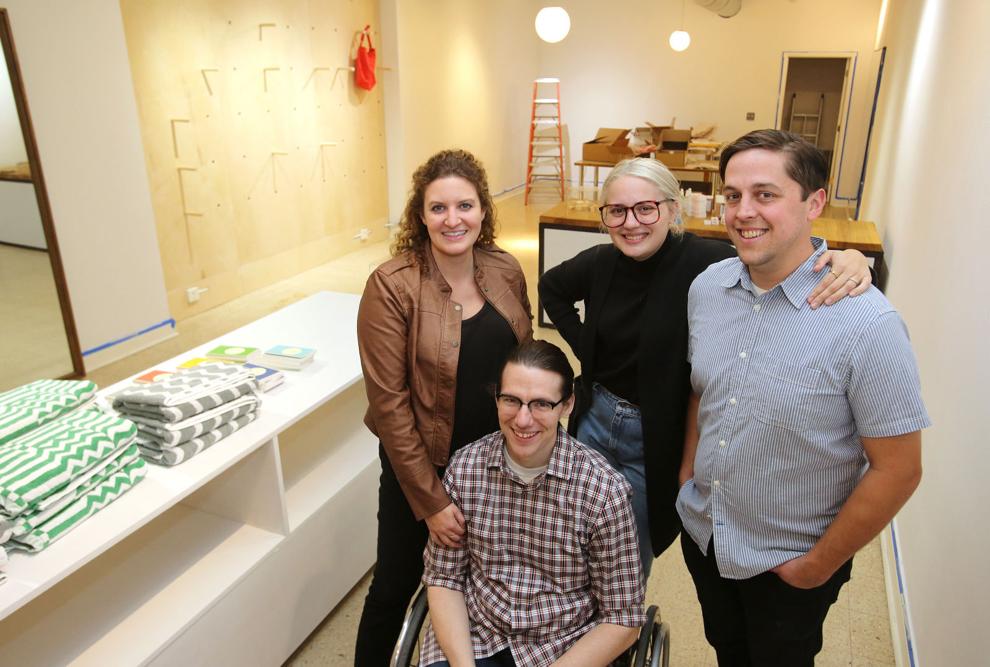 "I've lived in Madison for 10 years and my husband has lived here 12 years, and we've never left the Tenney-Lapham neighborhood," Alyssa Taylor said. "The East Johnson corridor has such a different feel than a lot of Madison.
"You can compare it to Monroe Street, that has more of a polish, or Willy Street, which thrives on this 'keep Willy weird' thing.
"I always felt, even when the buildings were empty, that East Johnson has this fun, thoughtful, creative, kind of urban atmosphere that I always appreciated."
The 800 block will experience the most change in the next few months. Coming as soon as January to the storefront at 819 will be Black Moon Tattoo, a tattoo shop with a focus on comfort and aesthetic appeal.
Loni Andreen, 36, runs a photo studio at Shopbop, but her favorite thing is interior design. As she and her husband, Curtis Andreen, 44, got to know a local tattoo artist, they hatched the idea to open their own shop with a less "intimidating" feel, Curtis said.
"We're filing it full of neat furnishing and reclaimed wood floors and cool light fixtures," said Curtis Andreen. "It's just going to be a cool space. The artists will be friendly — we're hoping to have four chairs running."
Andreen declined to name the artists they'll be working with, citing potential conflicts with current workplaces. Black Moon will run like a salon, where all the artists are independent contractors.
"Since the street's been rebuilt it seems like the beginning of a new phase over there," Curtis Andreen said. "Everybody's really supportive and excited and positive."
Tenney-Lapham has become a popular landing spot for young families. When Chad Vogel brought his high-end, 42-seat cocktail bar concept to the neighborhood association, he found overwhelming support.
"The Tenney-Lapham Neighborhood Association was awesome," Vogel said. "I'd like to see more restaurant-type businesses move into this neighborhood. It's an easily walkable neighborhood — there's a ton of houses around here. All the spaces here are small.
"I see it as an incubator for first-time restaurant owners. They can make a mark here."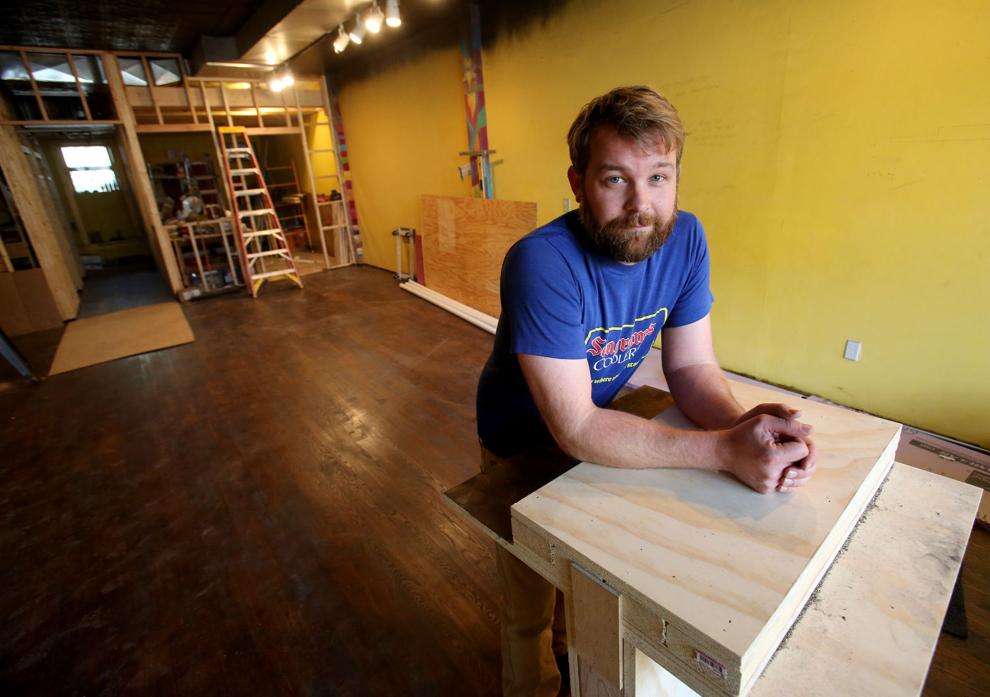 This fall, Vogel is diving into the buildout of the Robin Room, which he hopes to open sometime between Dec. 15 and Jan. 15, 2016. He'll use the kitchen for making shrubs (vinegar and fruit based syrups) and limited bar snacks, like pickled things, hot nuts and landjäger (sausage).
At just over 1,000 square feet, the space Vogel has planned features a long bar with 10 to 11 taps (including carbonated and non-carbonated cocktails on draught), barrel-aged cocktails, and 500 bottles on the back bar.
"I see myself as an educated presenter of different stuff," Vogel said. "If anything weird comes in I like to get a bottle, 'let's all try this!'"
Next door at 823 E. Johnson St., Macha Tea Company and Madison Chocolate Company are deep into their construction phase as well. 823 has been home to Jade Mountain Bead & Jewelry Co., Cook Clothing, and Florilegium, among other things.
The two businesses, run by Rachel and Anthony Verbrick and chocolatier Megan Hile respectively, are sharing space, creating a tea tasting room for Macha and retail spot for both.
"We have lived in the neighborhood for the past eight years," Rachel Verbrick wrote in an email. "When we noticed the location for rent, it was an opportunity that we were instantly excited about.
"There's a lot of creative energy happening within just a few blocks, and it felt like a good fit for us."
At Madison Chocolate Company, Hile has developed a following for her CSA-style "community supported chocolate" program. Recent treats have included flying saucer-shaped milk chocolate tamari almond sea salt bites and a riff on a Twix bar, made with 70 percent Columbian dark chocolate, caramel and graham cracker.
"We had been on Monroe Street for over a decade (four years at Hue Art Gallery plus Macha's seven years)," Rachel Verbrick wrote. "Due to a number of factors, the time felt right for something new. We like the idea of running a business in our neighborhood, since we feel a close connection to the vibe here.
"And who doesn't love a short walk to work?"
Though this short stretch of East Johnson has been changing quickly, it's also changing carefully. There are no teardowns to make way for high rise apartments, no college-themed bars or chain stores. Homes still outnumber retail.
"It's not the kind of street where people come and (say), 'Let's go to the bar and drink all night and get 16 pitches for the team,'" said Patty Prime, president of the Tenney-Lapham Neighborhood Association. "If you go to Forequarter, it's a place to eat, you might have a cocktail. And then you're off to do something else.
"If somebody came in (to the association) with a sports bar and peanuts on the floor, it wouldn't fit. Nobody would propose it."
The unofficial gatekeepers of the neighborhood preside over the counter at Cork 'n Bottle, a wine and liquor store at 855 E. Johnson. Here, Teena Browder, 67, and her twin sister Connie Kaeser ran the business their father opened in 1960 for decades.
In 2007, the sisters sold the business to longtime employee Jim Wright, who started working there on his 18th birthday in 1980.
"There was kind of a renaissance in the '90s," Wright said, after nearby Lapham Elementary School re-opened in 1989. "And then things slowed down again until they started to develop the East Washington corridor."
"We knew we needed fresh ideas, new ideas, younger people with more of a grasp of what everyone's into," Wright said. "Everyone feels this is a place to be."
Browder remembers the old East Johnson, where massage parlors and a nude photo studio have since given way to businesses like Wilke Chiropractic (2014), and an innovative clothing exchange boutique/thrift store called UpShift (2013).
And then there are the "anchor businesses" who have been around for 25 years or more. The music store Spruce Tree has been in its current building at 851 E. Johnson since 1984.
Burnie's Rock Shop, Sophia's Bakery & Café, Studio 924 salon and U-Frame-It are stalwarts. Home décor options at Drunk Lunch may complement those down the block at Fontaine Interior Designs, 811 E. Johnson.
Browder said road construction that upended the street in summer 2014 was something the businesses "dreaded and feared for years."
"We thought, 'Oh my God, we're not going to make it,'" she said. "And now it looks great ... with the outdoor seating for the restaurants. It's got more of a visual identity, rather than a major traffic artery where people go zooming through the neighborhood.
"We had to sacrifice some parking for the bumpouts, but overall it looks like something now. People would commute and not even know what was here."
These sidewalk spaces have been a boon to restaurants like Salvatore's Tomato Pies, which opened its highly anticipated second location on East Johnson in December 2014.
Owner Patrick DePula called East Johnson "a neighborhood on the rise."
More businesses, he said, are "mutually beneficial for everyone. The more traffic we attract, the better it is for all."
"We've been talking about how the Avett Brothers show impacted all of our businesses," DePula said, referring to an early October concert at Breese Stevens Field nearby.
"We see traffic in the neighborhood, and businesses are busy before and after the event," he said. "We had a record Friday. It impacts the neighborhood in a positive way, not a negative one."
The overall atmosphere seems to be one of camaraderie over competition, even for businesses doing very similar things.
"The neighborhood is just so supportive of anybody that puts a sign on their window and says 'we're open,'" said Sandra Purnell, manager of a two-year-old restaurant called The Spot. "They want to support business. The neighbors see this as adding value to their lives.
"I love the mix," Purnell added. "I love that there's unique and original businesses opening that are trying to do businesses a little differently, like UpShift and Drunk Lunch. It really adds to what's so unique about Johnson Street ... people are taking chances."
As new businesses make living and working in East Johnson Street more desirable, some residents are concerned that rents may spike, driving small businesses away or preventing new ones from opening.
"A lot of cities have areas that are funky, with artists and lower rent," said District 2 Ald. Ledell Zellers. "And then they become hot and the rents go up. That's one of the reasons why we've got to be careful with the development proposals and tear downs that we see."
"It's buildings that have been around for awhile, both for housing and restaurants, that can provide the lower cost options and bring in the local businesses that can't afford big time rents of shiny new buildings," she said.
That's what keeps business owners like Nate Mathis-Vargas, 34, on the street. Dog Haus University, a doggie day care and grooming facility that has had a location on Johnson since summer 2012, is opening a new location on Park Street. There, according to Mathis-Vargas, his rent is five times higher.
"The market in this area is pretty low compared to the rest of the city," he said. "New developments and people moving in who are more permanent residents might have an effect on that."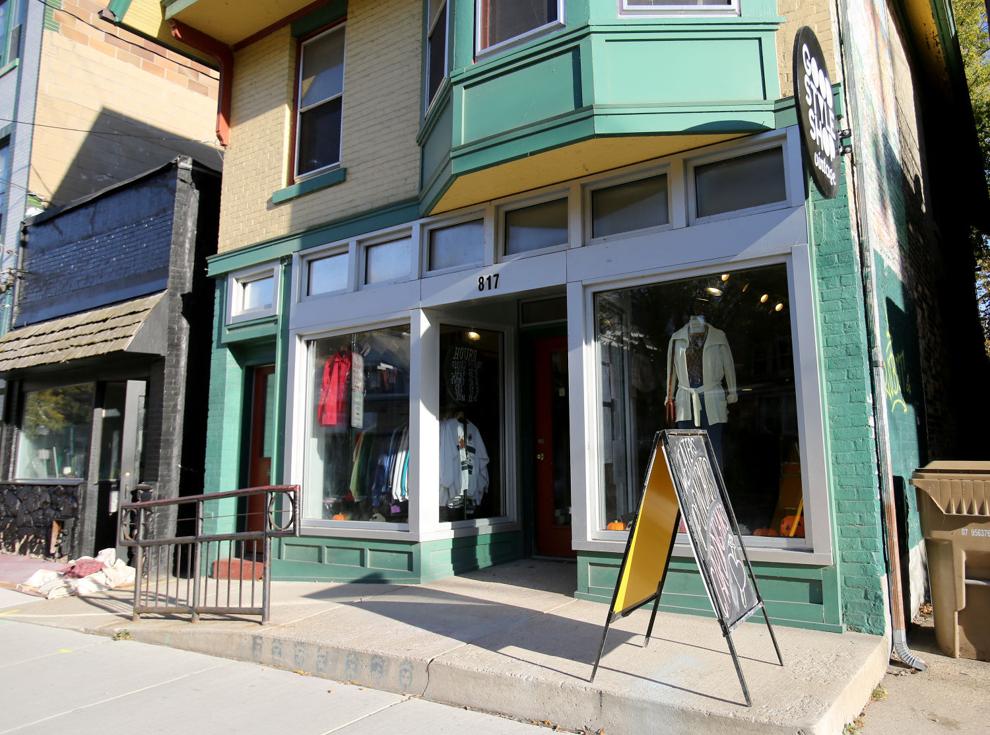 At Good Style, a vintage store that also moved onto the street in 2012, owner Pete Benck, 27, is only mildly concerned about changes in rent.
"I am a little concerned about being priced out of my current location," he said. "I don't think that's an imminent threat. I'm booked up for another year at least."
And there are a few concerns about competition. Haley Raab owns Wisconsink Tattoo and Pokesome Piercing, a small studio in the same building as Drunk Lunch (Wisconsink's address is 812 E. Dayton St.).
Raab had hoped to move her practice, currently custom work done by appointment only, down to the main level to capture walk-ins. Now, she's worried that a new studio will cut into her own business.
It feels, Raab said, like other tattoo artists are "moving in on (her) territory," which is "something you don't do in our industry."
The new place, she said, "could put me out of business ... after ten years of supporting the neighborhood. I've always felt that East Johnson was this great little strip just begging to explode.
"A tattoo shop is going to be great down there," Raab added. "I'm jealous they're getting it when I can't."
Later, though, Raab revised her thoughts, her tone more hopeful.
"Bring on the competition, bring on the friends we may meet," she wrote in a Facebook message. "I am happy East Johnson business is picking up, despite the personal struggle I've had. It's two separate beasts.
"Although I'm worried and sad that someone gets my dream, I know that my customers love me."
What could the future bring? More retail may be likely, with some homes converted into businesses — a popular technique on Williamson Street, with restaurants, bars and studios in houses (El Sabor de Puebla, Umami Ramen & Dumpling Bar, Gib's Bar, Fat Pinky Glass).
There's also the perception that there's not enough parking, which business owners like Nikki Tupesis, 43, and Emily Graf, 43, have been working to combat from where they live on the west side. The pair owns Juneberry, an art studio and retail space.
"We drive here every day and we never have a hard time parking," Tupesis said. "Finding something like this was ideal for us. It was a way for us to be able to do this affordably and give it a shot."
Jonny Hunter, who lived in the neighborhood for years before opening Forequarter, takes a longer view. He's seen the area evolve as he's lived there, noticing students give way to young families.
"The accessibility of the neighborhood is going to be an issue," Hunter said. For years, "I think it was a difficult place for new businesses, with places not being able to survive. Now it feels a lot more established. We're moving the neighborhood forward.
"It's where we lived such a long time, and where our business is," he added. "What Madison is, to me, is Johnson Street."