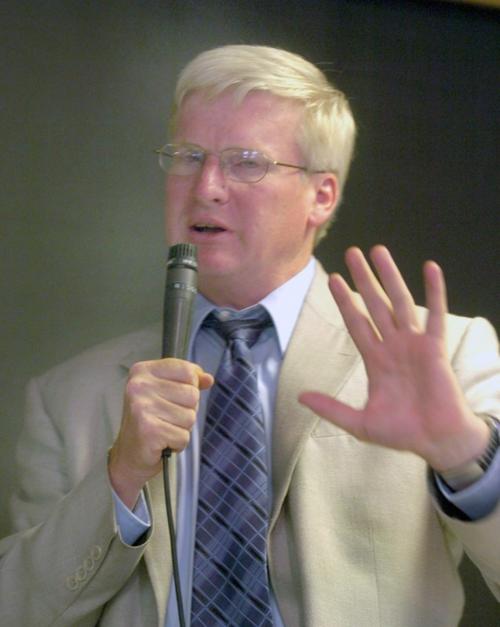 Recent talk about a campaign to get rid of the law that bans gays from openly serving in the military reminds me of a conversation I had last week about sex ed with state Senator Glenn Grothman (R-West Bend), who offered up what could be characterized as his very own "don't ask don't tell" policy for Wisconsin public schools.
Opponents of repealing the law in the military argue that changing the 16-year-old policy would bust the cohesion so important to survival on the battlefield---"that bond is broken if you open up the military to transgenders, to hermaphrodites, to gays and lesbians," Representative Duncan Hunter (R-Cal.) told NPR's Melissa Block.
Grothman's opposition to discussing and recognizing different sexual orientations in schools seems to come his belief that instructors who lead these talks would have what he called an "agenda" to persuade students to become gay.
I had called Grothman to ask him about a hot-potato subject ---sex ed. You got to hand it to him----he is not one of these wimpy politicians afraid to open his mouth. What comes out wins him some admirers, especially from his conservative corner of Wisconsin, and plenty of critics. There's even a blog called What Did Glenn Grothman Get Wrong This Week.
When I talked to him, Grothman was fuming over the fact that his Democratic colleagues, alarmed by a sudden jump in teen pregnancies in the state and epidemic levels of sexually transmitted diseases, had just approved a controversial sex ed law.
Under the new law, which Gov. Jim Doyle has promised to sign, public schools that offer classes in sex ed must include information about sexually transmitted diseases and methods of safe sex, including contraception. Districts can no longer provide only instruction about abstinence or chastity.
In addition, teachers and programs would be prohibited from promoting "bias against pupils of any race, gender, sexual orientation, or ethnic or cultural background or against sexually active students or pupils with disabilities."
This part of the bill really got Grothman's goat, especially the bit that protects gay students from bias. Grothman attempted to remove this protection with an amendment that failed to get enough votes to pass.
When I asked him why he proposed the amendment, which some claim amounted to discrimination against gay and lesbian students, he explained that he believes issues of sexual orientation should not be discussed at all in public schools. "Would you want your daughter's teacher in 7th grade talking with her about homosexuality?" he asked me. "They should be talking about Algebra."
Back when he went to high school in Mequon, he recalled, the issue never, ever came up. "Did people even know what homosexuality was in high school in 1975? I don't remember any discussion about that at the time. There were a few guys who would make fun of a few effeminate boys," he said, "but that's a different thing than homosexuality."
"Homosexuality," Grothman remembered, "was not on anybody's radar. And that's a good thing."
That's also how it should be today, he said. Grothman has long insisted that sexual orientation is a choice, not a matter of genetics. "Why sit down with 7th graders and say to some you will be heterosexual, some homosexual? Part of that agenda which is left unsaid is that some of those who throw it out as an option would like it if more kids became homosexuals, " he said.