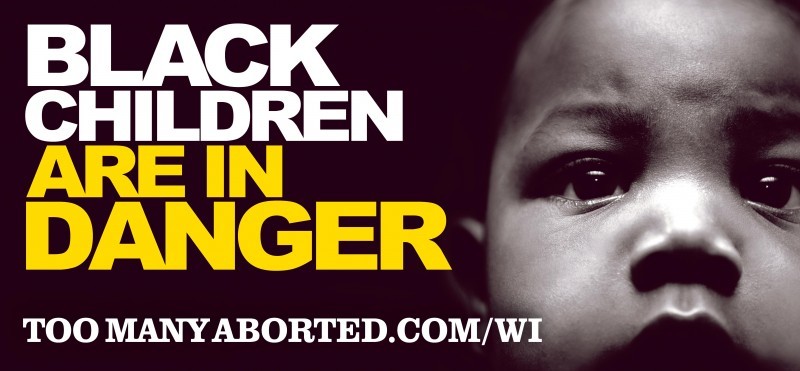 Pro-Life Wisconsin has teamed up with a national anti-abortion campaign to place 13 billboards in the city of Milwaukee blaming the high numbers of African American abortions in our state on what the groups claim is "Planned Parenthood's history of racism and the continuing eugenics movement in Wisconsin."
"Wisconsin is the eighth lowest state nationally in the number of abortions, but the racial disparity in its numbers far exceeds the national trends," said Virginia Zignego, communications director of Pro-Life Wisconsin, in a press release e-mailed this morning to media. "In Wisconsin, 6.2 percent of the population is black, yet 24 percent of all state abortions are on African-Americans, which is four times the representation."
There are two different billboards. The first billboard states "Black Children are in Danger: Too Many Aborted," in enormous letters on a black field; the second states "Black and Beautiful: Too Many Aborted."
In the press release, Zignego charges Planned Parenthood with "the brutal killing of innocent unborn children" and a "massive failure" to reverse the African-American community's high rates of unwanted pregnancies and sexually transmitted diseases.
Amanda Harrington, a spokeswoman for Planned Parenthood of Wisconsin, calls the charges against her organization "lies and distortions" and the billboards "reprehensible."
"They are using racism to interfere with a woman's ability to access health care," she says.
Harrington calls Planned Parenthood "the state's largest and most trusted health care provider," with "doors open to all."
Racial disparities in abortion rates are not the result of a conspiracy, she says. They occur because minorities experience greater numbers of unwanted pregnancies because they lack access to adequate sex education and affordable health care including birth control.
"If organizations like Pro-Life Wisconsin were truly concerned about reducing unintended pregnancies, they would work with us to increase access to sex education and affordable birth control," Harrington says. "Instead, they work against us to eliminate health care to women who really need it."
Pro-Life Wisconsin pposes all birth control and all abortions, including situations in which a woman is the victim or rape or incest, or could die during pregnancy or childbirth. The organization also opposed a controversial state law passed last year requiring comprehensive sex education in the schools. Last year I wrote a cover story about the debate over this law and the state's epidemic of sexually transmitted diseases among teens.