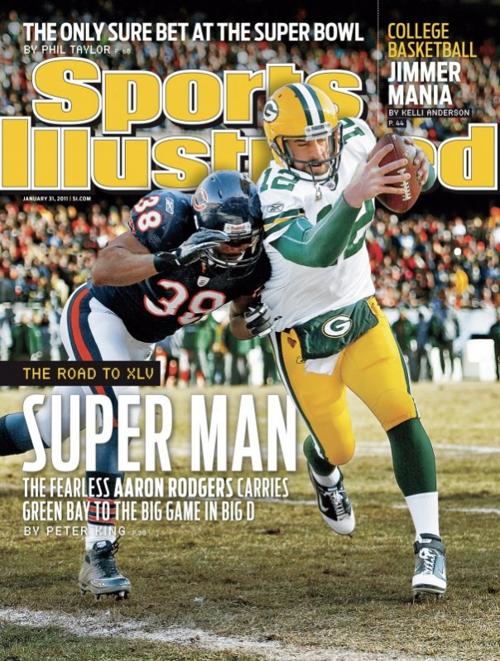 I could use one of those special helmets that Aaron Rodgers has to protect his head. My post Tuesday questioning whether our star quarterback might have suffered another concussion Sunday (and wondering why nobody was talking about that possibility given what a big deal concussions have been in national news lately) took some pretty nasty hits from outraged readers. "Cap Times is not only anti-American; it is anti-Green Bay Packers! Maybe you guys should open a shop in Moscow or Havana!" one fumed.
Some of the comments were what I would call a Julius Pepper's-style blow to the jaw. "This article is written by someone who has a crush on Aaron," said one. (I was kidding when I wrote that, guys. I'm old enough to be his mom!) "As far as I know, she knows little or nothing about the sport other than Rodgers has blue eyes." (Wait, I thought they were green.) Another told me "maybe you should stick to lunchroom menus and stuff." Huh? I'm a health reporter, as another mad Packer fan disparagingly pointed out. Yet another critic suggested that "with your level of skill you could open a drive by clinic." Ouch.
One comment came out of my blind side from across the newsroom, when a Wisconsin State Journal columnist, a longtime member of the regular gang that covers the Pack, groused  that "amateurish reporters" are "making a mountain out of a molehill." I guess the big guys are on the defensive if they're trash talking on the field.
But hey, inspired by the example Rodgers set on Sunday, I'm stumbling right back up on my feet. And I still have some questions. So do readers, judging by the dozens of positive comments, phone calls, and e-mails I got thanking me for bringing the issue of concussions out into the open and "putting into words what all of us were wondering," as one caller put it.
Their big question now seems to be, given what is at stake here, how do we know Rodgers is really OK? A reader pointedly noted that when a "legitimate reporter" for Sports Illustrated asked Rodgers about the hit after the Sunday game, he claimed that he escaped a concussion because he was wearing a new, high-tech helmet given to him after he suffered two concussions earlier this season. (You can read my post about this SI story here.) Rodgers has spoken, time to drop the issue, this reader said: "don't think it gets any clearer than this!"
But among those in the national media who have picked this issue up is a group of Slate bloggers, and they aren't convinced. On Tuesday Josh Levin posted a story, "Is Aaron Rodgers Hiding a Concussion?" that points out that "the incentives here are perverse, as the NFL forbids concussed players from re-entering a game." That means, he writes, that "everyone on the field, on the sideline, and even in the announcing booth (Fox's Joe Buck and Troy Aikman said nothing) has to wish away the fact that Rodgers looked woozy."
On Wednesday Slate's Nate Jackson offered his opinion on why Aikman, a former NFL player forced to retire because of concussions, has stayed mum in this post: "Troy Aikman has his dream job, and he will echo the company line. Aaron Rodgers' brain could be leaking out of his earhole, and Aikman will be talking about James Jones' inconsistent hands."
Not only is there an institutional reluctance to address the issue — until recently NFL denied that there was a problem with concussions at all — but there is a macho code of honor out on the football field about toughing it out. Just look at how Bears quarterback Jay Cutler is getting reamed for not playing through his knee injury last weekend. Pros are expected to jump right on up and say they're fine, even if they're not. "Rodgers toughed it out and stayed in the game because that's who he is," one reader wrote. "The truth on this will come out after the Super Bowl. Rodgers and the Packers don't want to give away any sign of vulnerability to the Steelers before the game."
Some readers complained that I was trying to "manufacture a story." I don't need to do that. This story is already here, and it's big. Take a look at this week's issue of The New Yorker, a January 31 piece by Ben McGrath called "Does Football Have a Future?: The Concussion Crisis." A lot of scary evidence is finally busting out about long-term brain damage including Alzheimer's disease, mood disorders, Parkinson's and other forms of dementia that can be caused by concussions and other head injuries. McGrath gives credit for increased public awareness of these problems to the New York Times and its reporter Alan Schwarz, who has been writing about these issues for years.
Some readers, apparently Packer fans, were afraid this story might help the other side.  "The can of worms is open. That will give the Packer detractors fodder for the next two weeks. Nice work!" one angry reader wrote.
Another reader predicts reporters won't get many answers. "I won't be surprised for a moment if they continue to work the Rodgers concussion theme," he writes. "One thing won't happen however. There will not be anyone on the Packers or their medical staff taking part in the discussion."
Exactly. That was one of my original concerns. But maybe there should be.
"This is definitely a point worth raising," one reader said about my original story. "I hope a reporter asks McCarthy if Rodgers was evaluated for a concussion either during or after the game, and if he wasn't, why not? He sure should have been after that hit."
If those questions get asked in Green Bay, there are a lot of us Packer fans who would like to know the answers.