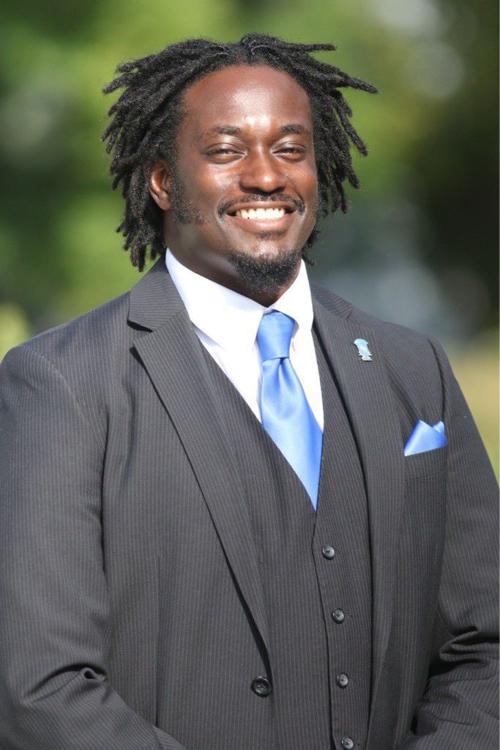 Joshua Wright is the community project coordinator for the Cancer Health Disparities Initiative at the UW Carbone Cancer Center. Wright, who has a bachelor's degree from UW-Madison in Afro-American Studies, has been at the forefront of helping Madison black men, in particular, learn about their health and identify risk factors and healthy habits. 
Wisconsin's Department of Public Health has released data showing that the coronavirus outbreak is infecting and killing black people at high and disproportionate rates. The Cap Times sat down (virtually, of course) with Wright to talk about issues of health disparities and to hear about his career.  
What has it been like living through the coronavirus outbreak, especially as a black man? We see the reports of how disproportionately it's affecting the black community. What have you been seeing and experiencing? 
The things I am seeing and that are kind of at the forefront of my mind when I'm thinking about issues with the black community are, firstly, the economic piece. Are people able to financially stay afloat and not fall into some dire straits when it comes to what they've been doing for employment? And then of course are the pieces that lead to other things like housing security and being able to have food security in this time. Those pieces are very much connected, that I'm seeing reports about. And it's like, what was the access like for people prior to this pandemic? 
Now that those things are heightened as far as how people should be paying attention to their health, what is that? What does it mean for us to be able to go to the doctor and feel like we're trusting them, that we're getting the care that is sufficient or going to help us stay healthy, some of the systemic barriers.  
Those were issues from before the pandemic outbreak. Has the coronavirus made those issues worse? 
Absolutely. Now we're in a situation where people have lost their jobs. You look at the food industry, the restaurant industry, and how many people who were connected to that sector of business have just plain lost their jobs. People are filing for unemployment at historic rates. 
I have a brother that was working in a hotel. So he definitely is not working at this time and he was having to get on unemployment. He's just biding his time. But on the flip side, how many of us are really working in those "essential" roles? 
Is part of the reason the numbers are disproportionate in the black community tied to the fact that a lot of black people have lost their jobs and now are perhaps forced to take on that "essential" type of job? It seems like one of the issues with places like grocery stores hiring and needing workers is that many of the workers who need those jobs are out-of-work African American people who also aren't living in spaces where it's safe to be even remotely exposed to coronavirus. 
So, I have another sibling that works in the grocery store and they're having to expose themselves to potentially getting coronavirus at a heightened level. Like, who knows who is coming into the store and that doesn't have symptoms at all? So it's like a constant thing. 
My dad works in a hospital and as I'm talking to him, he's very adamant about not bringing coronavirus home to my stepmother, who's had cancer. So it's like all of these things are just exacerbating those kinds of situations. Who am I living with? What is my exposure to this pandemic and how is that just adding an extra level of stress? And then how much do I check in? You know, having faith that they'll be able to maintain or sustain themselves and just really trying to avoid the impulse of trying to jump up and go do something to help, because that's one of the worst kinds of scenarios as well (in terms of spreading coronavirus). I'm trying to keep myself healthy and also make sure that people in my household are healthy. So with relatives it is being able to check in and call in and do something without being able to actually go physically be there. 
One of the aspects that has been brought up in this time is what multi-generational households are looking like and how that is more concerning as far as potential exposure. So, are you living with an elder, a grandparent or parent in their fifties? Older populations are at higher risk of getting hospitalized as they track Coronoavirus. If the job that I had been working at, such as a restaurant, is no longer viable and unemployment isn't cutting it, it's like "Hey, this grocery store has a stocking position open."
It's really making people say "I have to do these things" rather than just forego working and being able to do what the recommendations are calling for as far as staying home. 
The scary part of this pandemic is that, you know, people are asymptomatic but still spreading it and with being a vulnerable population it's not clear about what that impact could be on someone else. 
What is it like daily living in the COVID-19 era in terms of staying at home?
I never could have imagined that this would be happening in the way that it has. As much as it's been scary to see the deaths it's causing, it is giving people a chance to really clearly see what's important in having a well-balanced life. You know, having the energy! Because I didn't realize how much getting up in the morning, having to commute to work, having to do work at work, and then commute home was zapping my energy. Then before I even get home I'm like "Am I going to stop at Culver's and get something that I know is going to taste good?" That's before I even get home and have to face opening the refrigerator, cleaning out the dishes and making space and time to cook.
So in that, just understanding about those types of routines and what was bad about them or what is draining about them. And are we going to just jump right back into that? My hope is that moving forward we can do things and help change society in a way where it's saying we got a break- like a break on a global scale or national scale — that's helping us say maybe we should try things differently. 
What has your career and journey been like? 
Working with the current role that I have as a health educator through the Carbone Cancer Center and being able to look at the disparities that go on with cancer incidence and mortality, I was exposed to the fact that black men have higher rates of prostate cancer and higher mortality rates. That was really eye opening for me. I definitely understood just the historical ramifications of race in terms of education and economics. But really getting into this work opened up my eyes to how much that has impacted health.
So, it just really helped my own journey of self-care and taking new steps forward. I wasn't going in for my regular teeth cleaning, wasn't going in for my annual physicals. So it was really kind of more in my face to come around and say "Hey, these are the potential outcomes we're looking at if you don't start doing these pieces."
So in 2017, I joined Black Men Run, which is a national organization but Aaron Perry is the captain of the local chapter. That group participated in the Shamrock Shuffle and I did a 5k run for the first time to see how it went. 
Don't do that! Do not do it like that! Get familiar with the distance and specifically the course first. 
Another thing was that I had a brother who passed away. He was 35, and it was the same year I started running. It was a complication but it was related to the use of opioids in the black community. He was taking his regular medications because of mental health challenges. The medication didn't mix well with the Fentanyl he was taking and he passed away in his sleep. 
It was another wake up call. It was one of those moments where there's a lot of things facing our community as black people and health challenges. We really need to pay attention to these things so we can live long and healthy and productive lives. That was another moment where I was able to double down on my commitment and understanding that this is an important journey and this needs to be lifted up, not only here locally, but nationally and globally. So we can overcome the trends that we're seeing in the black community about premature deaths or dying from preventable diseases. 
I'm trying to frame it in a way where it's like, okay, two things are happening. One is me paying attention to my health and then having this happen. But also it's the prevention piece. So along with my work it's focusing on prevention. Being able to do the proper screenings, being able to understand what the conversations need to be with a doctor so that you're asking the most relevant questions. Do you know your family history? If so, what are the things that are going to make sense for you to watch out for and make lifestyle changes? For me, it was doing the running. 
What has your work been like at the Carbone Center? 
I am a community project coordinator. I started through a research project that was building an intervention for informed decision making to help African American men with their decision to get prostate cancer screening. So just growing out of that project and also able to do education around cancer basics. The unit I work in called the Cancer Health Disparities Initiative. We take three sections of information out to the public. First is the cancer basics. What is cancer? What causes cancer as far as risk factors and being able to understand how cancer spreads?
Then the other two sections are the prevention pieces and screening/early detection. I'm able to go out into the community and just really help us use that information to help people get a good grasp of what cancer means in their lives.
It just works out really well because people bring in their lived experiences. As I'm sharing with you about things my family is going through during this pandemic, similarly people share about what their family has experienced in terms of cancer. Sometimes the stories are hard to listen to because it's a reminder of how people have not always received the best treatment when it comes to interacting with medical staff or medical personnel. But it's like, we still need to find a way to do the interaction, because that's what is going to help us get better or be better in the future.
One thing we're seeing now through this pandemic is that our medical systems don't have the ability to take on so much at once. But even when we're not in this pandemic mode, there's a lot of stress that's on medical systems.
So what do you feel like your future holds in dealing with some of these issues and where is your journey taking you? 
Well, more education, more training. I'm wanting to be better prepared to answer questions, wanting to continue to be a resource to the community and to be on that side of advocacy for them to take advantage of things that are available. To stay encouraged to push through and understand that their health is worth it. Part of my journey is being able to see that my health is worth it. And right now, the cost of healthcare is an issue. So it's having to find ways to push through that understanding that the body is our most valuable vehicle and we need ourselves to be healthy mentally, physically and spiritually to get the most out of this experience.