Grave matters: Report says hundreds of headstone errors diminish veterans, as state says it is fixing mistakes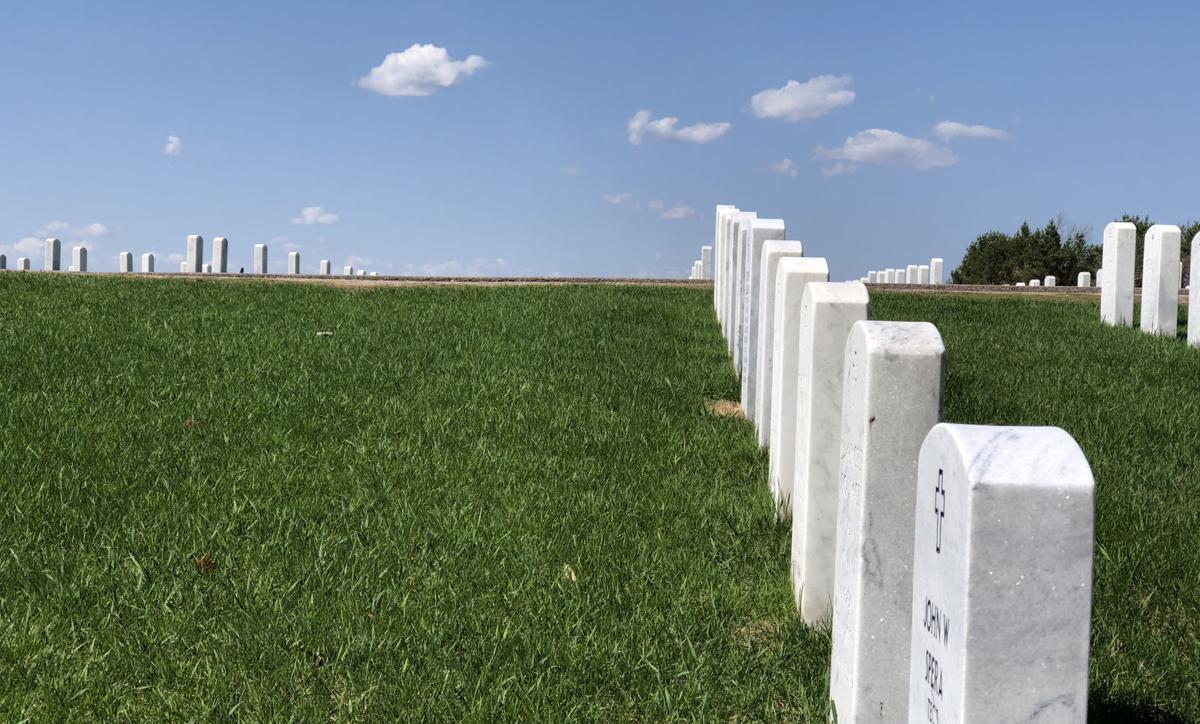 Frank Allen served in the U.S. Army during World War I.
His unit built railroads in France, supporting American troops during two major battles that ended the war.
He died in 1928, and is buried at the Central Wisconsin Veterans Memorial Cemetery across the street from the King veterans nursing home in Waupaca County.
The name on the arched, white headstone commemorating his life and service reads "FRARK ALLEN."
It is an error that is 90 years old and one among many, some made as recently as last year, on headstones at the cemetery. The inscription errors — which include misspelled first and last names, incorrect dates of birth, death and military rank — are part of a pattern of burial anomalies at the state's oldest veterans cemetery.
Records indicate numerous instances of mis-marked burials, unknown grave sites, headstones for veterans who are buried elsewhere and headstones for people who likely never existed.
The persistent errors are outlined in an independent genealogical report created by Jim Gardner, an Air Force veteran who worked for the Centers for Disease Control and Prevention as a public health analyst for more than 20 years. He is now retired and lives in Waupaca.
What started as a genealogy hobby grew into a nine-year research endeavor as Gardner identified errors and corroborated them with state and census records, county death certificates and obituaries. He sent the report to Wisconsin Department of Veterans Affairs Secretary Dan Zimmerman in May 2017 and never received a response.
When asked about the report last week, the state Department of Veterans Affairs acknowledged that it reviewed Gardner's report and had been examining inconsistencies at the cemetery since 2015.
"CWVMC staff continues to identify potential inscription irregularities on headstones in the cemeteries and have either been validated they don't need to be replaced, replaced them, will replace them or are reviewing them for potential action," said WDVA spokeswoman Carla Vigue.
She said the department disputes some of the errors Gardner lists in his report, but said they will correct errors that they verify.
Since 2015, the department has replaced 44 markers, with another 21 scheduled for replacement, Vigue said, noting that the agency expects to replace more headstones based on its ongoing review.
"It is critical to note that some errors are easily identified and confirmed while others take significant research to confirm," she said. "Correcting an emplaced marker is a very deliberate, methodical, time-consuming task."
Yet headstones with some of the most egregious inscription errors are still installed, Gardner said.
"In terms of the inscription errors, I have supplied (WDVA with) one or more references for each error – I've listed a total of 89 reference sources, many of which are cited repeatedly," he said.
Inscription errors are not unusual in old cemeteries, which relied on handwritten documents that can deteriorate and be misinterpreted, to catalogue burials and order headstones.
Many of the headstones are centuries old, meaning no immediate family members are alive to alert the state of any errors. But as recently as last year, incorrect headstones have been found.
William E. Maser died on Feb. 20, 2017, after serving in World War II and the Korean War. His headstone demotes him from a major in the U.S. Air Force to a captain. According to his obituary and Air Force records, he retired as a major. As of this month, his headstone has not been fixed.
The first names of two veterans who died in the 1990s are misspelled on their headstones. Marshall McRoy died in May 1996 and his headstone reads "MARHSALL" McRoy. Malcolm Matthews died in April 1999. An "L" is missing from his first name on his headstone, which reads "MALCOM."
There are hundreds of other examples in which veterans' war service and/or medals are not included on their headstone. The omissions could be a mistake or could be due to a family's wishes. Vigue affirmed that the agency will comply with a family's wishes when it comes to headstone inscriptions. Gardner acknowledged he did not have access to documents outlining the family's wishes when he did his research.
Centuries ago, "I can understand these were installed in the ground by guys who weren't able to read and across society those were some of the least educated people," Gardner said. "I can understand how that happened (then) but it's continuing until today. The errors are still there."
Gilman Stordock was the commandant of the King home for 11 years after serving in the Wisconsin National Guard and the Mexican Border War, rising to the rank of battalion sergeant major. A year before he died in 1971, the state built an administrative and residential hall at the King veterans home and named it after him.
His rank is inscribed incorrectly on his headstone, according to abbreviation standards outlined by the National Cemetery Administration. He was a battalion sergeant major, or "BN."
"BM" is inscribed on his headstone.
"This guy was the sergeant major of the battalion, he was over maybe a thousand men. He's the highest ranking enlisted person out of a thousand and he got special prestige, respect and everything else," Gardner said. "And it says he is a BM sergeant major. BM in my mind means 'bowel movement.' It doesn't equate to anything in the military.'"
For military veterans, rank matters in death, because rank mattered immensely in life, determining the degree of respect, pay and authority in one's military career, Gardner said. 
"People look at that and say, 'What's the difference between one letter?' But in some of these cases, it does determine whether you were a grunt or a non-commissioned officer, which gave you the right to give orders," he said. "I was a staff sergeant in the Air Force. If somebody put 'sergeant' on my headstone … I would be mad. I went through hell to get that last stripe."
Vigue said she is not aware of any complaints from surviving family members of veterans buried at the Central Wisconsin Veterans Memorial Cemetery, also known as the King cemetery. She emphasized the agency is making improvements to its record-keeping, including digitizing its records "to enhance burial tracking and search capabilities for grave records and documentation," she said.
"Staff are reviewing past surveys, conducting direct marker inspections and employing other methods to ensure the data that's imported into the new computer application will be accurate," she said.
The cemetery's inconsistencies linger as the state spends millions in federal grant money to expand and improve operations there. It also funds the cemetery with transfers of money from the King veterans home.
The state says it is upgrading its records system with a new computer program and is doing a comprehensive review of headstones to check for accuracy.
Over the last four fiscal years, the cemetery's operations costs have increased from $171,000 to $510,000 — nearly 200 percent — according to the cemetery's federal disclosures. The state has also spent more money over the last four fiscal years on human resources for the cemetery, despite employing fewer people.
The state Department of Veterans Affairs funds its cemeteries with mostly federal money, according to budget documents prepared by the Legislative Fiscal Bureau. WDVA budgeted $1.1 million in federal dollars for its three cemeteries in the last two biennial budgets, along with $650,000 in money transferred from the Veterans Trust Fund, which is funded primarily through money transferred away from the King veterans home.
It is also undergoing a $6 million renovation, funded with a federal grant, to improve and upgrade the cemetery's operations. The first part of the project is scheduled to be completed this fall and will include a new grave locator kiosk, new administration building, expanded urn garden and restrooms. A second part is set to be completed in 2019 and will include a pre-set crypt garden, shelter and a flag plaza assembly area, according to WDVA.
The budget increases reflect the cost of cemetery equipment and supplies and four full-time staff members, including one administrator, a buildings and ground supervisor, two cemetery caretakers and seasonal part-time staff, Vigue said.  
The Central Wisconsin Veterans Memorial Cemetery is the oldest of the state's three cemeteries run by the state Department of Veterans Affairs. There are more than than 7,000 veterans and their dependents who are buried in the 63-acre cemetery. Its graves date to the late 1800s, when the cemetery and the King veterans home was operated by the Grand Army of the Republic, an organization of Union veterans. Next week marks the 130th anniversary of the first burial there in 1888. There are about 135 burials at King each year, according to WDVA.
Although the state's cemeteries are largely funded with federal money, there is little independent oversight for how that money is spent. There is no national standard or audit procedure for how records should be maintained for public or private cemeteries. 
The state buried civilians in the cemetery as recently as 2007, which is against federal rules, but it has since discontinued that practice, Vigue said. 
Though the state is solely responsible for the operation and maintenance of the cemetery, it does not pay for the interment or headstones of the veterans buried there. The federal Veterans Administration pays for and produces the headstones for veterans buried in state veterans cemeteries.
The National Cemetery Administration, a division of the federal VA, oversees this process and also offers grants to states to expand or improve their veterans cemeteries.
"All state cemeteries are unique and NCA does not exercise supervision or control over their administration, personnel, maintenance or operation," Patricia Tyson, a spokeswoman for the NCA, said in a statement. 
Gardner's research at the King cemetery started with documenting the Civil War-era veterans buried there. It grew into a nine-year endeavor chronicling more than 800 headstone errors and "other serious indications of mismanagement,"  Gardner wrote in his genealogical report, "Vandalism of Neglect."
Gardner has photographed every grave on the site and created a database of each person buried there with their military history and biographical information, taken from King membership and state historical records.
Gardner started by taking photos of headstones for requests on the "Find A Grave" website, an online catalog of headstone photos and cemetery information. People can create an account and upload photos of graves from cemeteries in their area. Genealogists and others who are looking for information about relatives can request that another "Find A Grave" member take a gravesite photo.
As Gardner began photographing headstones of veterans, he noticed that many Civil War-era spouses were not documented on the "Find A Grave" website and not properly documented in DVA cemetery records or in a federal database run by the National Cemetery Administration, the "National Gravesite Locator." The database relies on state and local death records, and newspaper articles, Gardner said.
Then he started finding and tracking headstone inscription errors.
Arthur Stabenau's first name is misspelled as "ARHTUR" on his headstone. He died in 1936 and served in the Philippine-American War.  His obituary, membership records at the King home where he was a resident and records from other state homes where he stayed also verify his name.
John Stiefel's birthdate is wrong on his headstone, according to death and census records. His birth year reads 1917, which also notes that he served in World War I, which would have meant he was born the same year the U.S. entered the war. According to his death and census records, he was born in 1890.
There is also a headstone for Peter Steinebach, who was a member of the veterans home when he died on June 18, 1914, according to agency records and newspaper articles published at the time of his death.
Steinebach's last name is misspelled on the headstone as "STINEBACH," but records indicate that grave is not actually Steinebach's at all. According to his Waupaca County death record and newspaper articles published at the time of his death, Steinebach is buried at Colby Cemetery in Colby, next to his wife, Lydia.
So who is buried in the grave where his his incorrect gravestone was installed? That's an open question, said Gardner.
There are also two graves in the cemetery marked "unknown" which, Gardner said, he has gotten conflicting accounts of from WDVA over the years. Records obtained through an open records request from 1995 show that at least one employee at that time tried to determine who was buried there, and that the identities of those who were buried there were once known, but were lost over time.
"Collectively, national military cemeteries across the country contain the remains of tens of thousands of 'unknown' soldiers, sailors, Marines and airmen. But, the CWVMC is not a battlefield cemetery where you would expect to find 'unknown' burials," Gardner wrote. Through his research, Gardner found two veterans whose death records and DVA records state they were buried at King, but they do not have graves.
One of them is Bernard William McBrarty, a Civil War veteran who died at the King home in 1923.
His death record indicates he is buried at King cemetery, but no marker exists for him. Gardner believes he may be buried in one of the "unknown" graves.
WDVA said it has investigated the markers, which were placed more than 64 years ago, and determined they are "installed correctly as best as can be determined" and will not be disturbed, said Vigue.
Veteran burials and the government's responsibility to do them correctly have become especially sacred following World War II, said John Hall, a professor of military history and an expert in military policy at the University of Wisconsin-Madison.
"A standard was set in the public's mind about what a military cemetery should look like, and that standard is largely set by America's overseas military cemeteries, especially those in France," Hall said.
"People justifiably have very, very high expectations for what the cemeteries are supposed to look like and if there is an error, there is an expectation that it be corrected immediately," he said.
Yet there is key context to consider when weighing policy priorities with limited government resources, he said.
"For administrators trying to balance all of these expectations, there is a natural tendency to want to prioritize the care for those who are still living above other considerations," Hall said.
"So while a typographical error on a headstone from the Civil War is something that certainly needs to be corrected, when it comes to priorities and resources, does it need to be corrected tomorrow or corrected in due course?" he said. "Those are the sorts of questions that are appropriate to this case."
But errors are still errors, Gardner said.
"The average civilian is going to say, 'What's the big deal?' But for military people, it's right or wrong," Gardner said. "People shouldn't be guessing on how to do this."
There is a comprehensive list of each military rank from all the country's conflicts and the correct headstone abbreviations for them on the VA website.
"The government has made it very simple by providing this resource, so that there isn't any question and it is specific to headstone inscription," Gardner said.
The state Department of Veterans Affairs, like many private and public cemeteries nationwide, has its own protocol for creating and maintaining burial records. Though the state gets federal money to expand or build on the site, there are no best practices or mandates from the VA to ensure accuracy.
Individual states, including Illinois and New York, require cemeteries to keep current records and make them available to the public. Wisconsin has no such mandate.
"It's continually disappointing how bad cemetery record keeping is on the whole. There seems to be no standard system that every cemetery seems to adhere to in order to document correct names and dates of burial, and dates of death," said Joshua Slocum, executive director of the Funeral Consumers Alliance, a nonprofit which has lobbied Congress for decades to establish federal standards for cemeteries.
"The acceptable error rate to the consumer is zero," Slocum said. "We know mistakes are going to be made, but if you carve someone's name in stone wrongly, it's your responsibility ... they have an obligation to do better than this."
The WDVA orders its grave markers through the U.S. Department of Veterans Affairs. When an order takes place, a cemetery supervisor checks the marker for damage and inscription accuracy, comparing each line of the completed inscription to the initial reorder request, Vigue said.
For markers less than 50 years old, the National Cemetery Administration allows WDVA to replace markers due to a variety of issues such as damage, incorrect inscription, family wishes to add/change additional inscription, or a second interment, like if a spouse dies, Vigue said. 
For the current fiscal year, the state reordered approximately 300 markers across all three cemeteries — most of which were the result of a second interment, not fixing errors, Vigue said.
Any marker older than 50 years is considered "historical" by the National Cemetery Administration and requires federal consultation and approval before being replaced, she said. 
"This ensures historical markers are not replaced unnecessarily and their historical presence is maintained to the greatest extent possible," Vigue said. "The WDVA remains cognizant of this requirement and uses caution when considering the replacement of CWVMC's historical markers."
The problems at Wisconsin's largest veterans cemetery are similar to some of the inscription errors, record discrepancies and burial anomalies found in 65,000 graves at Virginia's Arlington National Cemetery in 2010.
After an Army investigation that year found widespread problems at Arlington, which holds about 7,000 burials for veterans each year, the cemetery was required to correct the errors, establish better quality control measures and digitize its records.
Congress launched a task force that released a report in 2011 that emphasized the importance of accountability and accuracy in record keeping and burials.
"The gravesite accountability initiative underscores the importance of having standardized and documented business processes and robust training and technology to ensure quality control and cope with organizational and technological change," according to the report. "To maintain the trust and confidence of the American people, the Army is strengthening both accountability of gravesites and oversight of Cemetery operations, identifying discrepancies and administrative errors and taking immediate corrective action."
Arlington has created electronic copies of all of its burial records and has implemented a geo-spatial mapping system of the cemetery so officials can easily locate where a veteran is buried. Information on each headstone is available to the public for immediate download through a mobile app.
"We've taken everything to 100 percent digital," said Renee Yates, deputy superintendent for cemetery administration at Arlington National Cemetery. "That allows us to do accountability by each location."
There are employees who check the accuracy of a headstone and the burial it marks at multiple junctures before it is installed, from the order form, to the stone being delivered, then before and after it is installed in the ground.
"We do a very diligent process where the family looks at the template before the marker is ordered and we allow them to wait 14 days after the service to allow them to reflect after the service …to decide whether to make changes to the stone," she said. The stone is placed within  60-90 days of the burial service.
The cemetery will work to correct headstones immediately if there is found to be an "error of fact" which includes an incorrect date of death, birth or incorrect name spelling.
An incorrect rank or military branch is not considered an immediate "error of fact" and is not immediately replaced, but the record is immediately corrected, Yates said. Arlington is now at a 3 percent error rate, she said.
"Errors do occur and when those are brought to our attention here at Arlington, because we believe in the integrity of our digital record system, we will correct the record and mark it for the future. If the stone ever needs to be replaced, we will replace it at that time."
A key question for the King cemetery is whether the errors are institutional or a matter of circumstance, said Hall, the UW professor.
"Is Wisconsin dealing with, as Arlington had been, a systemic problem that requires a systemic solution?" he said. "Or is this a matter of human error under a range of circumstances dating back over 150 years?"
Whichever the case, Gardner still believes there is neglect.
"I think a lot of these problems could have been solved with some attention to details," Gardner said.