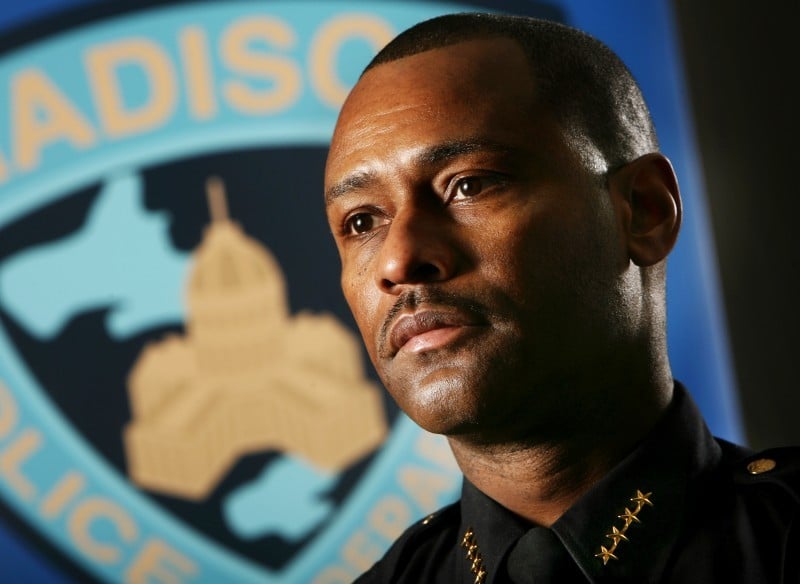 Madison Police Chief Noble Wray was contrite Tuesday when he met with a group of homeless people whose belongings were confiscated and discarded from Veterans Park at the top of State Street on Oct. 10. The confiscation sparked a protest at the City-County Building that turned out to be the start of a new round of criticism of the city's treatment of homeless people.
"From the bottom of my heart, on behalf of the Madison Police Department, I'm sorry that happened," Wray told the group of five whose stuff was taken in a brief meeting at Bethel Lutheran Church in downtown Madison, which hosts a support program for homeless people.
"Every citizen in the city of Madison has a right to be treated with dignity and respect. And I want to make sure you understand that the Police Department believes you are citizens of Madison and you are worthy and you are entitled to that."
In the video, you will hear some in the group tell Wray that while some of their property like backpacks of spare clothing has since been replaced, photographs and other irreplaceable personal property also was taken. "Personal items have value that you can't put a price on," Wray tells them. "I appreciate that."
The tone of Wray's remarks is starkly different from earlier communications from the city, which suggested the confiscated property of the homeless people – who may carry virtually all their possessions around with them -- was junk.
The official report  on the incident released by the Madison Police Department on Oct. 11 describes the confiscated property as not only bed rolls and suitcases, but cardboard boxes, grocery bags, trash bags, and containers of alcohol. "Many items were wet and appeared to have been left for several days," the report says. Wray is quoted as saying it is a "tough job" to manage public spaces, particularly in the area of the Capitol Square, where, the report says "property – with no identification – is often abandoned, or left unattended or long periods of time."
When Brenda Konkel, a homeless services advocate, complained that the city had not followed state law that requires public officials to hold found property worth $25 or more for 90 days, City Attorney Michael May responded by email that since the police officers involved concluded that the materials were being discarded, those laws did not apply.
The confiscated property was returned to its owners several days later, after it had apparently been put in a garbage receptacle.
On Tuesday, Wray told the people who lost their belongings that there is confusion over what counts as "discarded" or "abandoned" property under the law, and police are working with the City Attorney's Office to review their practices. While saying that he didn't want to play the blame game, Wray also said that the city's Parks Division also played a role in the incident.
And while he gave no indication Tuesday about what prompted the department's changed tune, it's worth noting that it was the first of several recent stories that sparked discussion about how Madison treats homeless people.
Within days after the return of the confiscated property, an imbroglio erupted over Mayor Paul Soglin's proposal to spend $25,000 next year to help homeless people get back to their home towns.
On Oct. 25, a joint city-county Homelessness Service Committee formally asked for an apology from the police. And then on Oct. 29, the homeless encampment that plagued Soglin last winter was back on East Washington Avenue and neighbors of the site were calling on Soglin and Dane County Executive Joe Parisi to do something.
Be the first to know
Get local news delivered to your inbox!