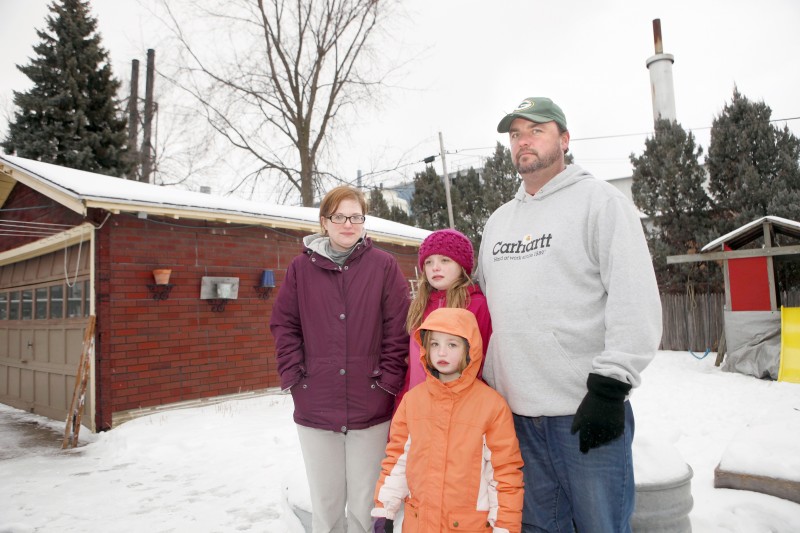 Leslie Bellais can recall a big community meeting on pollution from Madison-Kipp Corp. more than a decade ago. She joined more than 100 of her neighbors — some complaining that they already were sick from whatever it was the metal parts fabricator was putting out of its smokestacks — who gathered at nearby Olbrich Botanical Gardens to voice their opposition to Kipp's application for a state permit to emit more pollutants into the air.
Bellais recalls leaving that Dec. 21, 1999, meeting with the feeling that the Department of Natural Resources, which controlled the air emissions permit, was not convinced that Kipp, located off Atwood Avenue on Madison's east side, was making the neighbors sick. For its part, "Kipp was sort of arrogant about it all, as if the neighborhood was overreacting," says Bellais, who bought her house on South Marquette Street in 1992.
No one seems to have mentioned it that night at the public hearing at Olbrich Gardens, but as neighbors fretted over what pollutants Kipp might be putting into the air, the company and state regulators knew that the grounds of the factory were tainted with a toxic chemical and that Kipp officials were under an order to clean up their site. 
The DNR, in fact, sent a letter dated the day of the hearing to owners of properties in the vicinity of Kipp, informing them that soil and groundwater on the factory site were contaminated with tetrachloroethylene, also called perchloroethylene or PCE. Familiar to most people as dry-cleaning fluid, the solvent also has been used widely in industrial settings to remove grease from metal. It has been linked to cancer as well as neurological and other health problems with long-term exposure.
The letter to Kipp neighbors reported that the extent of soil contamination on the factory site had been determined, and that of groundwater contamination, mostly so. It reassured residents that their risk of exposure to the chemical was small because soil contamination was limited to an area behind the Kipp factory and that city drinking water was pumped from aquifers much deeper than the plume of PCE contamination in groundwater at Kipp.
Bellais today does not recall receiving the letter. And as a public, sometimes heated, controversy over air emission permits for Kipp played out over the next several years, she was more concerned about the growing level of noise from the factory, she recalls. Bellais was unaware of any reason to worry about groundwater and soil contamination, and she certainly didn't realize that PCE was moving from Kipp's property as vapor through the soil, seeping into the backyards of its neighbors.
It wasn't until last spring, when Bellais read news accounts of how the detection of PCE vapors in the soil beneath several homes down the block prompted the DNR to have Kipp install suction systems under the houses' basements, that she started to learn about what scientists call "vapor intrusion."
Then on Dec. 19, public health and DNR workers came knocking on Marquette Street doors after receiving the results of the latest soil vapor tests. Soil in Bellais' backyard at the north end of the street, nearer the Kipp corporate offices than the current production plant, showed a PCE concentration of 4,620 parts per billion. That is 770 times the level that DNR and public health officials now say — if found beneath a basement — warrants installation of one of the suction systems.
It was the highest PCE reading on Marquette Street so far.
"I was taken off guard," says Bellais, a curator at the Wisconsin Historical Society. "I felt kind of safe being at the end of the street — I thought it wasn't my problem. Obviously that was a mistake," she says with a rueful laugh.
Not only was the DNR's early analysis of the risk to neighbors from soil contamination off the mark, but nearly two decades after the PCE contamination in the area first was detected, its extent in groundwater is still unknown. State and city officials are becoming concerned that PCE from Kipp could contaminate city drinking water, if the city goes ahead with plans to increase pumping at a nearby municipal well, causing it to draw water from a larger area.
The recent revelations about the spread of PCE and fears about where it might migrate next sent the Kipp neighbors to the federal courts, has city officials pressing for action and the local neighborhood association demanding "meaningful enforcement" from the DNR.
"This is a matter that seriously impacts the health and property of a wide community," says Lou Host-Jablonski, chairman of the neighborhood association council.
The founders of Madison-Kipp could not have imagined such a turn of events when they opened the doors of the factory on Waubesa Street in 1902. The neighborhood that eventually grew up around it had modest homes and blue-collar residents, some of whom worked for Kipp. But as the neighborhood turned white-collar over the past two decades, the company has been beset by complaints over noise, air emissions and now PCE contamination. In each case, company officials insist, they have done what the law requires.
There is now a long record of interaction with authorities regarding PCE. The company stopped using the solvent in 1989, but in 1994 the DNR notified Kipp that it was legally responsible to investigate and clean up PCE groundwater contamination on its site and warned that "the longer contamination is left in the environment, the farther it can spread and the more difficult and costly it becomes to clean up," according to a July 18 memo.
An examination of some of the stacks of reports and communications between the DNR and Kipp since then show the company intermittently asking to have the cleanup declared complete followed by the DNR pushing for more investigation and occasionally threatening harsher action. 
While DNR officials say the potential for chemical vapors to move through soil was not widely understood at the time the investigation of contamination at Kipp began, a state health official recommended in September 2003 that testing be done at the site to determine if vapor was migrating toward neighboring residential properties. Kipp's consultant asked permission to stop vapor testing on adjacent properties in February 2009, but after the DNR asked for deeper probes beneath the houses, PCE was detected beneath three of them in November 2010.
Despite warnings over the years, though, the DNR took no enforcement action against Kipp until the case was referred to the state Department of Justice on Oct. 10, 2011, nearly three months after Kipp neighbors filed a 90-day notice of intent to file a lawsuit. DNR officials say it was high levels of PCE found on neighboring residential properties — not the lawsuit — that prompted them to take stronger action. 
"With the information that had come to light regarding the significant impacts on the surrounding area, we determined it was important to have an enforcement schedule," says DNR enforcement officer Steve Sisbach.
Kipp officials are saying very little now about the PCE on the factory's grounds in light of the lawsuit, but Mike Schmoller, the current DNR project manager for the Kipp site, says enforcement actions usually are reserved for cases where the party responsible for environmental contamination flat out won't do what the DNR tells it to. As for Kipp's compliance with DNR demands over the years, he says: "They're middle of the road. Some are better, some are a lot worse."
Even before they moved into their house in 2006, Kathleen McHugh and Eric Fuller knew what life was like on South Marquette Street, backing up to Kipp, one of the few operating factories left in Madison. When they got the chance, they moved out of their apartment and bought the house next door. "We loved this neighborhood so much, even with the factory behind us," McHugh says. "The noise, the bumping of forklifts all night long … we dealt with it." 
McHugh, a pre-school teacher, and her husband, an arborist, heard last year about the neighbors who got suction systems to reduce the chance of PCE seeping into their houses through the basement floor. But it wasn't until fumes were detected under their house in the spring that they began absorbing what its presence might mean for the value of their home and how it might affect their health and that of their two school-age daughters.
While PCE was classified as a human carcinogen by the U.S. Environmental Protection Agency last fall, local health officials say it is not known if any Kipp neighbors have been exposed to PCE through soil vapors at concentrations sufficient to cause health problems. 
Henry Nehls-Lowe, the state Department of Health Services epidemiologist who first flagged the need to test for seepage of PCE vapor near Kipp, says the intrusion is more widespread than initially thought. But he also says that the highest PCE air concentration measured so far inside a basement adjoining Kipp property is not known to cause measurable harmful effects. The measured level was .67 parts per billion, just over the .6 ppb level at which the EPA says action should be taken.
McHugh says the possibility that exposure to chemicals from Kipp will harm her children is always in the back of her mind. "I think about it all the time," she says. "I wonder about how even if we move next year or the year after that, the damage might already be done."
McHugh is painfully aware of the point of view that they should have known what they were in for, but like others who live near the plant, she says that she and her husband had no idea of what now seems may be the magnitude of risk posed by chemicals from Kipp. "I thought that if there were a problem, living on the environmentally conscious east side, we would have heard about it."
And moving is easier said than done. "We have a mortgage we're working hard to pay," McHugh says. "We all have marked houses now, and we can't afford to just leave."
Residents of Marquette Street tell about the neighbor who tried for a couple of years to sell his house — and found a buyer three times — only to have banks refuse to write a mortgage. And a local mortgage banker confirmed that industry practices would make it "very unlikely" a mortgage would be issued for a house in a neighborhood where chemical contamination was pushing down property values.
If residents of Marquette Street were frightened by the increasingly troubling news about Kipp, frustrated by the lack of forceful DNR action, and shaken by the emerging grim property value picture, all those things were brought into sharp relief when Shawn Collins entered their lives.
An aggressive Chicago-area attorney, Collins co-writes a blog called Pollution Law Watch where he last fall headlined a post: "You can shame your government into doing something about contamination in your neighborhood." 
Collins says he was a business lawyer who got into the field by chance when an acquaintance couldn't find an experienced attorney to bring a claim involving the infiltration of contaminated water into his home. Eighteen months and a steep learning curve later, Collins got a $10 million settlement for 200 families in a class-action lawsuit, he says.
Over the intervening 12 years, he's handled about a dozen pollution cases, many involving class actions and the Resource Conservation and Recovery Act. That 1976 federal law contains a provision allowing citizen lawsuits to enforce statutes when government agencies don't.
When articles about the installation of the basement suction systems in Marquette Street homes appeared last spring, Collins posted an online comment about a class-action lawsuit in Indiana where he represented 124 property owners whose houses were contaminated by vapor intrusion of PCE from the grounds of a neighborhood factory.
In June, Collins and his associate Norman Berger, invited by a neighborhood resident, attended a community meeting at a local church and met the Marquette Street homeowners. Armed with a newly minted $8.1 million settlement in the Indiana case, the two lawyers impressed the Kipp neighbors with their knowledge of PCE contamination issues. 
"We were so naively believing what DNR was telling us, it was surprising to hear of other similar cases, and that the issue could be much larger than what they were portraying," says Deanna Schneider.
Schneider, who works in technology services at UW-Extension and has lived in her house since 1997, recalls the controversy raised over Kipp air emissions by a neighborhood group called Clean Air Madison. But she never got involved. "I believed DNR was monitoring the air output. I didn't spend a whole lot of time researching it." 
But Schneider says she's spent hours learning about PCE and vapor intrusion, and still is concerned about possible health risks in the home she shares with her 8-year-old son, despite two systems in the basement to prevent infiltration by PCE vapors. 
"The DNR has been more concerned over how their decisions would affect Kipp than how they would affect the neighborhood — and they don't seem to understand the complexity of the issues," Schneider says.
In October, McHugh, Fuller and Schneider joined the owners of five other Marquette Street homes backing up to Kipp's property in filing a lawsuit. It asks the U.S. District Court of Western Wisconsin to order Kipp to determine the extent of PCE contamination and to clean it up. The lawsuit says Kipp was negligent in handling and abating hazardous waste, entitling its neighbors to compensation for lost property value. It also seeks punitive damages for what the litigants assert is the company's reckless indifference to their health and property.
In January, McHugh and Schneider became the lead litigants in a class-action suit, also in federal court, that could include the owners of all 34 residential properties on Marquette and Waubesa streets that adjoin Kipp property if the court certifies the class and the property owners opt to join.
Bringing the suit was not an easy decision, McHugh and Schneider say, both for the public attention it brings and the stress of being involved in a legal action. But their concerns over the environment and neighborhood property values won out. 
"We felt we had to stand up and do something. We didn't feel the DNR was protecting us," says Schneider.
Prevailing in a class-action lawsuit would allow the court to order remediation at all the houses that adjoin Kipp property. "If what we wanted was money, we would have been better off staying just the original seven families," Schneider says, explaining that a greater number of plaintiffs likely means more diluted rewards if the suit is successful. "We hope to help all the families in the neighborhood."
The lawsuit names neither the state of Wisconsin nor the DNR as defendants, and Collins says that's because special laws make it particularly difficult to successfully sue the government, but his harshest public criticism to date seems to be reserved for the state.
"DNR blew it, DNR let people down, DNR hasn't done its job. That's why 34 families — and perhaps more — have the problem they do," says Collins, whose offices are in Naperville, a Chicago suburb.
To him, the Kipp neighbors are fighting a company that's been allowed to let cleanup required under the law stretch on for more than 17 years.
"That's unacceptable by any measure," says Collins. "DNR always had legal tools to force Madison-Kipp to obey the law. The only mystery is why DNR didn't put its foot down a long time ago."
Asked about the criticism by Collins and his clients, Schmoller wouldn't directly engage, but he did say he can see how neighbors, concerned about exposure to toxic chemicals, want action. "If you are on their side of the issue, nothing can happen fast enough."
Reflecting on the DNR's handling of the site, Schmoller says that initial response by Kipp came pretty quickly. "But the size of the problem kept expanding, and we were always playing catch-up with the site," he says. 
The presence of the PCE on Kipp property previously was traced to the location of a former PCE storage tank and the area where exhaust from a vapor parts degreaser was vented, but the high concentration of the chemical found at the north end of Marquette Street, near Bellais' home, suggests a previously unidentified spot where it was spilled, or that contamination under the factory building has migrated, says Schmoller.
He says he knows of no records of day-to-day mishaps at the factory that might have spilled PCE elsewhere. And unlike some industrial sites where former employees have called DNR to tell of past dumping practices, "we don't have any hard evidence of intentional dumping of waste on the property anywhere," Schmoller says.
The Department of Justice continues to negotiate with Kipp on plans for future abatement work, the release of which has been long delayed, but officials of the state's legal arm aren't talking about the status of those talks.
Kipp spokesman Mark Meunier also won't talk about what the future work plan is likely to include. "We have done things voluntarily even before the DNR asked us to do them," Meunier stresses. We've been working with the DNR since 1994 and we will continue to do that."
Given the lawsuit, that's all he's willing to say.
Schmoller, however, says that many of the technical requirements of the proposed plan have been agreed to by Kipp, and that the company has agreed to voluntarily perform other work. For example, more probes to measure PCE soil vapors will be installed at properties on Marquette and Waubesa streets. And a pilot well already has been drilled on Kipp property to test the feasibility of a vapor extraction system that would pull PCE out of the soil before it migrates to neighboring properties. The company also has agreed to remove and replace a foot of soil on five Marquette Street properties.
The company is resisting drilling a deep monitoring well — one of as many as five the DNR might eventually seek — to gauge the depth and direction of the groundwater contamination from the site, Schmoller says.
That's something that worries city officials, who want to ramp up pumping at nearby Well 8, which research says is vulnerable to shallow groundwater contamination. As Mayor Paul Soglin mentions in a letter to Kipp this fall, the PCE groundwater plume has been measured as deep as 171 feet, and headed down. 
"The city is concerned that this contaminant plume will degrade the quality of the groundwater provided to Madison residents as drinking water," Soglin wrote, urging Kipp to continue to cooperate with the DNR.
Soglin reassured members of the Schenk-Atwood-Starkweather-Yahara Neighborhood Association at a recent forum that the city is actively advocating for cleanup in and around the Kipp site, but pointed out that it doesn't have legal authority over the issue.
He told them that the cost of relocating families whose property is contaminated should be explored. "It could be that we have to go that far," Soglin said. The city also should consider if the federal government can be brought in to compel the DNR to take enforcement action, he said. 
The neighborhood association wants Kipp to remove contaminated soil, including under pavement and buildings, and demands "meaningful enforcement" to include an independent audit of compliance with environmental regulations to be paid for by Kipp.
The group also wants the DNR to order additional testing and monitoring, as well as to better inform the public by providing a map of existing contamination and guaranteeing open deliberations about future planning for the site. 
"We insist that cleanup planning no longer be conducted behind closed doors," Host-Jablonski writes in a position statement by the group. 
More information about the Kipp site is already coming out; the DNR has posted a website with many links and has been issuing periodic updates to neighborhood residents. The neighborhood association also has posted much information on its website.
Meanwhile, there's a whole new street of Kipp neighbors — the people living on Waubesa — who have been informed that their properties will be tested for PCE vapors and who will be invited to join the class-action lawsuit if the court certifies the class.
Among them is Anita Van Amber, who has not only tolerated her industrial neighbor, but says she likes the look of the old factory. "I don't want to say it's romantic, but there's something at night when the lights are on — it's kind of cool," she says.
But Van Amber also is concerned about what Kipp has been pumping into the atmosphere and putting into the ground. "I want to trust the DNR and the health department, and I'd like to believe that Kipp is doing its best to find out the extent of the problem and doing its best to resolve it and how it affects my property value and day-to-day living," she says.
"But if the lawsuit will push for information on what was spilled and how they're handling it — terrific." 
Be the first to know
Get local news delivered to your inbox!