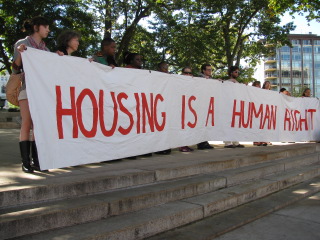 The resolution reads a little like an almanac of the dispossessed: homeless families turned away from shelter, people of color disproportionately shut out, gays targeted, immigrants exploited and the elderly stripped of their savings.
It's the underside of the housing market in Madison and Dane County, marked by raging home foreclosures, low apartment vacancy rates, and rising rents in the face of stalled wages and high unemployment.
Those forces make decent, affordable housing hard to come by for many, leaving people in precarious housing vulnerable to crime and gang influence, and closing off the path to stability and prosperity to low-income families and ex-offenders alike.
In the face of such dire prospects for the disadvantaged, the city of Madison last week joined Minneapolis, Los Angeles, Washington, D.C., New York City and Cook County, Ill., in recognizing housing as a human right.
A resolution passed on Nov. 29 by the Madison City Council on a voice vote without comment declares "that housing be recognized as a human right and that all people who desire a place of shelter and stable long-term housing be prioritized to have this basic need met both temporarily and permanently."
Recognizing the right to housing is something the U.S. government has resisted doing since 1948 when the United Nations recognized housing as essential in its Universal Declaration of Human Rights, the National Law Center on Homelessness and Poverty reports in "Simply Unacceptable: Homelessness and the Human Right to Housing in the United States," released in June.
"The U.S. is in the midst of the worst housing crisis since the Great Depression, and with the surrounding economic crisis prompting calls for cuts to assistance programs just when the need is greatest, we need a new frame in which to discuss issues of housing and homelessness. A frame that says everyone has a right to housing to ensure their basic human dignity would provide a new baseline for what is acceptable," the report concludes.
In Madison, the movement to recognize housing as a human right was led by a group of grass-roots activist groups, including Operation Welcome Home, Take Back the Land, People's Affordable Housing Vision, and the Affordable Housing Action Alliance.
"It's really, really important to embrace housing as a human right because then we begin to view housing and homes as necessary for people to live, and not as profit centers for corporations," Monica Adams of Operation Welcome Home tells me. "When we take seriously the issue of homelessness, we'll look more seriously at issues of poverty."
The foreclosure crisis, which put "middle-class" people on the street, focused attention on insecurities that historically marginalized people have had to endure for a long time, Adams says. With proposed state legislation "mirroring Jim Crow laws," as Adams puts it, that would wipe out local tenant protections, it is important that Madison take a stance and assert that housing is a right, she says.
The recognition of housing as a right is significant, but it is the implementation that will give the resolution practical meaning and improve people's lives, says Heidi Wegleitner of the People's Affordable Housing Vision. "We don't want the resolution to be lofty language that just sits on a shelf. That's why the People's Affordable Housing Vision is mentioned in the resolution. It has practical, concrete things to start realizing the right."
Specific action called for in the resolution is already in the works, says near west-side Ald. Shiva Bidar-Sielaff, who sponsored it.
The resolution calls for the creation of a new city staff position responsible for housing policy and development of a housing plan that will assess affordable and accessible housing needs and recommend strategies to meet them by 2031.
The 2012 budget allocates $85,500 in federal housing funds to hire a housing policy strategist. There's no funding yet for a study on needs — estimated to cost anywhere from $50,000 to $150,000 — but Bidar-Sielaff points out that the city is not quite ready to undertake it anyway.
"I would imagine all the legwork will be done by the housing policy person we eventually hire — they will put a framework around what a housing policy plan will look like," Bidar-Sielaff says.
As for the sweeping scope and philosophical underpinnings of the resolution, "it frames the issue," she says. "It frames it as 'we expect everyone to have good housing.'"