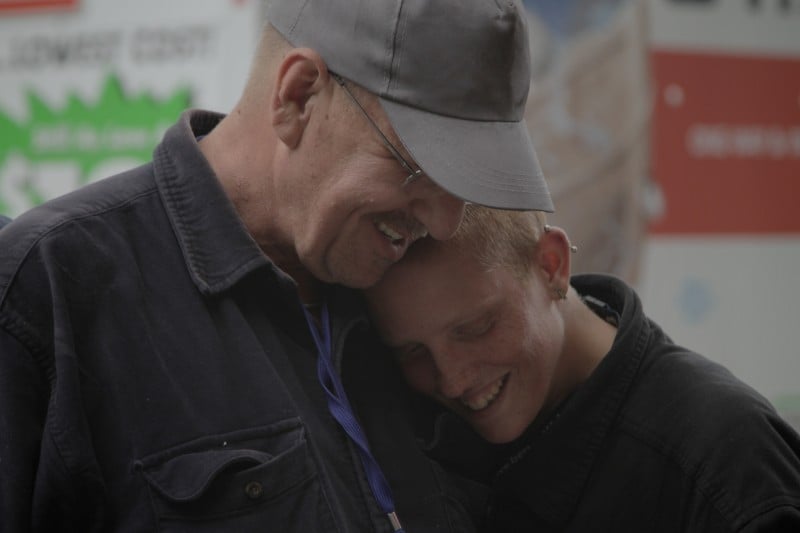 I didn't recognize the landscape in the opening shot of "Street Pulse," a new documentary on life on the street in Madison by Marc Kornblatt. Traffic speeds by on an overpass that could be anywhere, before the camera takes viewers below the bridge to a couple of people just waking up in what we quickly realize is a homeless encampment.
But it's not long before we realize that this story of homeless people meeting life's challenges is set right here in Madison. As it unfolds against a backdrop of iconic local landmarks, you can't help but think about how these homeless people are living in our city, on our streets, with us. By its end, "Street Pulse" might change your ideas about who homeless people are.
I saw a rough-cut version of the feature-length film last week at a showing at UW-Madison's Memorial Union. Director and writer Kornblatt, a teacher for the Madison Metropolitan School District, has made several films, including "Bring on the Magic," which will premiere in April at the Wisconsin Film Festival. He also is the author of a number of children's books.
For "Street Pulse," Kornblatt says he and his crew -- cinematographer and editor Randy Lee, and sound technician and editor Melanie Killingsworth -- were embedded with Madison's homeless for some six months. The film was made with the assistance of a $3,000 grant from Dane Arts, formerly known as the Dane County Cultural Affairs Commission.
"Street Pulse" tells the story of Robert and Angel Huffar, a married couple who met while selling Street Pulse, a Madison newspaper by and about homeless people that is hawked on the street downtown. The film follows the pair on their daily travels from their snug camp under a bridge to the bike path by the Monona Terrace Convention Center, then up and past the State Capitol and onto State Street, where they sell the paper to passersby. We watch the Huffars cope with the demands of life over three seasons of the year as they struggle to find work, adjust to change when one snags a job and scramble for a place to lay down their heads, all the while standing by one another with obvious affection.
The pair reflects, too, on the troubled pasts that landed them on the street. Robert Huffar found himself just out of prison and so lacking support that he nearly had a "total meltdown," as he put it, before reaching out for help to Madison-area Urban Ministry. In the film, homeless people, social services providers and public officials talk about strategies for helping the homeless in a city that is sometimes generous to people on the street and sometimes frustrated by the homeless people whose unrestrained demons test everyone around them.
"The alcoholics need to straighten out their lives instead of making problems for everyone else. I'm talking from experience. I used to be that way myself," Huffar says.
Kornblatt says he chose to tell the story of homeless people who are able to accept help and help themselves. "There's hope in that community," he told me. "I saw people who moved up from the street -- but there are so many variables that come into play."
Kornblatt encounters homeless children as a third-grade teacher at Lincoln Elementary School on Madison's south side, and figured he was aware of the issues. But he was clearly astonished and moved by what the lens of his camera caught. "I saw people in degraded places who were very noble. People in this film act with nobility that strangers to this world couldn't even conceive of," he said.
Kornblatt hopes a wider audience will come to understand the humanity of the homeless over the months ahead as he prepares and publicly screens a final cut and enters the film in various festivals. He didn't make the film as an activist: "I hope it's a beautiful film about a worthy subject," he says.
But who knows, maybe it could serve as the impetus for community discussion and action around issues of homelessness, he muses.
"If we are focused and funded and kind, we can lessen the misery for all and give enough scaffolding for some people to climb up to the next level," Kornblatt says.
 But what about the story? How does it play?
"It was a good movie," Bob Hager told me after last week's screening. Hager is depicted in the movie pushing the wheelchair of his wife, Kathy, along city streets while singing "Amazing Grace" in his strong bass voice. "I'm thrilled to be in it."
---
(Correction: This post was changed to say that "Bring on the Magic" will premiere in April at the Wisconsin Film Festival.)