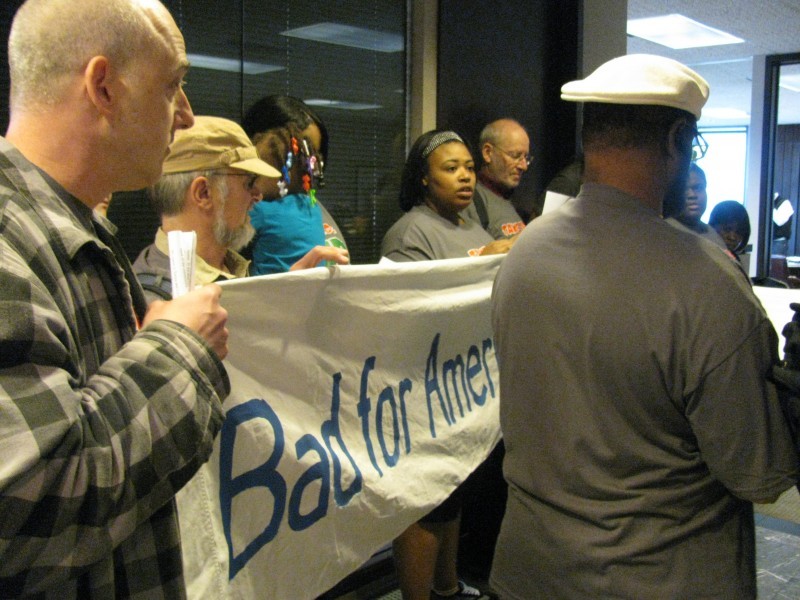 A dozen protesters for the group entered the downtown offices of Merrill Lynch, 101 Wisconsin Ave., on Thursday morning and demanded that the company's parent company, Bank of America, put a moratorium on home mortgage foreclosures.
The group crowded into an entry area, unfurled a banner reading "Bad for America," and recited information about the impact of foreclosures on housing.
They soon were hustled out by Merrill Lynch employees as Madison police officers arrived. The protesters reassembled, shouting: "Fight, fight, fight. Housing is a human right" on the sidewalk in front of the bank on the Capitol Square.
That's where Christina Long told me that she would be homeless if not for an east-side property, foreclosed on by Bank of America, that she and her family have occupied through Take Back the Land-Madison.
"We keep the utilities on, pay the bills -- we just want to live our lives," says Long. She shares the housing -- the precise location of which Take Back the Land won't reveal -- with Ashley Gray and their combined seven children.
Take Back the Land wants Bank of America to turn the property where Long and Gray are living over to a community land trust so it can be converted to nonprofit ownership and preserved as affordable housing.
Thursday's protest, part of a series by groups around the country affiliated with the national Take Back the Land movement, signals a return to direct action by Take Back the Land-Madison.
It also nearly got members of the group cited for trespassing -- an ordinance infraction that carries a fine of $429 -- before company officials dropped their plans to press charges, Madison police Capt. Carl Gloede told me.
Merrill Lynch did not return a call seeking comment on the action.
Take Back the Land-Madison has occupied a number of vacant, foreclosed homes over the past few years to call attention to the fact that mortgage lending companies are putting families on the streets through foreclosures and leaving neighborhoods dotted with vacant properties despite receiving billions of dollars in tax-supported bailout funds.
The group's actions have generated indignation at the idea that anyone is entitled to just "take" free housing, but also support from others who are also outraged by corporate lending policies. Members say they'll soon be revealing the location of additional housing occupied through the movement.
Bank of America received $45 billion in bailout funds that it repaid by the end of 2009; Merrill Lynch agreed to a purchase by Bank of America during the 2008 subprime mortgage crisis that brought on record foreclosures and led to the bailouts through the Troubled Asset Relief Program, or TARP.
In Madison Thursday, a Merrill Lynch employee remarked that if the protesters realized "how much we give to charity, you wouldn't be here."
Take Back the Land's Monica Adams commented outside later: "If you look at the damage they've caused, the donations are a drop in the bucket."