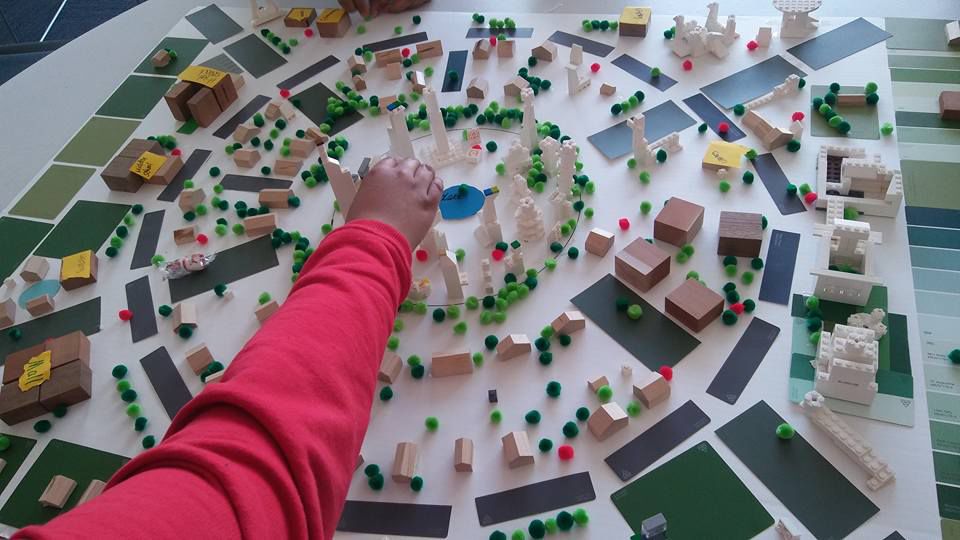 Architecture affects everyone. But go to most city planning meetings around the country and you won't find a lot of diversity, said Michael Ford, an architect and instructor at Madison College.
"For minorities, historically, places have been designed for us, but not with us," he said.
That needs to change, he said, but "you have to do something different. You can't just scream how important that meeting is."
Ford is definitely trying something different. He's a proponent of infusing hip-hop in architecture and he's involved in the city process to imagine the future of James Madison Park.
The city is emphasizing inclusivity as it updates the master plan and shelter design for the park on Lake Mendota at 728 E. Gorham St. The design team is also taking a deep dive into the park's past, asking what aspects could be revitalized (like its history as a harbor) or changed (like the park's name). 
The public input kickoff meeting for the project will be Wednesday, Jan. 17, at Central Library, 201 W. Mifflin St., from 5:30 p.m. to 8:00 p.m.
The project provides a "unique opportunity to look at the vision for the park for the next century," said Ann Shea, public information officer for the city's Parks Department, and the city wanted a robust public input process to guide that vision.
That process will extend into October and will include four public meetings and an online survey. Zia Brucaya, a planner with Urban Assets, the consulting firm responsible for the project's public engagement process, said there will be focus groups with communities that are typically underrepresented at public meetings, like students, low-income individuals, service providers for the homeless population and the Hmong community.
For this project, public input also includes stopping by the park and chatting with basketball players, giving residents a chance to draw images of their ideas and bringing Ford on to help out.
Ford created the Hip-Hop Architecture camps now spread throughout the country and is designing the Universal Hip-Hop Museum in the Bronx. He has spoken repeatedly about the need to engage a wide range of residents in the design process, like kids, the homeless and people of color.
"I go to those city planning meetings and they lack diversity as far as race and age is concerned because usually they're not effectively engaging people," Ford said in a Cap Times article earlier this year.
Ford said this a national problem and one that's lasted for decades. Ford presents a solution in Hip-Hop Architecture, which emphasizes innovation and engaging with the community that will use the space.
He's conducting a public input "PARKitecture" meeting in February and will give attendees a chance to "roll their sleeves up," listen to music, toy with models and draw their ideas. Ford will be posing a lot of questions, asking about the strengths and challenges of the park.
"(We'll) have them tell us what it means to have a beach you want to go to. How does the sand feel when your feet first get in the water?" Ford said, then added with a laugh. "Which I'm hearing a lot about."
He added a caveat: "We don't just want you to come and tell us all the problems, we want you to try and solve them."
One of those problems may be the name of the park. Last spring, high school senior Mya Berry started a petition to change name of her school, James Madison Memorial High, pointing to Madison's history as a slaveholder.
James Madison Park used to be known as Conklin Park, but the name was changed in 1963, as there were no public facilities in the city named after James Madison.
Even though it might be the most controversial aspect of the project, Ford's excited for the discussion it could generate.
"It's changed names a number of times. Is it time to change the name again?" Ford said. "(That) will bring up a number of tough conversations Madison needs to have about the space and places here that may not be the most inclusive."
City and county leaders proposed naming the City-County Building for former President Barack Obama, but were met with backlash as critics pointed to the county's racial disparities and the fact that the building holds an outdated jail.
Ford didn't think that proposal was a good idea, but when asked whether the name "Barack Obama" might be an option for the park, Ford said, "I don't think that's far-fetched at all."
A PARK WITH "MANY, MANY LAYERS"
The name is one of many features of the park that have evolved. Anne Biebel is the architectural historian for the project. She thinks it's important to acknowledge the history of the site, because "stories associated with the past can fuel ideas about current and future use." 
In her research, she was "delighted to learn" that the site was once an important harbor in Madison. In the 1870s, steamboats were used for transportation and scenic tours around the lake. It's also been the site of ice boating regattas and boat building. 
It has also been the home of the Mendota Yacht Club, an armory, an ice harvesting factory in the days before refrigeration, a soda factory and a boarding house. And before any of that, the shore of Lake Mendota was home to the Ho Chunk tribe.
"There are many, many layers to James Madison Park," Biebel said.
Ken Saiki Design is the landscape design company for the project. Saiki said learning about the history encouraged the team to think differently about the possibilities for the park. But Saiki said they're trying "not to get too far ahead of themselves." Ford agreed; he wants community members to be "the first people to put pen to paper."
"(My goal) is to have people understand that their opinions about the spaces and the places that they inhabit are important," Ford said. "Hopefully when this process is over … people are able to see how their discussion has influenced our final design decisions."
Four public meetings have been scheduled for the project:
Community Kickoff Meeting: Master Plan and Shelter Design: Wednesday, Jan. 17 at Central Library, 201 W. Mifflin St., from 5:30 p.m. to 8:00 p.m.
James Madison PARKitecture Workshop with Hip-Hop Architecture Camp Founder Michael Ford: Saturday, Feb. 10 at The BUBBLER at Central Library, 201 W. Mifflin St., from 1:00 p.m. to 4:00 pm
Design Concepts Workshop: Draft Master Plan & Park Shelter: Monday, May 14 at Gates of Heaven, 302 E. Gorham St., from 6:00 p.m. to 7:30 p.m.
James Madison Park Draft Master Plan: Final Presentation: Monday, Sept. 24 at Christ Presbyterian Church, 944 E. Gorham St., from 6:00 p.m. to 7:30 p.m.