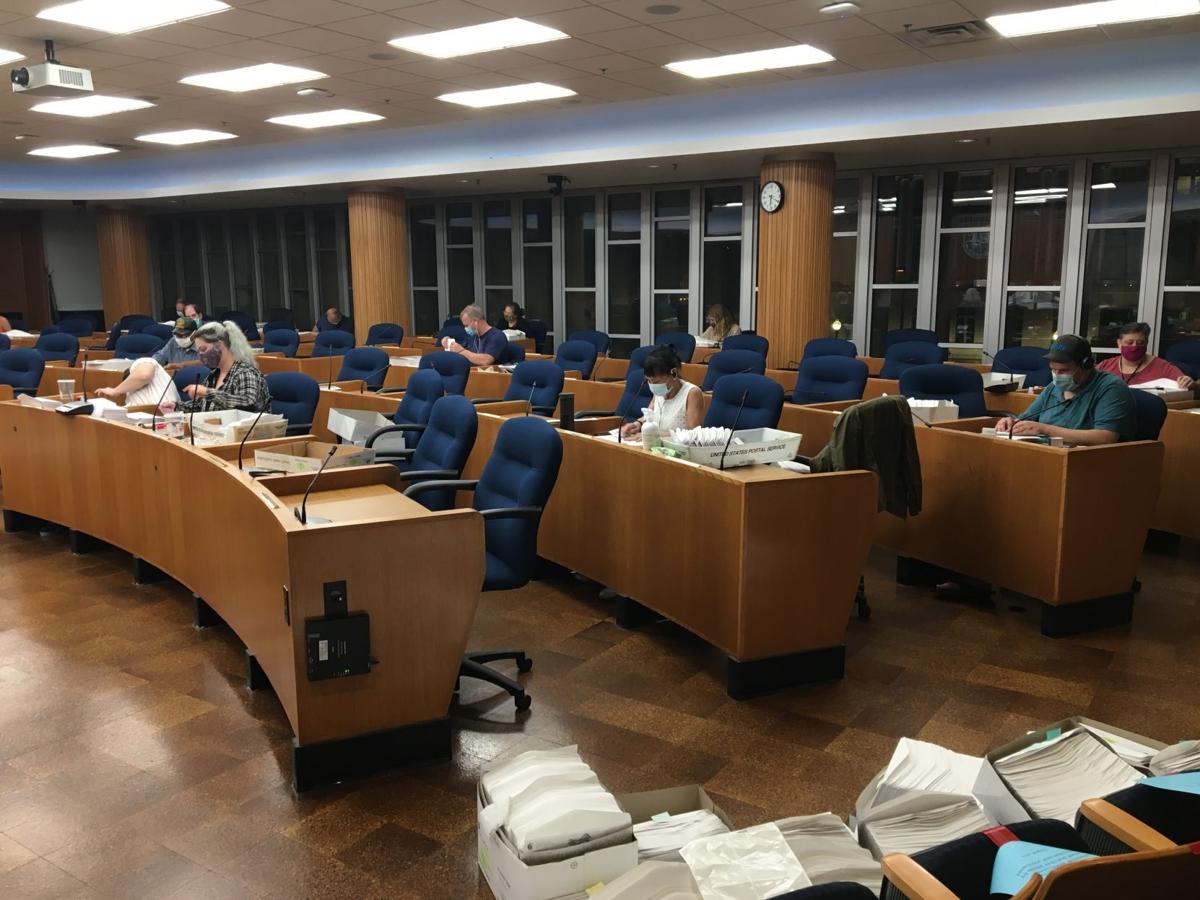 After a four-day court-ordered halt to Wisconsin clerks' efforts to ship absentee ballots to voters, Madison officials are preparing to work late to get them out the door this week. 
Elections workers got the go-ahead Monday before 5 p.m. from the Wisconsin Supreme Court to begin mailing the ballots, after justices put the process on hold last week as they considered whether to allow the Green Party to join the presidential slate. In a 4-3 decision, justices rejected the party's request to include candidate Howie Hawkins on the ballot.
Free from the potential burden of reprinting hundreds of thousands of general election ballots, the state's city, village and town clerks are up against a Thursday deadline for mailing absentee ballots to registered voters with requests on file and a federal deadline of Saturday to send ballots to overseas and military voters.  
In Madison, the court's announcement sparked quick action from the two dozen poll workers who were on hand that evening, as they worked until 11 p.m. to prepare around 5,000 ballots for Dane County's mailroom. 
Rather than dropping 15,000 to 20,000 absentees in the mail daily beginning last Friday as the office had originally planned, City Clerk Maribeth Witzel-Behl said the officials will be operating 12 hours a day over the next few days to get the around 80,000 ballots requested to voters. 
Even with the court-imposed delay at an end, Witzel-Behl said for local voters, there's "a chance" some ballots could be held up, unable to reach the post office until Friday due to a potential bottleneck at the mailroom's postage meter, where envelopes are sealed and postage is added before ballots are forwarded onto the post office. 
That's due to the capacity at the postage meter, she said, where one county employee working all day can apply postage to between 15,000 and 20,000 pieces of mail.
"We are sending good vibes to the mailroom and, when off the clock, are praying that they will be able to exceed their capacity," Witzel-Behl wrote in an email. 
Across the state, officials in other large municipalities are also pushing to get ballots out — though the timeline is tighter for some. 
In Milwaukee, Elections Commission executive director Claire Woodall-Vogg said while the city won't be able to get its ballots out in time, the court's order last week "did not interfere with our process much" because of the state-imposed Sept. 16 deadline for county clerks to deliver printed ballots to localities. 
This election cycle, she said, the city received its ballots Tuesday morning. That said, with the around 100,000 requests on file, she noted in an email the "statutory deadline is extremely unrealistic."
"We were lucky to receive our ballots this morning, as we normally do not receive them until the actual deadline," she added. "Even with 48 hours, the city of Milwaukee will not be able to mail all 100,000 ballots out by Thursday's deadline. We will work around the clock to get them out as soon as humanly possible."
Elections Commission Administrator Meagan Wolfe said in a news conference Tuesday that while state officials have to track and report each military and overseas ballot to ensure they're sent out by the federal deadline Saturday, there appears to be no penalty if the state deadline Thursday is missed. 
Woodall-Vogg, who took over the role in July following her predecessor's retirement, noted the city last week began printing inner envelopes for the ballots last week, as well as absentee instruction letters. Officials, she added, have also implemented a largely automated assembly process, which in part eliminates the need for labels by printing voters' information directly on envelopes. 
In Kenosha, city spokeswoman Michelle Nelson said the court-imposed delay wasn't affecting operations much either because officials "never deviated from our original plan to begin preparing envelopes ahead of receiving ballots." 
Those printed ballots were received by the city Tuesday afternoon, a day after officials began preparing envelopes for sending out the more than 15,000 requests on file. 
Officials hadn't planned on sending out ballots to voters until Wednesday or Thursday, she said. Over the next few days, 20 workers will help fulfill and mail out the requests. 
The court's ruling that it was too late for Hawkins to be added to the ballot doesn't bode well for rapper Kanye West's potential appeal to join the state's presidential slate. 
West was denied ballot access after his campaign turned in his nomination papers after the 5 p.m. deadline last month, Elections Commission staff said. A Brown County judge last week refused to add him to the ballot. 
Meanwhile, Hawkins told WisPolitics.com he's considering his legal options and the party could consider launching a write-in campaign.
More than 1 million absentee ballots have been requested in Wisconsin, according to data from the Elections Commission. Wolfe noted more ballots have been requested at this point than in any other previous state election. 
Sign-up here for the Campaign Notes newsletter to get important Wisconsin politics updates in your inbox each Thursday, now through Election Day. 
Get Government & Politics updates in your inbox!
Stay up-to-date on the latest in local and national government and political topics with our newsletter.