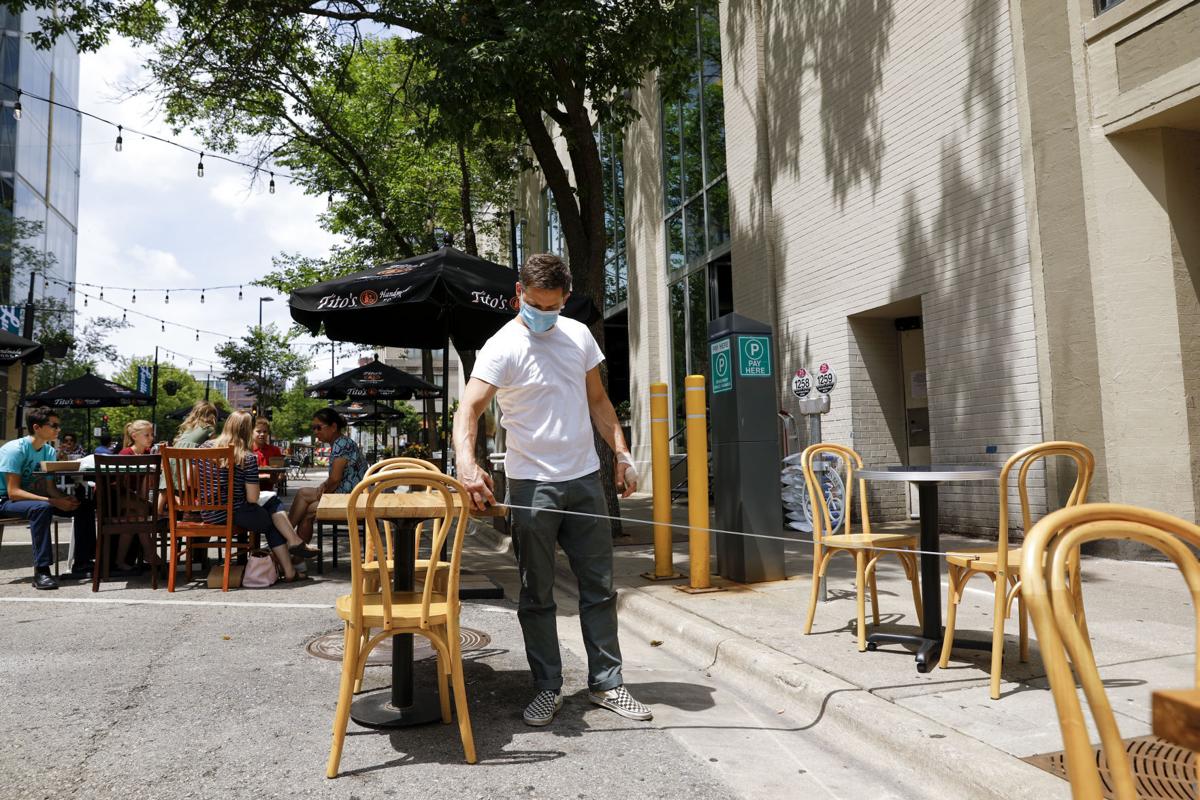 Dane County began the summer with a multi-step approach to reopening businesses and relaxing restrictions during the COVID-19 crisis. But since mid-June, the progression has been stuck in Phase 2. 
The stalled momentum, which came in the face of rising cases this summer, has led some to wonder what's next for the county — and whether Phase 3 in the four-phase Forward Dane plan is still within reach.  
While Public Health Madison & Dane County has acknowledged the limitations of its original phased approach, officials say they're not scrapping it. Instead, they confirmed they're looking to chart a more nuanced course for handling and responding to COVID-19's community impact.  
But rather than issue additional phased guidelines going forward, PHMDC spokeswoman Sarah Mattes said given the current data and the emergence of more research throughout the country, future movement "will most likely be (on) an order-by-order basis." 
"The original phases that we drafted in Forward Dane aren't as clear-cut as we hoped they would be," Mattes wrote in an email. "We are still very committed to reopening businesses in Dane County in a way that supports residents' health and safety." 
Though the broader framework is still in use, the path forward across all industries is uncertain. 
Rather than moving all sectors to the next phase together when the data would allow it, as described under the first iteration of the Forward Dane plan, Mattes said, the county could adopt a split approach in which some industries see loosened restrictions and others are subject to tighter ones under the next order — whenever it may come.
"Given the current level of case counts, it is really hard for us to say what the next step forward could look like," she cautioned. 
Business operations continue 
Local business leaders say they're still operating under the assumption that at least some sectors of the county's economy will hit Phase 3, and with it, the 75% capacity threshold originally outlined in the Forward Dane plan. 
But public health officials aren't sure what that could look like or when it would happen, if it is reached. That's especially true given the recent record-setting high in cases in the wake of UW-Madison students returning to campus. 
Mattes noted that the next possible phase could allow, for example, some sectors to operate at 75% or without any capacity restrictions, while others stay steady at 50% or face tighter measures "based on data analysis, community spread information, and/or information from contact tracing interviews." 
"With cases currently spiking in the UW population we are closely watching if case increases will be spilling over into other parts of Dane County," she said. 
Greater Madison Chamber of Commerce president Zach Brandon characterized the approach as "broadly permissive with targeted restrictions." He said there's extra onus on local officials and public health to communicate "about what they're seeing and where they might make those fine-tuning" adjustments so businesses can be better prepared.  
He acknowledged that it's become harder to predict what the next public health order could look like after the possibility orders targeting different sectors was raised earlier this summer, a process he called "microtuning."
"Now the way we're operating is if we get through all these gates, the following things will happen, although it isn't assumed that everyone will get that new allowance, that new permission," he said.
MadREP head Paul Jadin, who highlighted the importance of looking at operations in a sector-by-sector way, said those in manufacturing have found an approach that has worked for continuing to produce, while office workers also have "learned how to best deal with their workload, irrespective of the guidelines from public health because they were generally working remotely."  
But with retail and hospitality, things are different, he said. There, he said, the industry would probably "prefer clear standards, but I think it also understands there's logic behind" public health orders that react to day-by-day changes. 
Because establishments differ widely within the hospitality industry, he said that leads to questions about how one bar or restaurant could adequately rope off some sections or sanitize others or put in place further restrictions. 
"I think those are the biggest issues. Can you truly develop a one-size-fits-all approach?" he asked. "If not, then how are you going to be dealing with the outliers or any sort of aberrations?" 
Asked about the advice public health gives to business owners looking to plan ahead, Mattes emphasized the unpredictability of the COVID-19 crisis and said officials "are doing our best to chart a way forward." 
Latino Chamber of Commerce president and CEO Jessica Cavazos noted that in her experience, many employers "are just trying to make it," thus "they're being reactive and not proactive." 
"The reopening plan is just one issue and the phasing-in is just one issue," she said. "The reality is that our business owners are facing loss of employees, loss of income … They're dealing with evictions." 
More should be done, she said, to ensure immediate relief is available for business owners, including waiving license renewal fees til next year. 
"You can't plan three months out, we don't know if they're going to be here in a month," she said. "We have to be here and now. We have to give them the resources here and now. We have to translate the resources here and now, and we have to make sure that the here and now also involves the well-being of their families." 
Progress stalled, cases up
The local reopening plan — a combination of nine metrics connected to epidemiology, health care and public health and a four-phase approach to gradually loosen restrictions — came in the days after the Wisconsin Supreme Court struck down Gov. Tony Evers' statewide stay-at-home directive. 
The county's ability to meet those benchmarks would dictate how quickly it moved from one phase to another, with new directives focused on long-term living facilities, schools, businesses, workplaces, places of worship, recreational activities and mass gatherings. 
Initially, the county moved swiftly into Phase 1 at the end of May, which allowed many sectors to operate at 25% capacity, followed by Phase 2 in mid-June, giving restaurants, gyms, salons, community centers and others the ability to operate at 50% capacity and upping caps on gatherings. 
But progress stalled in light of what officials described as a "steep upward trend in cases." At the time, PHMDC's Mattes told the Cap Times discussions had been ongoing about returning to a prior phase, though she said there was no state or federal guidance for doing so. 
That uptick forced officials to make a decision. Rather than move the entire county back to Phase 1, they chose a targeted response because the issues were "largely due to gatherings at homes and in bars," they noted in a July 1 update. 
At the time, health experts also acknowledged the drawbacks of their broader Forward Dane plan and the criteria that drove it — namely, that the framework didn't specify when it might be appropriate to return to an earlier order in light of a resurgence of cases. 
"We are at the point where planned phases are no longer useful," officials wrote in their update.
In the months since, a couple major orders were issued that didn't focus on businesses. There was the county-wide mask mandate in July, followed by the more recent orders surrounding K-12 schooling (including one barring in-person instruction for grades 3-12 that the state Supreme Court temporarily put on hold last week). 
Through it all, most businesses have continued operating under the rules as defined in Phase 2, while others are doing so under the more restrictive orders. 
New, old metrics
Throughout the summer, officials said they've continued to monitor metrics and other data points for both going forward and maybe taking additional steps backward. 
In its July update, PHMDC announced criteria for returning to an earlier phase, or "rebounding" — if data could show a specific sector or activity driving cases, officials could issue "a more focused Rebound." But if that wasn't the case, more general action, such as returning fully to a previous phase, could occur.  
Officials would continue to monitor metrics and other criteria and, if met, "a gradual re-opening of sectors not impacted under the Rebound orders" could continue. The impacted sectors, meanwhile, would re-enter at a Phase 1 level and remain there for four weeks, per the guidelines. 
Mattes said that information still applies, though she noted there is some evidence that shows a two-week period may also be effective. 
"In our experience the data takes a while to catch up to what is happening on the ground and that is why we said 4 weeks," she added. 
In addition to the nine public-facing metrics outlined in Forward Dane, officials in July said they would also be looking at two data points tracked by the state Department of Health Services, called burden (based on the total number of cases per 100,000 in the last two weeks) and trajectory status (a statistically-significant increase in 10% in the most recent seven-day period compared to the past seven-day period) to determine whether to tighten or loosen restrictions. 
While the original nine metrics don't specify when a "rebound" is needed, Mattes said tracking them is still important because they reveal how the county is doing across a number of areas. Though case counts could be up, she said, by examining the original metrics, officials could determine if hospitals felt an impact or individuals were able to be isolated quickly.  
"This could tell us we don't need to rebound since although case counts are high, our infrastructure is able to keep up," she said.
Sign-up here for the Campaign Notes newsletter to get important Wisconsin politics updates in your inbox each Thursday, now through Election Day.