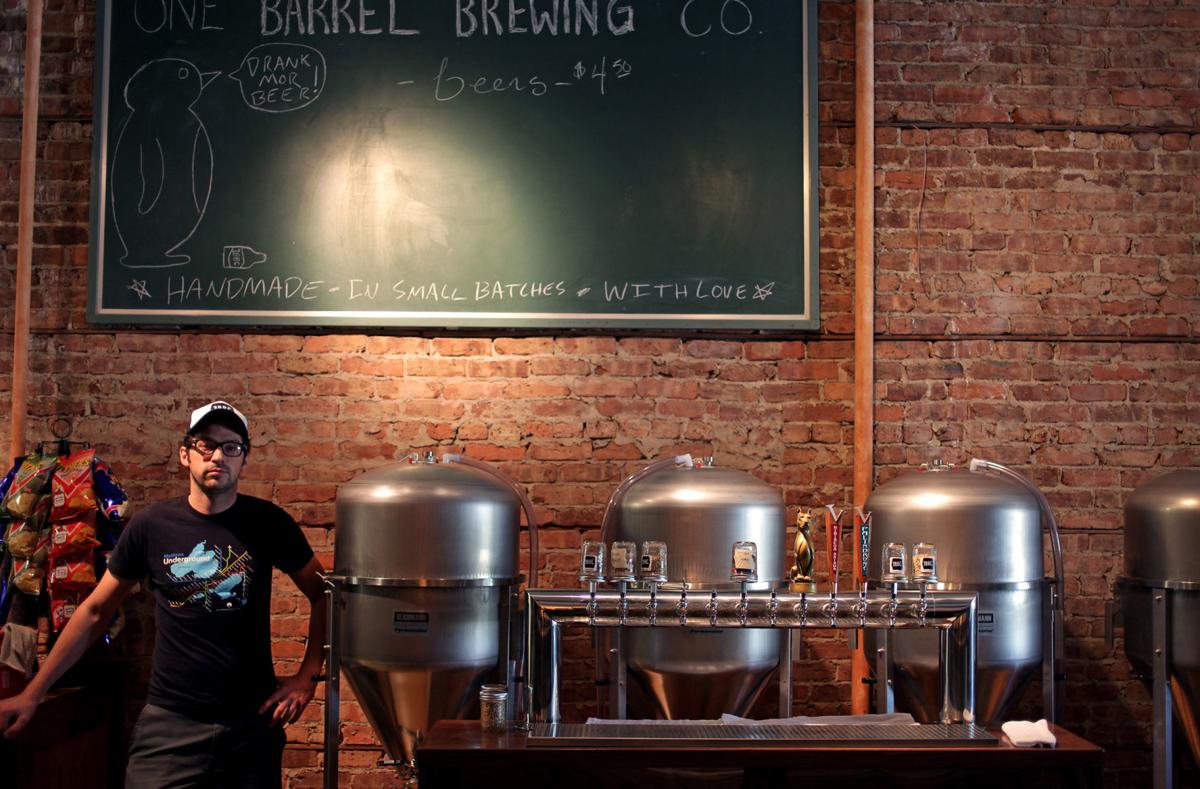 Like many workers who are suddenly out of a job, Amy Moreland is facing hard times. The 38-year-old bartender has been laid off since bars and restaurants were ordered to close on St. Patrick's Day, and before that she was laid up with an illness that felt a lot like the coronavirus that has put her and many more out of work. With a shortage of tests, her doctor asked her to self-quarantine.
"I haven't really been able to work or do anything for almost a month," she said.
She's making rent on her apartment with unemployment benefits and partial payments from her employer, One Barrel Brewing Co. on the near east side, which is paying her 10 hours a week for two weeks. She's also applied for food stamps. 
She's holding out hopes that the COVID-19 stimulus bill, dubbed the CARES Act, signed into law Friday, will keep her financial boat afloat. But she's unsure what she might get out of it.
Moreland is an events coordinator and bartender at One Barrel. She makes a better hourly wage than most bartenders because of her extra duties, but tips are her bread and butter.
Single and living alone, she is now living on $264 a week, before taxes. That amount will go down when the payments from work end; unemployment pays 40% of base wages. Moreland said that while One Barrel can't afford to continue paying staff during the crisis, the company is distributing all gift card sales to employees.
"I was definitely able to pay my rent this month," she said, "and I think I'll be able to pay my rent next month. I don't think I will be able to if it continues longer than that."
She's living with the fear that an unexpected expense, like a car repair, could clean her out. But she's trying to put her situation in perspective.
"I'm in a better position, I think, than a lot of people," she said. "I had like the tiniest amount of savings. I don't think a lot of people have that."
Stories like Moreland's are playing out across the state as bartenders, wait staff, retail workers and employees of "non-essential" businesses find themselves in a financial bind.
And she's one of an astonishing 177,000 state workers — and 3.3 million nationwide — who have filed jobless claims over the past two weeks, and there appears to be no signs of letting up.
"We are having initial application numbers like we have never seen before," said Department of Workforce Development spokesman Tyler Tichenor. "Last week, we had about a 75% increase in the number of applications than we did at the height of the Great Recession."
And while the recession sparked a more gradual rise in claims, "now it's happening all at once," he said.
On Monday morning, the state's unemployment call center crashed when 19,000 calls poured in just 15 minutes after opening.
More than 98% of the applicants have been able to complete claims online, with the remainder calling to get help. Even though that's less than 2% of applicants, it amounts to thousands of calls a day.
The department is calling in staff from other divisions in the department to handle the volume, he said.
"This event highlights how fragile workers are," said J. Michael Collins, director of the Center for Financial Security at UW-Madison. "With no family leave, no sick leave, and often no retirement savings at work, and combined with lack of health coverage, a lot of workers are on their own."
Under the $2 trillion CARES Act, out-of-work folks like Moreland are in line for a lifeline. The bill will boost unemployment benefits across the board by $600 a week, bringing most workers up to pre-layoff wages.
The bill will provide most adults with $1,200 checks, tax-free, and $500 for children under 16. The full amount will be sent to anyone making $75,000 or less, and $2,400 married couples earning $150,000 or less.
Those earning more will see decreased amounts up to $99,000 for individuals and $198,000 for couples, at which point the payments stop.
The earnings are drawn from 2019 tax returns, or 2018 returns for those who haven't filed yet.
"The IRS encourages anyone with a tax filing obligation who hasn't filed a tax return for 2018 or a previous year to act now," reads an IRS explainer.
Treasury Secretary Steven Mnuchin has said he expected most payments to go out within three weeks.
In addition, the bill would expand unemployment insurance, both in dollar amounts and in who qualifies. According to the Century Foundation, a progressive policy research group, the bill will also provide benefits to those not eligible for state benefits, like gig workers and the self-employed.
Rather than a stimulus, Collins said the bill is "preventing mass collapse and millions of people not being able to pay rent, bills and even keeping up with basics like food."
But he said a lot of workers don't qualify for unemployment benefits.
"Anyone working side jobs or activities like cleaning or child care may not qualify for support," he said in an email. "$1,200 per person will get people through April, maybe, but after that unless there is more help (or a major turnaround on the virus), people already struggling financially will be having to make hard choices."
He said the effects will ripple through the economy, hitting landlords, tax revenue, retail sales and more.
"How quickly everyone bounces back is unknown," he said.
The bill also provides $300 billion in relief to small-businesses, which potentially will help Moreland's employer, One Barrel, put the 15 staffers the company laid off back on the payroll.
The bill provides small-business loans, as long as the businesses continue to pay workers through the coronavirus crisis. Businesses would not have to repay loans covering up to eight weeks of payroll expenses.
"It's going to be an amazing challenge for small business," said One Barrel owner Peter Gentry. "We're all much closer to our employees that larger businesses, so I think we feel a greater responsibility to them."
Gentry said he's watching his budget dwindle as revenue come to a halt during his busiest season. He couldn't afford the roughly $30,000-a-month payroll expense, but sent everyone home with $500.
"I've tried to explain to them why we have to do this, but if I don't they won't have a job when we open back up," he said.
Of the stimulus bill he said, "I'll wait until I see it. I don't have a definitive answer on whether they're going to lend me any money, or how much they're going to lend."
When he logged onto the Small Business Administration's website for some answers, it crashed because of the traffic.
He said he needs to apply for a loan through his bank, but "the banks are swamped."
"I want to get a loan, which may become a grant, so I can get my people paid again," he said, "even though they can't work."
Gentry is in the process of opening a new location in Egg Harbor, and a lot of his money is tied up in that project, which is now on hold.
"We'll be OK, but I'm not going to go on vacation for a couple of years now," he said, "because all of the money I was planning to make is in question. Not only that, all my savings is in question, too. It's a scary time."
Concerned about COVID-19?
Sign up now to get the most recent coronavirus headlines and other important local and national news sent to your email inbox daily.