Behind the scenes at the University of Wisconsin-Madison's bustling Union South, where many students are taking shelter from a rainy afternoon, Bret Kuhn is busy wrapping up a shift washing dishes in the lower-level kitchens.
Kuhn, 48, said the kitchen is a familiar atmosphere for him because he held dishwashing jobs years ago. He enjoys working while listening to music, the over $13 per hour pay and his co-workers.
The job also provides him the flexibility he needs. Kuhn works four days a week in three-hour shifts.
"I suffer from Tourette's, I have anxiety, depression and it's like, sometimes working helps with it and sometimes it can get worse," Kuhn said.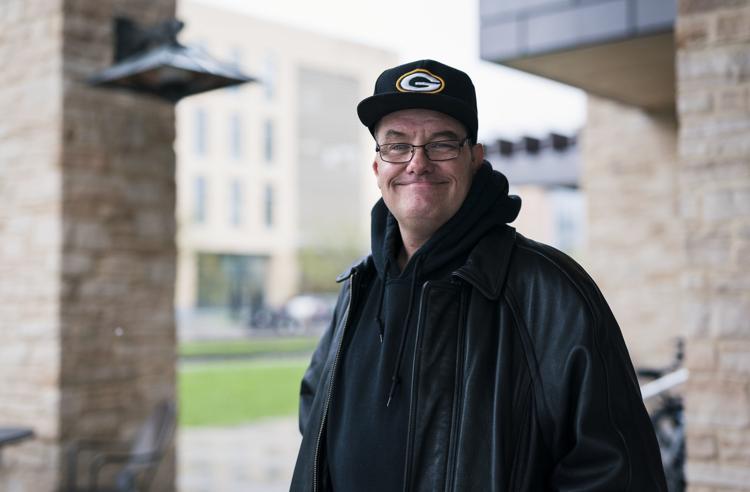 His position is a result of a partnership between Porchlight, a Madison-based nonprofit that aims to reduce homelessness, and the Wisconsin Union. The first-of-its-kind partnership, which began about a year and a half ago, accommodates employees who may need additional support and a modified work schedule.
When Kuhn was hired, he was homeless and had a 20-year gap in his job history. He learned of the job opportunity through Porchlight and has been working at the Union since January. He is currently staying with a friend and looking for permanent housing.
"I found out that there's a lot of places that are willing to help people," Kuhn said.
Mike Edwards, an employment specialist at Employment Resources, Inc., has been helping Kuhn find housing and assisted in getting him a job. ERI is a local nonprofit that advances employment opportunities for people with disabilities.
"It's been really helpful for people to take that first step back into the workplace," Edwards said of the partnership's employment opportunities.
Edwards works with employers to access an underutilized workforce by customizing positions and providing workplace support while new employees adapt.
"If you identify the particular strengths they have and work with employees to structure positions so that it plays to those strengths, it's a win-win for the job seeker and employer," Edwards said.
At the Union, Kuhn deals with the end-of-day tasks, such as doing the dishes and leaving notes for the next shift's supervisor
Sabi Atteyih, Kuhn's supervisor and a Union food production manager, acknowledged that many of the employees through the partnership are often transitioning into a "new norm." He works with employees to acquire the skills needed for their jobs and identify what skills can transfer to future employment.
Atteyih takes seriously his role working with employees re-entering the workforce.
"This is a life altering event," Atteyih said. "I don't think lightly of what I do as a supervisor to be a part of somebody's recovery steps."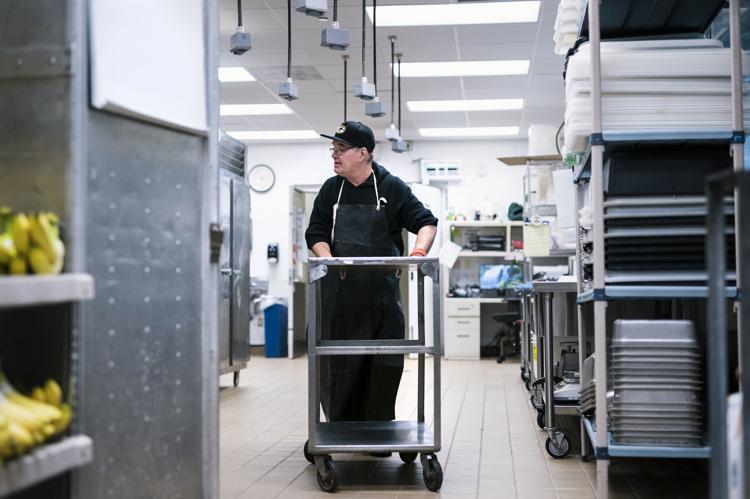 Employment is just one piece of the partnership between Porchlight and the Wisconsin Union.
As a part of the initiative, the Union hires a student intern to work with Porchlight. The position is geared toward communications, social media and event planning skills.
The Union is also now a client of the Porchlight Products program, which pays and teaches participants how to package and preserve foods that are sold at local establishments. The Union purchases between 800 and 900 pounds of sauerkraut from the program and serves it at the Memorial Union Terrace.
Additionally, Porchlight Products is featured at Union South's fall farmers' market.
Porchlight executive director Karla Thennes said she has felt a commitment from the Wisconsin Union to make the partnership work from the beginning. Thennes also described the program as a natural fit, noting the proximity of Porchlight's Brooks Street location to Union South — a seven-minute walk.
"I just think it's a perfect partnership," Thennes said.
Carl Korz, Wisconsin Union director of dining and hospitality, said the partnership aims to create an "all in" atmosphere.
"We're better as a society if we can engage everybody's hands and minds," Korz said.
The partnership also provides a learning opportunity for students about diversity in the workforce.
"Part of our goal with this as a Union was also to create exposure to students to make them aware that you're going to work with a lot of different people in your life, and this is yet another form of diversity," Korz said.
As the "social education unit" on campus that prioritizes out-of-classroom learning, Wisconsin Union director of education and art programs Mary Russell said the partnership exposes students to the issues of homelessness — a challenge facing the broader Madison community.
"In the union building spaces, we are interacting with homeless people on a regular basis but students aren't necessarily paying attention to that," Russell said.