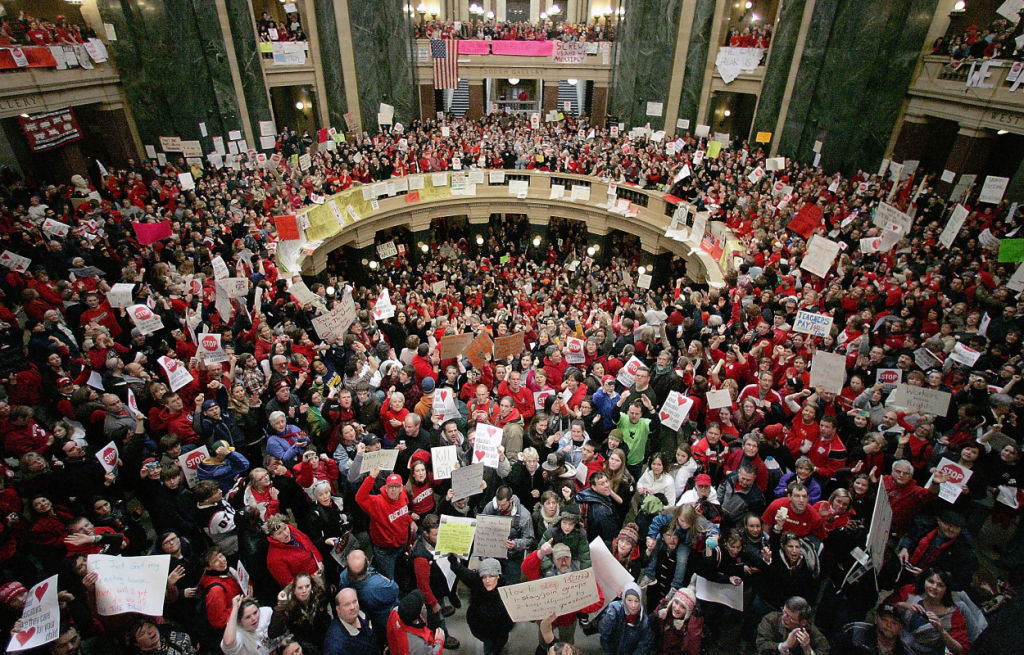 "I think it's inevitable," said Sally Feistel, a Steelworkers union leader. 
While Act 10 scrapped collective bargaining rights for most public employees, a right-to-work law would prevent private-sector employees from being required to pay fees to a union as a condition of employment.
Such laws are currently on the books in 24 states. Leadership committees in the state Senate and Assembly voted Monday, on party lines, to take up right-to-work legislation in an extraordinary session later this week. A public hearing is scheduled for Tuesday from 10 a.m. to 7 p.m. The Senate Labor Committee will then vote to send the bill to the Senate, which is expected to take up the bill on Wednesday. The Assembly is expected to take it up next week.
Protests are planned for Tuesday and Wednesday, though it remains to be seen if they will reach the scale of those triggered by Act 10.
Phil Neuenfeldt, president of the Wisconsin AFL-CIO, said labor leaders are encouraging union members and those opposed to the bill to voice their opinions — be it at a protest, in a public hearing or in communication with lawmakers.
He said it's "unclear" how many people will show up for a Tuesday rally at the Capitol, adding he's not concerned that protests would hurt the unions' cause.
"Why should we be afraid of people participating in democracy?" he said.
In addition to general opposition to the bill, many union officials criticized Republican lawmakers for expediting the legislative process without allowing enough time for public input.
Senate Majority Leader Scott Fitzgerald said he believes lawmakers and the public have had adequate time to consider right-to-work, noting that the idea was brought up as early as December 2014 and was even discussed four years ago during the Act 10 debate.
Echoing statements made by Democratic lawmakers, Jim Koeberl, a representative for United Auto Workers Region 4, said he thinks the fast-track effort is a "smokescreen" to distract the public from Walker's biennial budget, introduced earlier this month.
In Wisconsin, UAW represents "upwards of 10,000" active employees and about 30,000 retirees, Koeberl said. In addition to auto workers, the union represents workers at Master Lock, Miller Brewing Company, the Kohler Company and Oshkosh Corporation.
Koeberl said he's concerned the fight over the law will cause discord in workplaces and businesses will choose to locate elsewhere to avoid the strife.
Mike Maierle, a union leader for the International Union of Operating Engineers, said the bill is an example of "big government stepping in" and intruding on the relationship between labor unions and employers.
Representatives of public employee unions pledged to join their private-sector counterparts in fighting the bill.
"We support them as they supported us," said Marty Beil, executive director of the Wisconsin State Employees Union. "This may be about working men and women, but it's also about the fabric of Wisconsin."
The bill would take effect immediately upon the governor's signature, Fitzgerald said on Friday, meaning there is no "grace period" for management and unions to extend their current contracts once the law is enacted. Until Walker signs right-to-work legislation into law, contracts may be extended. The law will not affect any existing contracts, but once those contracts expire, they would be subject to the new law.
A spokeswoman for Walker said on Friday that the governor will sign the bill into law if it lands on his desk.
Both Feistel and Koeberl said they weren't aware of any efforts within their unions to renegotiate contracts within that brief window.
While opponents say the bill would drive down wages, weaken workers' rights and cost the state jobs, supporters say right-to-work is about workplace freedom and will bring jobs to Wisconsin.
"This is something that could once again jump-start the state's economy and create jobs that right now we're losing to other states," Fitzgerald said on Friday, adding that he thinks the bill would help protect jobs from leaving the state.
Share your opinion on this topic by sending a letter to the editor to tctvoice@madison.com. Include your full name, hometown and phone number. Your name and town will be published. The phone number is for verification purposes only. Please keep your letter to 250 words or less.