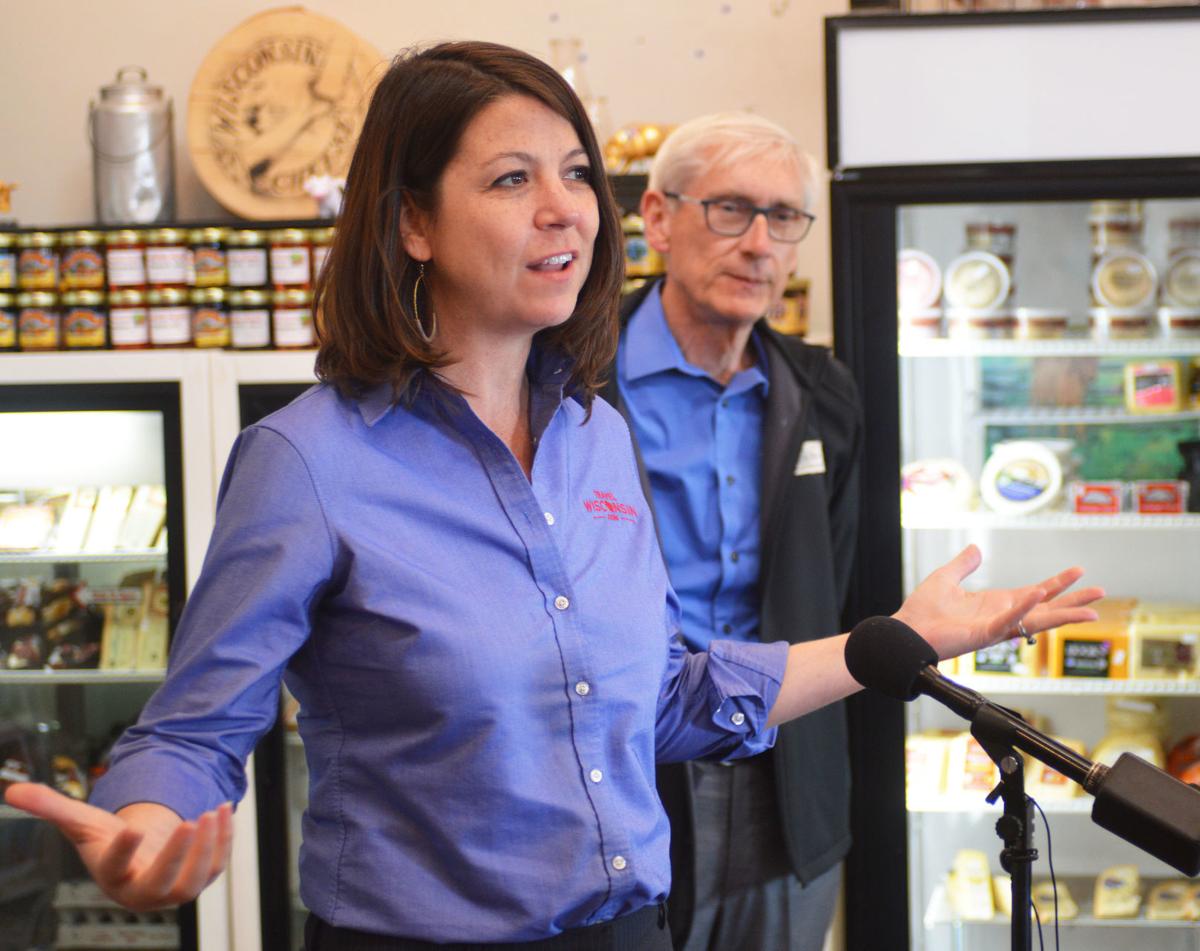 Wisconsin Tourism Secretary Sara Meaney says she wants to see more state dollars for a marketing campaign tied to the 2020 Democratic National Convention in Milwaukee.
But eight months out from the event, she's not saying how much funding the agency needs — or what her plan is for spending it.
In the meantime, she said the department is also exploring possible private-public partnership options in the tourism and brand spaces across the state to aid in promotional efforts and "help tell that Wisconsin story." She declined to share details about potential partnering organizations. 
But in those remarks and in her more recent interview with the Cap Times, Meaney didn't disclose an ideal dollar amount. For a DNC-specific campaign, she said it could cost around $1 million to create some sort of large, Wisconsin-branded "hospitality" space during the four-day event itself, but that's not an idea the agency has latched onto yet.  
On the legislation front, Meaney said she's "been approached by a variety of different people," though she didn't name specific lawmakers. Still, she acknowledged that "it may not come to fruition" in time, given that lawmakers may only be on the floor in January and February before breaking for the session. 
"The legislative path itself, I don't think it's closed off," she said. 
But she also pointed to the powerful legislative budget committee's recent approval of the department's first budget increase in nearly a decade as "a positive sign of support." 
Lawmakers opted to direct an extra $1.6 million for tourism marketing toward the department over the next two years, more than $400,000 less than what Gov. Tony Evers wanted for ongoing marketing efforts. 
While the money has been released to the agency, Meaney noted because the funding "is very specifically assigned to our geographic footprint expansion," it can't be applied directly to a DNC expense, for example. 
Evers in his budget sought to direct an extra $3 million in one-time dollars toward a marketing campaign for the DNC and the Ryder Cup at Whistling Straights Golf Course. But the Republican-controlled Joint Finance Committee removed the allocation. 
State Sen. André Jacque, who chairs the Senate Local Government, Small Business, Tourism and Workforce Development Committee, said through a spokesman that he hadn't received any requests for additional DNC marketing funding from Meaney. 
"I'm open to looking at whatever reasonable proposal Secretary-designee Meaney has to offer, and I welcome opportunities to stretch the impact of existing funding and leverage additional dollars in a way that has the confidence of my colleagues," the DePere Republican said in a statement.
A spokeswoman for Assembly Speaker Robin Vos said the Rochester Republican and members of his caucus "don't support state tax dollars going to assist a political convention."
The DNC is expected to draw up to 50,000 attendees to Wisconsin, and tickets for the Ryder Cup, which is expected to draw 50,000 spectators for each of three days, sold out in less than 50 minutes last month. But Meaney stressed an agency marketing campaign would seek not to bring more people to the state but give "them reasons to step a bit further out" after they arrive.  
"We think of it as, once you get them here, where else are we going to take them?" she said. "Giving them the inspiration and tools and resources to go wandering and go experience everything Wisconsin has to offer."
Meaney also highlighted next fall's Society of American Travel Writers' annual convention in Milwaukee as a key marketing opportunity.  
"Having the ability to host and have these influential writers spend that amount of concentrated time in our state is unprecedented," she said. 
For that October event, she said itineraries and agendas are already being developed in conjunction with Visit Milwaukee to get the travel writers in attendance "outside of Milwaukee and out into the state." 
Those itineraries, she said, would then become a foundation for "making things available" for media members covering both the DNC and Ryder Cup, as well as delegates attending the convention specifically. 
For the DNC, Meaney noted members of the press have been visiting Wisconsin regularly since it was first announced last spring that the 2020 DNC would be in Milwaukee. The story in the lead-up to the event, she said, is about where it's being held. But as soon as mid-July hits, the story will become about the convention and the candidates, she said. 
That creates a "somewhat limited" window for media stories representing the state, meaning the Department of Tourism has to "be ready to get them assets and resources and storylines and itineraries." 
Meanwhile, marketing activities during the convention itself could include one large "hospitality" Wisconsin-branded space or a number of smaller options sprinkled throughout the city "where people will have opportunities to have touch points with the brand."  
Asked whether the agency would be able to pull off a marketing campaign using existing resources, Meaney said what the agency's doing now is "currently the best use of the dollars that we have" in the markets where it can be effective, like Chicago and Minneapolis. 
Meaney said there isn't a set timeline yet for securing funding or rolling out different aspects of a planned marketing campaign. 
"We don't have anything to tell you about at all publicly right now because we have to figure these things out," she said. "I'm very confident that what we can figure out will still be highly impactful." 
The council also faced criticism because one member of the council who's in the race for chair said Meaney had asked her to resign early from her post. Meaney refuted that claim in an email to the council that was shared with the Cap Times last month.
Senate Majority Leader Scott Fitzgerald, R-Juneau, told reporters last week that Meaney had drawn "some concerns" from senators regarding "the wrangling going on behind the scenes when it comes to the Tourism Board."
Meaney on Wednesday, though, maintained that she was in her role "to do a job," one she said she's "confident and comfortable that I'm doing it successfully." 
"I was hired to do a job based on what I know how to do best and that is brand strategy, marketing strategy and leadership of the tourism industry for the state of Wisconsin," she said. "That's what I'm going to continue to focus on and I'm going to continue to make sure that the team stays focused on that." 
Share your opinion on this topic by sending a letter to the editor to tctvoice@madison.com. Include your full name, hometown and phone number. Your name and town will be published. The phone number is for verification purposes only. Please keep your letter to 250 words or less.
Get Government & Politics updates in your inbox!
Stay up-to-date on the latest in local and national government and political topics with our newsletter.