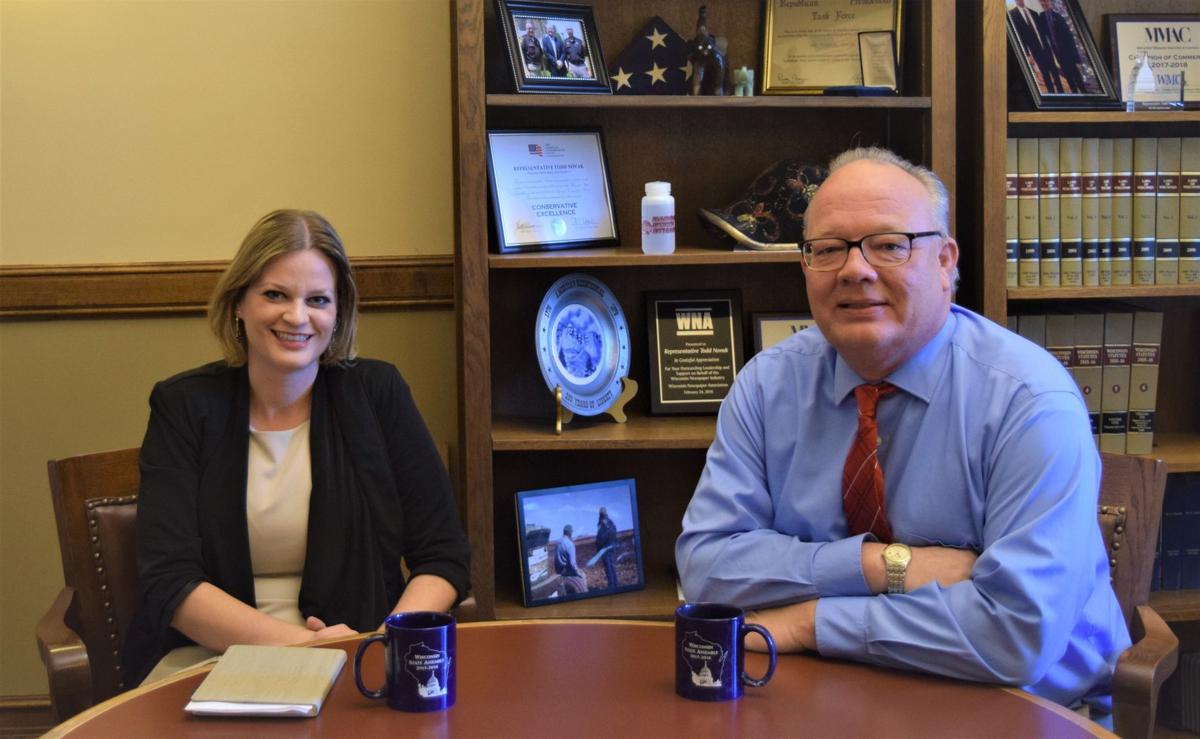 The heads of Wisconsin's new Water Quality Task Force are stressing the need to be "proactive," rather than reactive, when it comes to tackling water-related issues across the state. 
And as members of the 16-person body are looking to shore up their legislative recommendations in the coming months, that's exactly what Reps. Todd Novak, R-Dodgeville, and Katrina Shankland, D-Stevens Point, are hoping to do. 
"I think too much of what we do is reacting to a headline. And this is my goal out of this, is we need to get a plan in place," Novak said, adding: "I also think that we can't keep doing this every two year budget cycle. We need to figure out a sustainable way to keep water programs going."
Novak, the chair, and Shankland, the vice-chair, say they're hoping to finalize recommendations this fall and be on the floor with the bills in January or February. 
That includes increased aid for county conservationist staffing, a grant program for counties to apply for to fund well studies, additional positions at the Department of Natural Resources and the Department of Agriculture, Trade and Consumer Protection, a potential effort to address lead laterals in schools and day cares and other initiatives. 
But the cost of those ideas is one factor on lawmakers' minds as they pitch recommendations. In that area, Shankland stressed the importance of considering "the cost of inaction," adding the state is already paying for these issues in its impact on tourism, property values and recreation. 
"There's so much that we could be doing and now's our opportunity," she said. "So I think the long-term cost of doing nothing is much worse than the short-term cost of doing something."
Vos at a July public hearing called for "specific things that don't cost money that this task force could also recommend as opposed to figuring out ways to dole out taxpayer money, according to a Racine Journal Times report. 
But Novak noted he hadn't received a mandate from Vos not to spend money, and added he had communicated with the speaker there will be a need for "funding for some of the ideas that we're throwing around and increase in funding to certain programs." 
Vos spokeswoman Kit Beyer wrote in an email that the speaker said "there will be investments." 
"However, the goal isn't to just spend money; it's to find strategic ways to assess and improve water quality in Wisconsin while continuing to be good stewards of taxpayer dollars," she wrote. 
In that vein, Novak and Shankland possible statewide matching grant program that counties could apply to in order to obtain funding for water studies, such as the well testing done in Iowa, Grant and Lafayette counties. 
Already, officials and advocates in Crawford, Vernon and Richland counties have floated the idea of doing their own study, called the Driftless Area Water Study, and looking for state support to help fund it.
"I think it's important for us to meet the counties where they're at and help with cost sharing, whether it comes to commissioning a study (for) well testing and source contamination testing or whether it's for mapping and planning, making planning and zoning decisions across counties for future development," Shankland said. "There are plenty of ways that the state can help counties work together and I think that strategy would be very helpful."
They also mentioned additional county conservationist staffers, something committee members seem to "uniformly agree on," Novak said.
"Every place, every hearing we've had, that's one big thing we've heard," he added.
The pair is weighing bigger initiatives as well, including two Shankland called the "big ideas": a Wisconsin Clean Water Fund to support continuing water quality initiatives and a new nutrient management program that would incentivize farmers to use less nitrogen on their fields.
On continuing water funding, Shankland pointed to Minnesota's Clean Water Fund, which collects revenue through a sales tax. Voters in that state added an amendment to their constitution in 2008 that increased the sales and use tax rate by three-eighths of a percent, according to the Minnesota Department of Agriculture, a rate that began in 2009 and will last through 2034.
The generated dollars go toward four different funds, including the Clean Water Fund, which looks to safeguard water quality across lakes, rivers, streams and groundwater, as well as protect drinking water. 
Shankland, though, noted paying for a similar fund in Wisconsin through a sales tax would be "a non-starter in this building." She added she's been looking at creating a segregated fund – lke the transportation fund -- and directing an existing fee or tax toward it, an option she said "could get bipartisan buy-in." 
"If all of our districts ... are facing some kind of issue with water, then why wouldn't we have an account for it?" she asked. "So I think it's just good planning."
Novak said he's open to looking at those ideas and not preemptively "narrow anything down," adding: "I just think we have to look at everything. We've had a lot of good ideas."
Share your opinion on this topic by sending a letter to the editor to tctvoice@madison.com. Include your full name, hometown and phone number. Your name and town will be published. The phone number is for verification purposes only. Please keep your letter to 250 words or less.