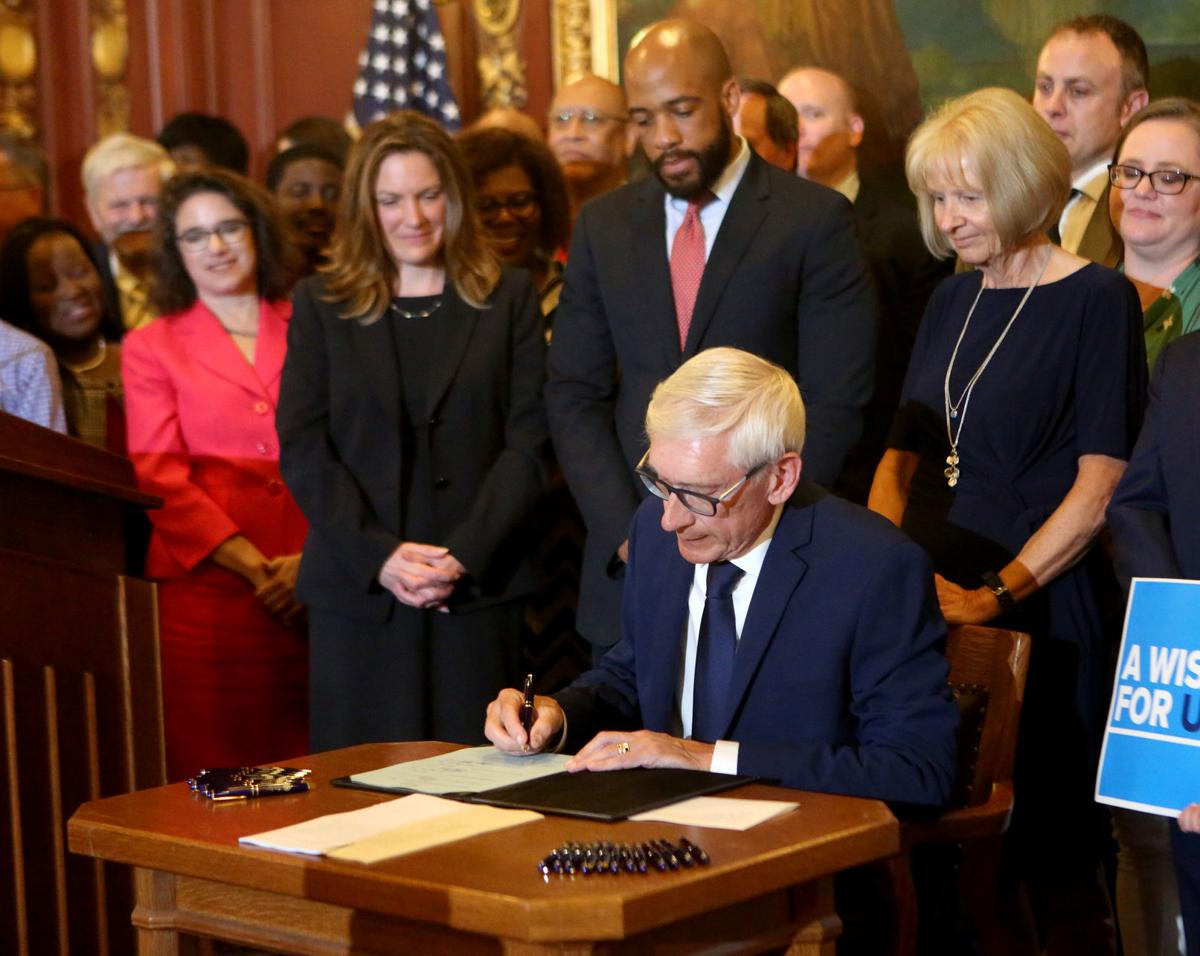 The Wisconsin Supreme Court Friday acted Friday to rein in Gov. Tony Evers' expansive veto authority by overturning three budget vetoes the Democrat issued in his first two-year spending plan as governor. 
Still, the conservative justices who backed the moves didn't always agree on why each veto was unconstitutional in a fractured, multi-part decision that upheld a fourth partial veto those who brought the case also wanted struck down. 
While the implications of the decision remain unclear, the ruling delivered another blow to Evers and his administration this week after the court ruled to uphold most of the lame-duck laws Republicans enacted in December 2018 to limit the powers of the incoming governor and attorney general. 
Filed by a conservative law firm, Wisconsin Institute for Law & Liberty, the lawsuit asked the court to determine whether the governor may veto portions of a budget bill that are "essential, integral, and interdependent parts of those which were approved."
Evers lamented the ruling as a departure from past precedent that "only creates chaos and confusion." 
"The People's Budget made historic investments in better roads, better schools, and better healthcare, but clearly Republicans will continue doing whatever they can to prevent us from doing good work for Wisconsinites," he said in a statement. 
But WILL President and General Counsel Rick Esenberg said the move "recognizes limits to the partial veto power that will safeguard liberty and uphold the separation of powers."
"While there are multiple writings and their interaction is complex, today's decision severely limits and perhaps even ends the Governor's power to create new law through vetoes," he added. 
Governors have long used their sweeping authority to rewrite parts of legislation containing appropriations. But it wasn't until more than two decades ago when the Supreme Court issued its "first real limitation of the partial veto power in Wisconsin case law," the nonpartisan Legislative Reference Bureau found. Otherwise, justices generally upheld the powers, though they were curbed in other ways through constitutional amendments. 

Although justices in a 5-2 decision Friday found one of Evers' partial vetoes from last July is constitutional, the court largely acted to impose additional limits to the governor's powers. 
Of the four vetoes targeted in the lawsuit, the single one upheld increased vehicle fees for owners of heavier trucks over those with lighter ones. 
Meanwhile, justices determined a veto that broadened what was proposed as a $3 million grant program to replace school buses with energy-efficient models was unconstitutional (5-2 decision). Evers removed the condition that the funding be used only for buses and instructed the Department of Administration to allocate up to $10 million for electric vehicle charging stations. 
The other partial vetoes that were overturned altered the definition of "vapor product," thus creating new taxes and regulations on them (4-3 decision); and lifted restrictions on how $75 million in transportation funding could be spent (5-2 decision). 
Previous governors have used their veto authority in a manner similar to Evers. 
Wisconsin governors hold the country's most powerful partial veto authority on spending measures, but aren't able to use the veto pen to create new words by striking out individual letters, and they can't craft new sentences by combining parts of two or more lines in legislation. Both limitations were imposed after voters approved previous constitutional amendments to limit governors' authority in that arena.  
The case reached the Supreme Court after justices in October decided to take it directly, rather than ordering the group to first go through the lower courts in typical fashion. 
In all, Evers issued 78 partial vetoes to the more than $80 billion budget. But one decision heavily derided by Republicans — Evers using his power to increase per-pupil spending by $87 million over the next two years — was not included in the lawsuit. 
GOP lawmakers targeted that action in a proposed constitutional amendment, which aimed to bar Wisconsin governors from using their veto powers to raise spending levels over what lawmakers approved in the biennial budget and other appropriations bills. 
That effort cleared the Senate last fall but wasn't taken up on the Assembly floor. Still, Assembly Republicans have separately and repeatedly sought to override a number of Evers' budget vetoes, though each effort failed because the party lacked the two-thirds majority required to do so. 
Also on Friday, the court declined to rule on a challenge to two budget vetoes issued by then-Gov. Scott Walker, a Republican, in 2017. The court argued the suit was filed too late.
"Given the reliance interests at stake and the need for stability and certainty in the enactment of state budget bills, we exercise our discretion to apply laches based on the facts of this case," conservative Justice Brian Hagedorn wrote for the majority. 
Share your opinion on this topic by sending a letter to the editor to tctvoice@madison.com. Include your full name, hometown and phone number. Your name and town will be published. The phone number is for verification purposes only. Please keep your letter to 250 words or less.
Get Government & Politics updates in your inbox!
Stay up-to-date on the latest in local and national government and political topics with our newsletter.