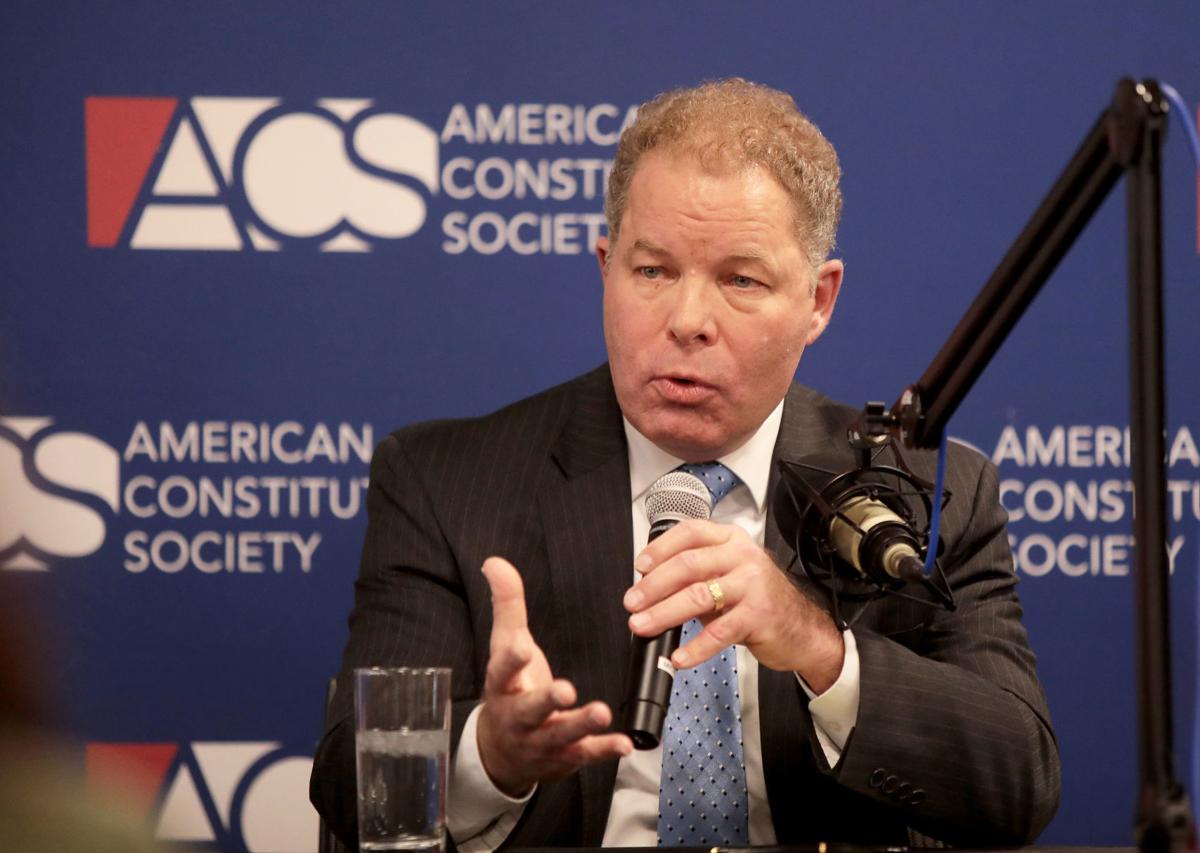 Two of the three Wisconsin Supreme Court candidates traded attacks in a matchup Thursday, with Justice Daniel Kelly accusing one of his challengers of lying and slandering him after she repeatedly alleged he always rules in favor of Republican interests.
And liberal Dane County Judge Jill Karofsky continued to lob allegations of corruption at the conservative incumbent during their increasingly contentious Milwaukee forum and vowed she was "not going anywhere." 
Meanwhile, Marquette University Law School professor Ed Fallone, also a liberal, largely stayed above the fray during the trio's debate, which comes a couple weeks ahead of the Feb. 18 primary election. 
The back-and-forth between Kelly and Karofsky began around the halfway point of the hour-long gathering, when Karofsky slammed him for ruling in favor of "right-wing special interests" and Republicans "every single time" — a line she's regularly used throughout the campaign.   
But Kelly, first appointed to the high court in 2016 by then-Gov. Scott Walker, countered the charge — along with accusations of corruption on the high court that Karofsky also raised in a November debate — was "a disgusting slander and is beneath contempt." 
The barbs between the two continued, finally culminating near the end of the forum when Karofsky knocked the court for agreeing to hear a veto challenge case and a separate lawsuit challenging the 2018 lame-duck laws that hadn't yet made their way through the lower courts. 
"And no one is going to be surprised by how Justice Kelly rules in those cases," she said. "They pulled them from the circuit court so that they could make the decision they want to make as soon as they possibly could."
But Kelly, who said he's "never had my honor or my integrity called into question ever" until now, argued the comments slander not just him but his colleagues as well, including Chief Justice Pat Roggensack, who he noted has been involved in the cases Karofsky mentioned.  
Demanding an apology on behalf of Roggensack, Kelly told Karofsky: "(Roggensack is) not here, she's not part of this campaign and she did not ask to be slandered by some careless trial judge who can't even be bothered to keep her insults focused on the target." 
But Karofsky, a former Dane County deputy district attorney, refused to apologize, saying: "Dan Kelly, I'm not going to be bullied by you." 
Fallone, who largely didn't engage in the pair's cross-talk during the debate, later chided their interactions during his closing arguments, saying he'd been thanked "for trying to keep politics out of the race" and focusing on his principles.
"There may be people in this room or watching who are happy or contended with the display that we've seen between my two opponents," Fallone, who also ran for the Court in 2013, said. "There may be people around the state of Wisconsin who are happy to see our Supreme Court elections descend to this level. If there are, I've never met them." 
Fallone and Karofsky during the forum also voiced their support for a recusal rule for state Supreme Court justices and others, while Kelly said he's "always open" to looking at changes, though he cautioned against embracing an overhaul "that has the potential to create more political mischief." 
Speaking in favor of a rule that would force justices who got campaign contributions of a certain amount from a litigant or attorney in a pending case, Fallone said not having such language in place creates doubt in the process that "is toxic to our system." 
"It's a simple rule, it's easy to apply and on day one as a justice, I'll begin advocating to my colleagues we need to make change," he said.
Share your opinion on this topic by sending a letter to the editor to tctvoice@madison.com. Include your full name, hometown and phone number. Your name and town will be published. The phone number is for verification purposes only. Please keep your letter to 250 words or less.
Get Government & Politics updates in your inbox!
Stay up-to-date on the latest in local and national government and political topics with our newsletter.