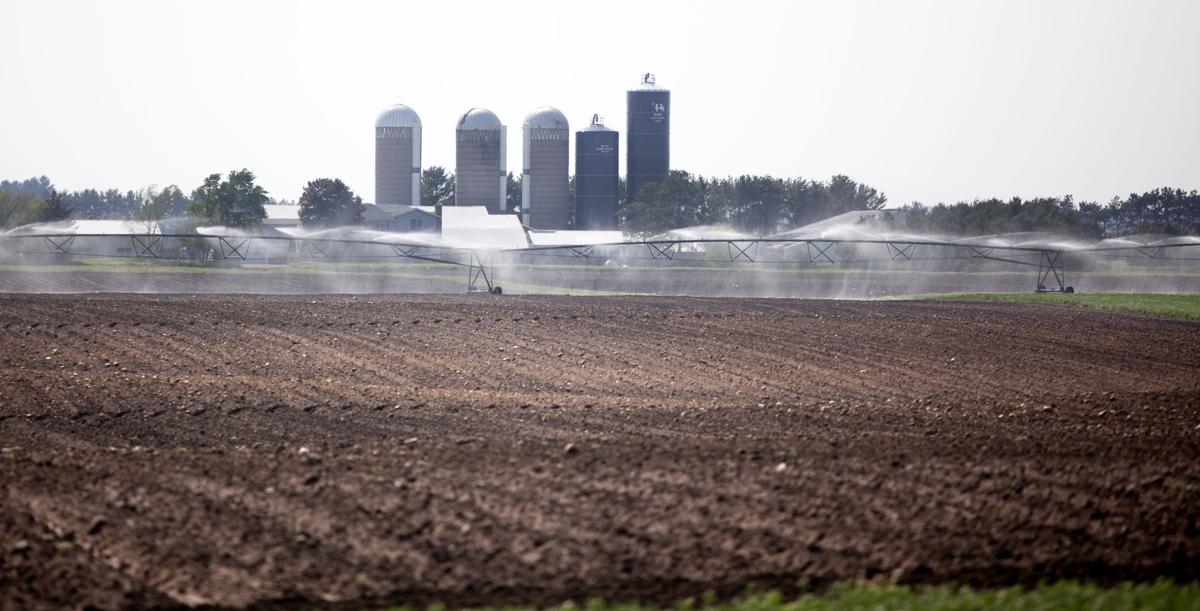 Wisconsin's large-scale vegetable farmers say they need streamlined regulations to reliably water vast fields of crops. Environmental conservationists are worried about the toll that watering takes on the state's lakes and aquifers.
Those opposing interests were on display Wednesday during a public hearing on the state Legislature's latest attempt to alter state law regulating high capacity wells. Dozens of residents and property owners and environmental groups, along with dozens of farmers and business associations spoke on the bill. 
Identical bills removing oversight authority by the state Department of Natural Resources for existing high capacity well permits are advancing through both the state Senate and Assembly, set to be considered for a vote as early as next month.
"These wells are an integral part of Wisconsin's farming operations and legislative action is badly needed to provide clarity on the issue," said Senate Majority Leader Scott Fitzgerald, R-Juneau. "The bill before us today is the result of a great deal of input from stakeholders and the public. Last session we had a high capacity bill ... the version that eventually passed the Senate very late last session is what we're discussing today. It was a party line vote in the state Senate that this bill passed."
Wednesday's hearing in a joint session of the Senate Committee on Labor and Regulatory Reform and the Assembly Committee on Agriculture was a showcase of longstanding entrenched views on the role of high capacity wells in powering the state's agricultural industry and draining water resources in the central region of the state.
In the eyes of the business community, the bills provide necessary clarity and certainty for farmers and manufacturers to operate. In the eyes of local residents and environmental groups, the changes are tantamount to a corporate blank check for water withdrawal without regard to how it is affecting lakes and aquifers.
Both bills would allow those who currently hold permits for high capacity wells to make a series of changes to them, or transfer the permit to someone else — without the approval from the state Department of Natural Resources. The DNR currently has authority to review any changes to high capacity well permits. The bills would allow a high capacity well owner to repair, reconstruct, and maintain the well. It would also allow a well owner to build a replacement well.
The bills only pertain to existing permits, not new permits for high capacity wells. They would require the DNR to study lakes and rivers in some parts of the state most affected by high capacity wells and issue recommendations to the Legislature based on its findings. 
A high capacity well is one or more wells, drillholes or mine shafts on a property that have a combined approved pump capacity of 70 or more gallons per minute, with the ability to withdraw as much as 100,000 gallons per minute, according to the Wisconsin Department of Natural Resources.
Those who oppose the measure say it essentially locks in rights for a high capacity well owner by removing routine permit review by the DNR. An existing permit would not expire at any point and could allow well owners to pull water from the ground in perpetuity, with little options for recourse for those who own property surrounding the well.
"I just don't see how giving carte blanche rights to these high capacity wells without any review process does anything to benefit us," said Tammy Wood, a small business owner in Reedsburg.
But supporters note that state law provides for the DNR to issue emergency rules to alter a high capacity well permit. The Legislature could also act to change the rules surrounding permits in the future.
"There are many remedies under current law to enforce their (property owner's) rights," said Lucas Vebber, general counsel at Wisconsin Manufacturers & Commerce, the state's largest business lobby group. "The DNR as well as homeowners all have remedies under current law to protect those rights. DNR has the authority to investigate infringement."
In addition to farming, businesses across a variety of sectors, including food manufacturing, construction, mining and power generation, depend on high capacity wells, Vebber said. Those businesses need assurances they can repair or reconstruct them without disruption to their operations, he said. 
That corporate assurance comes at a cost to lakefront property owners and public water resources. High capacity wells have drawn the most concern in the Central Sands region of the state, an agricultural hot spot because of its shallow, sandy soil good for growing potatoes and other vegetables. Water drains quickly in this kind of soil and streams and lake levels are "highly influenced by groundwater levels and use," according to the DNR. There are concerns over declining water levels and increasing groundwater withdrawals, according to the agency. The Central Sands region lies east of the Wisconsin River and encompasses 1.75 million acres in parts of Adams, Marathon, Marquette, Portage, Shawano, Waupaca, Waushara and Wood counties.
The Central Sands Water Action Coalition, which has been an advocate for restraint on high capacity wells and pointed to their affect on ground water for years, opposes the bills as written. The group, which says it represents 65 lake and river groups, and 32,700 individuals collectively, said that it agrees that current well permit holders should be able to fix and maintain a well, but only if the DNR can periodically review the permit. 
"We cannot support the transfer of a high capacity well permit to a new owner should the property be sold," said Raymond "Skip" Hansen, chairman of the coalition. "Such action appears to create a property right to perpetual use of the state's water, regardless of the harm that well pumping may cause."
Hansen questioned why lawmakers are prioritizing business certainty over the certainty of clean, available drinking water in the Central Sands region. 
"What about water front property owners and the rest of the citizens of Wisconsin?" Hansen asked the committee Wednesday. "Do they not need certainty their lakes, streams, rivers and wetlands will exist in the future? Are the rights of Central Sands property owners secondary to the rights of for-profit corporations?" 
Tamas Houlihan, executive director of the Wisconsin Potato and Vegetable Growers Association, who has lobbied extensively for deregulation of high capacity wells over the last several years, said a functioning high capacity well can mean the difference between losing and sustaining an entire crop. 
"A grower can lose a crop in 24 hours if a well fails and cannot be quickly repaired or replaced," he told he committee. "These repaired and replaced wells would not be allowed to pump any more water than was originally approved by the DNR."
Get Election 2020 & Politics updates in your inbox!
Keep up on the latest in national and local politics as Election 2020 comes into focus.