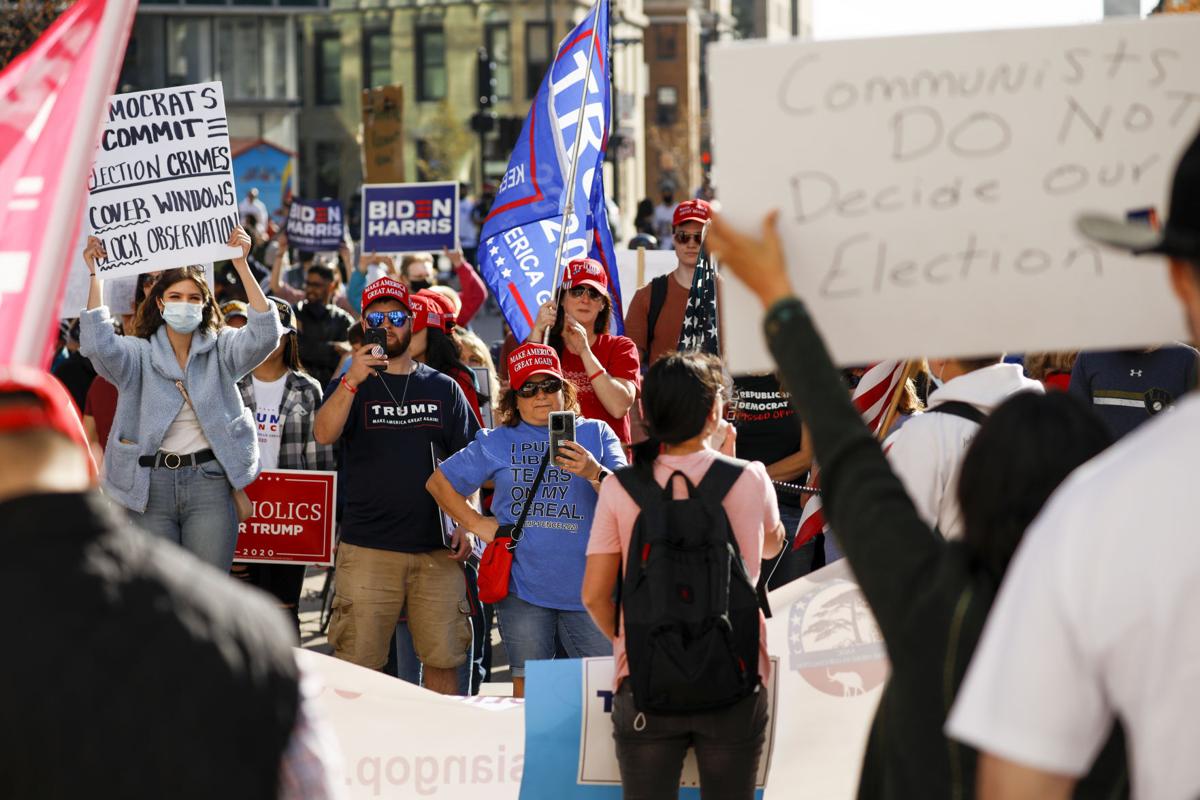 What played out in Washington D.C. on Jan. 6, when extremist supporters of Donald Trump stormed the building to stop the certification of election results that spelled the end for his presidency, spurred a reckoning among Republicans over the future of their party.
Coming on the heels of the party's losses in two Georgia U.S. Senate races a day before, the back-to-back events seemed to, at least at the national level, cause some conservatives to reevaluate the current state of party politics, their own relationship to it and how much of their operations revolved around Trump.
But while some prominent national Republicans saw a definitive break with Trump as the only appropriate response to the Capitol insurrection — and still others stayed deeply loyal — top Republicans in Wisconsin haven't faced such a dramatic reckoning.
Still, with Trump out of office, there are lingering questions inside and outside the party about Republicans' ability and desire to hold on to the first-time voters activated by his candidacy while winning back those who condemned him. That's particularly true after the November election, when results indicated a possible widening gap between voters in suburban and rural parts of the state. 
Meanwhile, the lasting impact of the widespread, unsubstantiated claims of voter fraud perpetuated by Trump and other party figures, which helped motivate the insurrection last month that led to five deaths and caused some to renounce their ties to the GOP altogether, remains to be seen for both Republicans and the country as a whole. 
Many Republicans who spoke with the Cap Times in the last few weeks agreed the party in Wisconsin was to some extent split, though they disagreed over where those fault lines are and how difficult it might be to repair them heading into the 2022 elections, when the GOP will attempt to hold on to U.S. Sen. Ron Johnson's seat and return to the governor's office.
"The Republican Party right now is relatively divided, but it's not the traditional ideological divisions that used to be in place, as much as it's between the sane and insane wings of the party," RightWisconsin editor James Wigderson said. "I think that there's a chance of a real fracture coming."
Republican former Lt. Gov. Rebecca Kleefisch instead described a state-level conservative movement in "growth mode," in part evidenced by Republican wins in state legislative races last fall. While Trump lost the key battleground state, the party picked up two seats in the state Senate and dropped two suburban Milwaukee seats in the Assembly, despite bracing for heavier losses.
Rejecting characterizations of a party split over Trump, Kleefisch, who's expected to run for governor next year, said such a view was "too narrow" because it's based on "only one lens."
"What we need to focus on, what I am focused on, what the party is focused on in Wisconsin is not everyone's individual opinions of one man, but our collective strength, which is the belief in less government, better value and responsiveness, good schools, growing wages," said Kleefisch, who heads the 1848 Project, a conservative nonprofit advocacy group. "We need to focus on those things. Those are the things that we fight for as Republicans." 
While Wigderson sees the current split in the Republican Party as a difference between the "sane and insane," other conservatives see a breakdown between two wings: Trump and the establishment. 
That divide, they say, exists at both the state and national level — though conversations about it and the broader state of the party may have not begun in earnest until the final days of Trump's presidency, spurred by the party's Jan. 5 losses of two U.S. Senate races in Georgia and the Jan. 6 attack on the Capitol. 
Fond du Lac County Republican Party Chair Rohn Bishop said he has watched divisions surface in the Republican Party since the November election results came in, when it became clear that Trump had lost the state and the presidency. 
"I think what you had was a very agitated half of the base of the party that didn't trust the election or was very disappointed in the outcome and was looking for the president to run (through) his legal options in the hopes that maybe there was something there," Bishop said. "And then you had another group of Republicans that kind of saw that what happened, happened. 
"So now I think you're starting to see the establishment wing kind of push back more and say … 'it's time for the Republican Party to turn the page on the Trump era.'" 
Though Wigderson agreed the divisions predate January, he argued that the two wings Bishop and others described are one in the same. 
Instead, he said the separation is between the "entire wing of the party that has lost its mind collectively" and "Republicans that understand there are instances of voter fraud in every election but they also understood that Joe Biden actually won." 
Regardless of where the divide is or the extent of it, an open question for Republicans is which group will have more influence over the direction of the party in the elections to come. 
One strategist sees a split among the "die-hard Trump supporters," or those backed the former president as a person, and others who backed him as a conservative or party leader. But figuring out the size of each camp in the Wisconsin GOP base is the "million dollar question." 
"That's the question every Republican political operative is trying to figure out," he said. "We all want to know. I can tell you that it's too hard to tell right now."
Fears about aggravating "the base" and uncertainty about the lasting hold Trump and Trumpism will have on the Republican Party have left elected officials and others attempting to straddle a line that seeks to appease both or all segments of the GOP. 
Part of that is due to the intense support Trump attracted from his backers in Wisconsin and across the nation. Bishop noted that enthusiasm for the former president in Fond du Lac County, and the volunteers he drew, made the 2020 campaign cycle "one of the most successful ones the county party ever had." 
"The intensity that we had in the office this last summer and fall was like nothing I'd seen since the (2012 former Gov. Scott) Walker recall effort," he added. "That's how intense and wild the supporters were. He helped us at the local level with that intense support."
Relationship with reality 
Over the last two months, allegations, presented without evidence, of widespread voter fraud in the November election and a refusal to acknowledge Biden's victory spread from Trump throughout the Republican Party. 
GOP officials at all levels wavered between decrying the assertions, overlooking them and buying into them wholeheartedly. The impact was seen on Jan. 6, when pro-Trump extremists stormed the Capitol as Congress met to certify the election results. 
Reflecting on the Capitol insurrection, the Republican strategist said those in the party "felt a little bit culpable for what happened." 
"I do believe his rhetoric helped fan the flames," he said of Trump. "All of us who bit our tongues at that time when he used such rhetoric felt a little bit responsible." 
Many of the policies that drew Republican criticism in the state were approved or advanced by the Wisconsin Elections Commission, itself the creation of Republicans in state government. Such policies, like clerks' ability to add information to a voter's absentee ballot envelope, have been in place for multiple elections, dating back years, and are used across the state. 
To Kleefisch, what exists now is a "terminology issue," where those at the grassroots believe that voting policies like the one described above, as well as the indefinitely confined designation (by which someone can receive an absentee ballot without presenting a voter ID) and the use of ballot drop boxes amount to "voter fraud." 
The solution, she said: passing an election integrity bill package that seeks "to clarify the rules and help people better understand what the ground game is allowed to look like, what is within the confines of law and what is voter fraud." 
Asked repeatedly to what extent Republican leadership and Trump himself are responsible for individuals' confusion surrounding the election and their understanding of what constitutes fraud, Kleefisch characterized the issue as a "dispute between the voters and the mainstream media" that would be resolved by adopting an updated, shared definition that could be used by the press, the electorate and politicians. 
"I don't want to continue to blame the media but that's one of the problems that I think people have in their relationship with the media," she said. "The media has determined that this bucket of actions is voter fraud, this bucket of actions is not voter fraud. And that's not how the electorate necessarily sees it."  
Still, Kleefisch defended voters who associated events like Madison's Democracy in the Park, where individuals returned their absentee ballots to poll workers in city parks, with fraud. 
"That is the perspective they have, that is the view that they have and it's valid; you can't say someone's opinion of a subjective matter is invalid," she said. "I mean, what gives us the right to judge someone's opinion like that?"
"We're all going to play by the exact same rules so that nobody emerges from another election ever, ever again feeling like their vote wasn't counted or their vote counted less than someone else's," she added. "These need to be fair and people need to be confident in the results." 
Leaders in Madison, which has high Democratic turnout, have said the changes they made by starting Democracy in the Park and installing drop boxes at fire stations around the city were done to increase voters' options and address concerns about casting ballots in-person during the COVID-19 crisis. Trump's partial recount of Wisconsin (and subsequent lawsuit) only focused on the bluest areas of the state: Dane and Milwaukee counties. 
Vos, the top Republican in the Wisconsin Assembly, has drawn a distinction between "fraud" and votes that "weren't legally cast," including some returned by voters who claimed to be indefinitely confined and others. The Rochester lawmaker, who said the chamber's elections panel hasn't yet finished its investigation into the November contests, added it's the Legislature's job to ensure the voting processes are "all done accurately and that there's no doubt whatsoever that people know that ballots that are cast are legal."  
"Do I believe that Joe Biden won the state of Wisconsin? Yes, I think he did by the ballots that were cast. Now, do I believe that there were issues of fraud? I think that's a strong word. I'm very reluctant to use it because to me, fraud means dead people voting …" he said at a WisPolitics.com luncheon Thursday. "That to me is fraud. Do I believe that there were ballots that were cast that didn't follow the law? Yes, I do believe that."
Other Republicans adopted the rhetoric used by U.S. Sen. Mitt Romney, R-Utah, who pleaded with his colleagues to restore Trump backers' faith in the electoral process by telling them the truth.
"We have to just accept reality for what it is because if we're going to be a party of conspiracy theorists, we're going to scare away middle-of-the-road, moderate voters because they're not going to be interested in that goofy stuff," said Bishop, who has repeatedly rejected voter fraud claims on social media over the last two months. "They want policy solutions that make their lives better."
"I think it's disrespectful to Trump voters to not be truthful with them," he added. 
Many of the same questions that existed during Trump's run for re-election continue to persist in the months after it, particularly around how to appeal to rural and suburban voters simultaneously. 
That issue will be key for Republicans as they look to set themselves up for statewide wins in 2022, when the races for governor and U.S. Senate are on the ballot. 
But it also speaks to a broader conversation about the extent to which it's possible to unite Trump's fiercest supporters and those who have spoken out against him, and whether Republicans have the willpower to try to do so. 
Those who spoke with the Cap Times noted it's not uncommon for emotions to run high and for voters to feel angry after an election, particularly a contentious one. But the key is redirecting that anger outside of their own party. 
At the end of the day, it comes back to this for one Republican observer: "You have to move on." 
"Republicans are going to have to move on from Trump, not only in Wisconsin but everywhere," he said. "I think they all need to move on and move forward in Wisconsin. As with all conflicts or battles, you all just move on from it."
Kleefisch, whose ascent to lieutenant governor came during the 2010 Republican wave year that brought GOP majorities to both chambers of the Wisconsin Legislature and the governor's office, drew parallels between the current moment and the conversation more than a decade ago over the emergence of the Tea Party movement in 2009. 
Recalling how she was asked about the division then between Republicans and the Tea Party, she remembered telling people Wisconsin "never had any separation between the two." 
"I think that is because we were very unified on these state issues," she said, noting that there are "some disagreements" about where the party goes at the federal level surrounding topics like immigration. "I think we're seeing some of the same things today and we can recapture some of that same energy that we saw in 2010 in this upcoming election cycle." 
Looking ahead to next year, Wigderson was less optimistic. If Johnson doesn't seek re-election, he feared voters would see Republican primary candidates in two races (those for U.S. Senate and governor) seek to "appeal to the Trump base in the worst possible way." 
"The Republican Party is now fully controlled by the Trump movement and to appeal to those voters, they're just going to make outlandish promises," he predicted. "It's all going to be about grievances and sticking it to the Democrats, and who can fight the hardest. And that's not a winning formula in the long term. And it's not a moral formula in the long term either." 
Milwaukee conservative talk radio host Mark Belling in the days after the November election pushed for a party that would do just that: fight. In a 12-step plan seeking to overhaul the state party apparatus, he called for a new GOP chairman, "someone with sharp elbows and deep passion." And he advocated for putting Republican Assembly and Senate lawmakers "on notice that they will face primary challenges in 2022 from grass roots conservatives" if they don't fight Evers "and his Madison dilettantes." 
A preview of the midterm process Wigderson anticipates may already be starting to play out in some states. For example, in the November 2021 Virginia governor's race, which is expected to draw multiple candidates on both sides of the aisle, the Los Angeles Times reported last week that Republicans are still split over whether to choose their contender by convention or primary, a discussion focused in large part on the candidacy of state Sen. Amanda Chase. Chase was recently censured by her colleagues for calling those who stormed the Capitol "patriots." 
Battle lines are starting to be drawn elsewhere. Trump has considered creating a third party that would target Republican lawmakers "who crossed him in the final weeks in office," The Washington Post recently reported. That group includes U.S. Rep. Liz Cheney, of Wyoming, Georgia Gov. Brian Kemp and U.S. Sen. Lisa Murkowski, of Alaska. On the other side, anti-Trump Republicans have started a new effort called the Republican Accountability Project to support members of their party who back impeachment. 
Back in Wisconsin, Bishop remained hopeful the party would commit to a "positive, optimistic" approach heading into the next round of midterms. 
Though he acknowledged that would likely include at least a few ads attacking the Democrats ("I'm not a Pollyanna," he noted), he wants to see Republicans focus on "what we're going to do and what our policies are going to be and how it will make their lives better." 
"Less conspiracies, more policy," he said. "We just need to be positive and upbeat moving forward and accept what happened in 2020 and just be better, and I think we can be."