Republican legislative leaders refused to take up two gun control measures that Gov. Tony Evers demanded they pass in his special session call. 
Rather than voting on the so-called "red flag" bill and another that would implement stricter background checks, GOP lawmakers in both chambers on Thursday afternoon gaveled in and, within a minute, adjourned the special sessions without debating the proposals. 
Evers ahead of the Senate and Assembly sessions expressed optimism that legislators would "actually do something," telling reporters the majority of Wisconsinites support the measures and "there's no reason why the Legislature shouldn't go along with them." 
But Assembly Speaker Robin Vos, R-Rochester, slammed Evers for being "entirely focused on the politics of what he's doing today, which is what we've known since the very beginning."
"We've already had these debates, we already know where people stand," he later added. "I don't necessarily want to spend a bunch of time playing politics with this, which is what it seems like (will happen)."
As they awaited legislative action, gun control advocates, including representatives from Moms Demand Action and March for Our Lives, gathered at the Capitol Thursday afternoon for a rally to support the legislation, wielding signs that said "No more silence, end gun violence" and "For the children," among other things.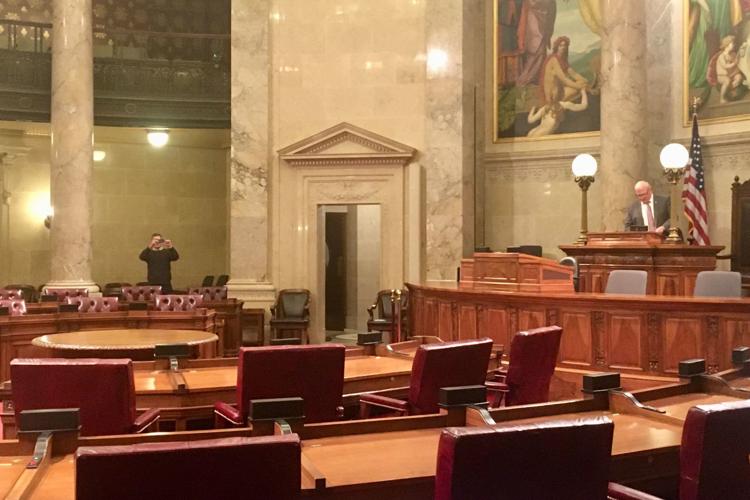 There was some uncertainty about when the Senate would convene Thursday. Evers' executive order called on the session to begin at 2 p.m., but lawmakers were able to gavel in anytime between then and midnight. 
At 2 p.m., Senate Democrats gathered in the center of the chamber's floor for a prayer as they waited for the session to be called. It wasn't until just before 8 p.m. when that happened. Majority Leader Scott Fitzgerald, R-Juneau, walked onto the empty Senate floor during what's known as a skeletal session and convened and adjourned the session in around 30 seconds. 
"I've said all along that the Senate would not go along with the governor's plans for this special session," Fitzgerald said in a statement. 
Meanwhile, the state Assembly, which held a regular floor session Thursday as well, didn't gavel in and out of special session until 9:30 p.m. It took them under 15 seconds to do so. 
Attorney General Josh Kaul and Senate Democrats in a news conference early this afternoon lamented the process and demanded that Republicans act on the bills. 
"They are issues that are supported by a majority of Democrats," Kaul, a Democrat, told reporters. "They are supported by a majority of Republicans. They are supported by a majority of gun owners. It seems like the only place we can't find majority support for this legislation is in the Wisconsin state Legislature."
Under the "red flag" legislation, family members or police would be able to ask a court to take firearms from an individual who is considered dangerous. The court could then issue a temporary restraining order and injunction if it is found the person is likely to injure themselves or someone else. 
Meanwhile, through the background checks bill, individuals wouldn't be able to sell or transfer guns unless that process occurs through a federally licensed firearms dealer and includes a background check. That bill was first announced in the wake of mass shootings in Texas and Ohio.
Parker Schorr contributed to this report.