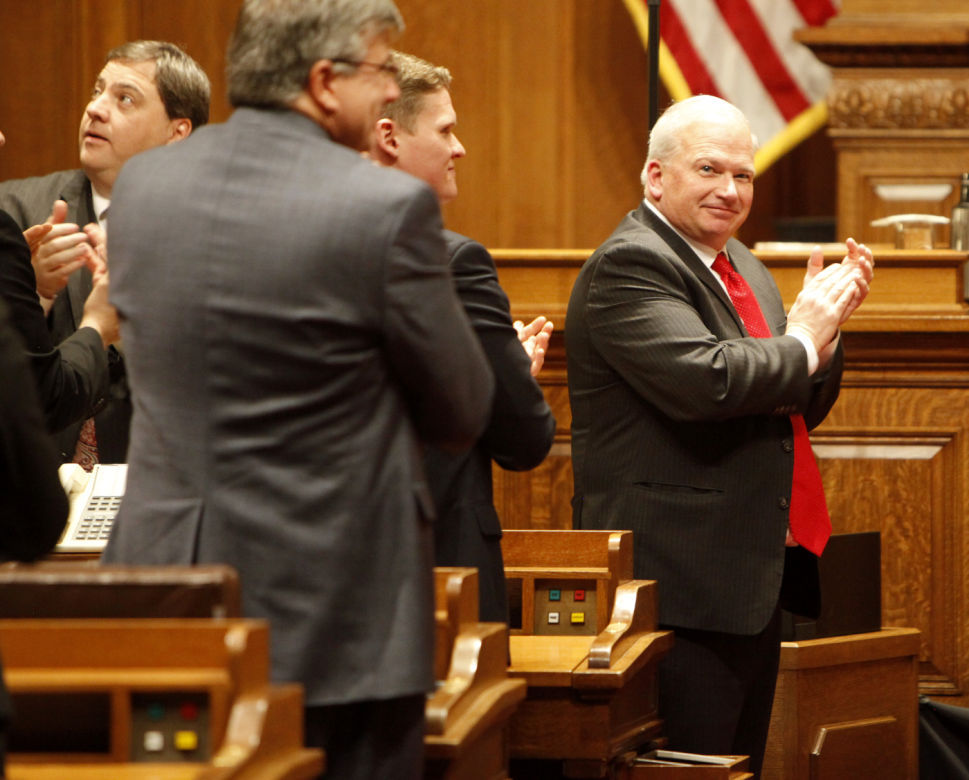 The Wisconsin Legislature will hold an extraordinary session next week to take up a right-to-work bill, which Gov. Scott Walker plans to sign if it lands on his desk.
"Gov. Walker continues to focus on budget priorities to grow our economy and to streamline state government. With that said, Gov. Walker co-sponsored right-to-work legislation as a lawmaker and supports the policy," said Walker spokeswoman Laurel Patrick in an email. "If this bill makes it to his desk, Gov. Walker will sign it into law."
Fitzgerald told Sykes the Senate has the 17 votes required to pass the bill. The Senate plans to take it up first, followed by the Assembly. Fitzgerald hopes to have the bill passed by Wednesday or Thursday of next week, he said.
"The theory is, when you have the votes, you've gotta go," Fitzgerald told Sykes, adding that fast-tracking the bill will prevent unions from being able to mobilize and run ads or protests against the bill.
Twenty-four states currently have right-to-work laws on the books. 
In right-to-work states, employees in the private sector cannot be required to pay union dues as a condition of employment.
Walker's signature legislation, Act 10, prohibited that practice for most public-sector employees. Right-to-work policies would go a step further, affecting the private sector.
"You can't base your decision on whether or not the crowd shows up and it gets as ugly as Act 10," Fitzgerald told Sykes, referencing the massive protests that resulted from Gov. Scott Walker's signature legislation.
Phil Neuenfeldt, president of the Wisconsin AFL-CIO, called the move to fast-track the bill a "slap in the face to our democracy." AFL-CIO Secretary-Treasurer Stephanie Bloomingdale said right-to-work "cripples the fundamental right of every American to join together, stick together and have a meaningful voice in the workplace."
Democrats and some Republicans have raised concerns about right-to-work legislation. Walker sponsored similar legislation during his time as a state legislator, two decades ago, but had said in recent months that such a bill would be a "distraction" from his priorities. 
Assembly Minority Leader Peter Barca, D-Kenosha, said Friday he believes Walker and GOP lawmakers want a distraction to take attention away from a "destructive" budget.
"Calling an extraordinary session will make the budget disaster Republicans have created worse since we're already scheduled to be in session the following week anyway," Barca said in a statement. "What's the emergency?"
Democratic lawmakers rallied around the idea that the bill is being pushed as a way to distract from cuts proposed in the governor's budget, while Fitzgerald said it would be a positive step for the state.
"They know this is the right thing to do," Fitzgerald said. "The senators know it."
Fitzgerald said he will be reaching out to Senate Minority Leader Jennifer Shilling, D-La Crosse, to tell her he thinks the Senate can get through it without the "mess" experienced in Act 10.
"It is absurd that Republicans would fast-track legislation to interfere with private business contracts and lower wages for all Wisconsin workers at a time when our state is facing a massive $2.2 billion budget crisis," Shilling said in a statement. "Objective polling clearly shows that the vast majority of Wisconsin residents view this issue as a distraction. Rather than creating economic uncertainty for Wisconsin families and small businesses, Republicans should focus their attention on boosting family wages, closing the skills gap and fixing the $2.2 billion budget crisis they created."
Assembly Speaker Robin Vos, R-Rochester, echoed previous statements, confirming in a statement that once the bill passes the Senate, Reps. Chris Kapenga, R-Delafield, Dan Knodl, R-Germantown and Dave Craig, R-Big Bend, will take the lead in the Assembly.
Vos noted that he drafted similar legislation as a freshman lawmaker and said he looks forward to passing the bill in the Assembly after the Senate approves it.
"As a strong supporter of right to work, I welcome the opportunity to take up legislation that gives Wisconsin workers the freedom to choose to join a union," Vos said.
Share your opinion on this topic by sending a letter to the editor to tctvoice@madison.com. Include your full name, hometown and phone number. Your name and town will be published. The phone number is for verification purposes only. Please keep your letter to 250 words or less.