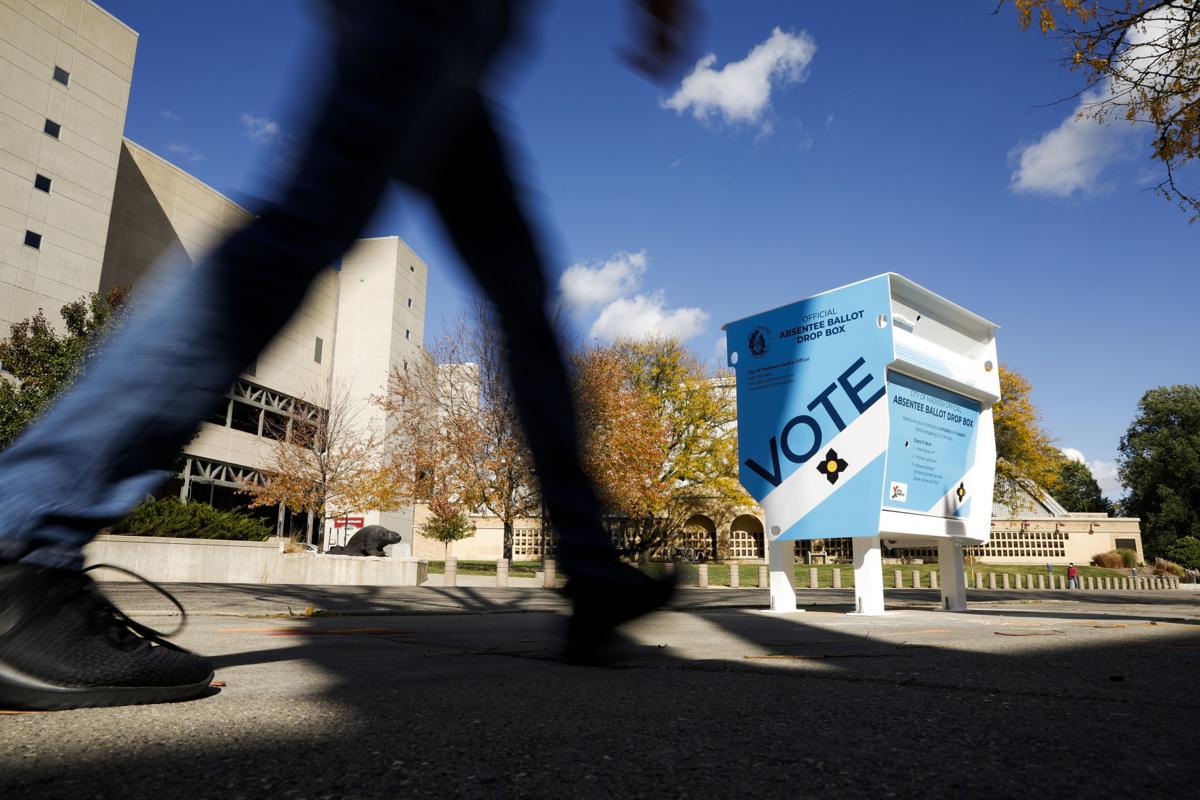 Coming off an election year that saw historic levels of absentee balloting in Wisconsin amid the COVID-19 crisis, legislative Republicans have authored a series of bills seeking to overhaul voting procedures in the state, adding four bills on Wednesday to a package originally circulated for sponsorship Monday.
Hitting on practices that were targeted in various lawsuits brought by former President Donald Trump and his allies aiming to dispute the November election results in Wisconsin, the packages include measures to curb the use of absentee ballot collection events like Madison's "Democracy in the Park," the ability to use the "indefinitely confined" designation in casting absentee ballots and more.
Specifically, the bills would require voters to submit a separate ballot application to vote absentee, bar staff at assisted living sites from influencing how or whether residents votes, impose additional photo ID requirements for by-mail voters, restrict the use of ballot drop boxes and more.
The 10 bills, which began circulating in batches for cosponsors this week, come chiefly from Sen. Duey Stroebel, R-Saukville, and Sen. Alberta Darling, R-River Hills, who have both depicted their efforts as a way to bolster public confidence in elections.
"Far too many people have sincere concerns about our electoral system," Darling said in a statement Wednesday. "These bills will help restore trust and make sure our elections are handled fairly for everyone."
Though the measures could make it through the Republican-controlled Legislature in the months to come, they're unlikely to win the backing of Democratic Gov. Tony Evers, who in the past has supported changes that would allow elections officials to begin processing ballots before Election Day to speed up the counting process, among other measures.
Democratic members of the chamber's Campaigns and Elections Committee decried the push as a continued "attack on voter rights."
"These bills make Republicans' disdain for the will of the people even more obvious," said Reps. Mark Spreitzer, Lisa Subeck and Jodi Emerson in a joint statement. "We reject these anti-voter bills and call on their authors to withdraw them without delay."
Wisconsin's absentee voting practices were thrown into the spotlight following the November 2020 election, when President Joe Biden won the state by some 20,000 votes. Trump and his allies, though, spent months disputing the results and repeatedly went to court in an attempt to toss out thousands of ballots from voters in Dane and Milwaukee counties.
Madison Mayor Satya Rhodes-Conway slammed the legislation, saying in a statement this week the bills sought to punish localities that embraced the use of ballot drop boxes and other innovative measures "to protect voters," including Democracy in the Park.
"Make  no mistake; a package  of  bills  being  circulated in the Capitol will  make  it  harder,  not  easier, for voters to cast their ballots, especially absentee ballots," she said.
Republicans earlier this month also ordered the state's nonpartisan Legislative Audit Bureau to review Wisconsin's election system, a process that could take months. Stroebel in a statement noted that would likely "generate additional reform ideas."
Breakdown of Republican bills' impact on voting policy
• Voters who want to turn their ballots in in-person must do so themselves or have a member of their immediate family or a legal guardian do so. If none are available, the voter would designate in writing another registered voter to deliver the ballot for them.
The bill would only allow events like Democracy in the Park to occur in the 14-day timeline that aligns with in-person early voting before an election.
• Localities would be unable to apply for or accept private dollars to administer elections. That practice faced a legal challenge last year when the conservative Wisconsin Voters Alliance sought to block some $6 million in grant funds for five cities in the state. The funding, from the nonprofit Center for Tech and Civic Life, was awarded to Green Bay, Kenosha, Madison, Milwaukee and Racine, with much of the money donated by Facebook CEO Mark Zuckerberg.  
Under the bill, if grant money is given to municipalities or to the Wisconsin Elections Commission, WEC staff would have to dole it out on a per-capita basis to localities. 
• WEC must post minutes online within 24 hours after the end of a meeting or hearing.
• Those who claim the "indefinitely confined" designation, which under current law doesn't require individuals to show a photo ID before obtaining an absentee ballot, must submit a statement made under oath to claim that status, which must then be renewed every two years by the voter. Meanwhile, individuals under 65 seeking to claim the designation would be required to have their statement be signed by a health care provider. 
The legislation also stipulates that an epidemic of a communicable disease doesn't qualify a voter as indefinitely confined.
Currently, it's up to voters to determine if they qualify as indefinitely confined or not, a process that was upheld by a December Wisconsin Supreme Court decision. Guidance from WEC states the designation is appropriate for voters who are indefinitely confined due to age, physical illness or infirmity or are disabled for an indefinite period.
• Indefinitely confined voters, as well as overseas and all other voters, wouldn't be able to automatically request to receive absentee ballots for all elections in the voter's municipality over a given year. The bill would also eliminate voter ID exemptions for indefinitely confined voters. 
A recent WEC analysis showed that nearly 80% of the 216,490 voters who returned ballots while claiming that designation in the November election either have a photo ID on file or presented one when voting in an election dating back to 2016, refuting a narrative perpetuated by Trump that  such voters used the designation to get around the state's voter ID laws.
The bill also wouldn't allow election officials to send an absentee ballot application or ballot to a voter unless the voter applies for an application or ballot.
WEC commissioners agreed in a bipartisan vote last May to send out ballot applications to some 2.7 million registered voters in Wisconsin, as they anticipated continued interest in voting by mail for the August and November elections.
• Let relatives of nursing home and assisted care facility residents know when special voting deputies, who help individuals cast absentee ballots, are planning to visit the site. The bill also would bar employees from influencing how or whether a resident votes.
• Allow municipalities to operate a single secure drop box. Under the bill, the drop box must be attached to the municipal clerk's office building.
• Compel WEC to create a separate, written absentee ballot application form. Currently, those who vote in-person early submit their ballots by placing them in a certificate envelope that serves as a voter's written application for their absentee ballot.
• No longer allow election officials to "cure" absentee ballots, by which local clerks are able to fill in missing information on a voter's certification envelope (not the ballot itself), such as a witness' address. That practice has been in place since the 2016 presidential election.
But under the bill, if an absentee ballot certificate is missing information, the clerk would be required to return the ballot to the voter and post a notification of the defect online to alert the voter.
• Stipulate that elections officials provide observers "uniform and nondiscriminatory access to all stages of the election process, including recounts." Observers would not be allowed to wear any campaign material or interfere with a voter or hinder an election official.
Some observers of Dane and Milwaukee counties' 'recounts, which were requested by Trump for the November contests, had complained they struggled to watch the process, as officials worked to balance public health concerns surrounding COVID-19 and the need for both presidential campaigns to be able to witness the days-long process.