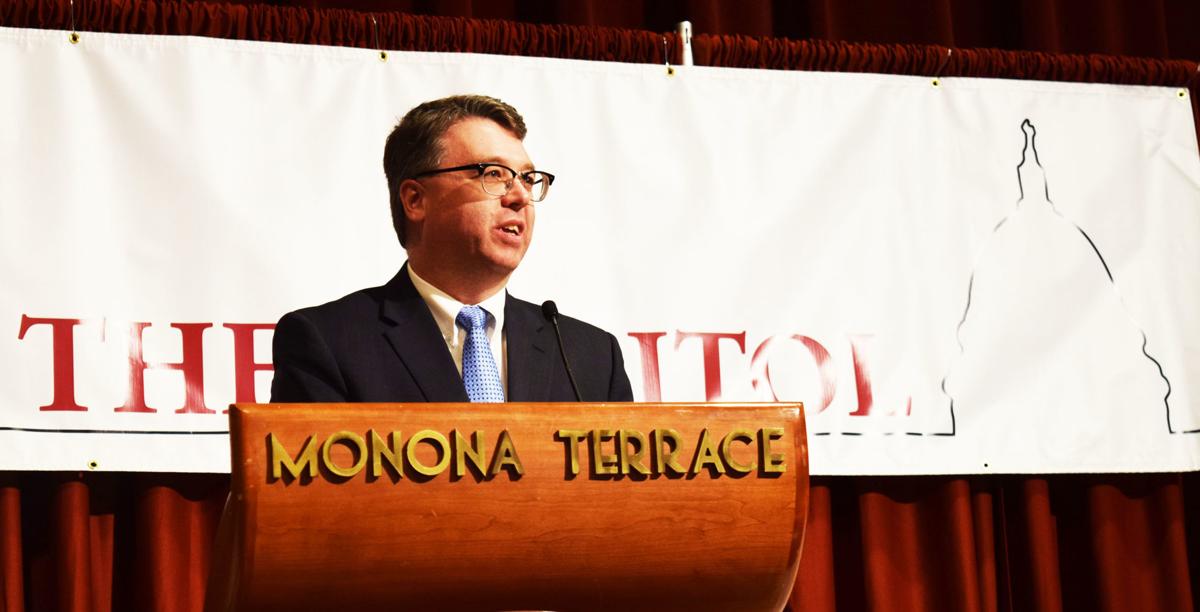 Republican state senators have voted to oust Democratic Gov. Tony Evers' agriculture secretary, the first cabinet pick the chamber has rejected in at least three decades. 
The chamber shot down Department of Agriculture, Trade and Consumer Protection Secretary Brad Pfaff's nomination on a 14-19 party-line vote Tuesday, a move that came after Senate Majority Leader Scott Fitzgerald last week signaled Pfaff's impending rejection when he urged Evers to withdraw the selection.  
Evers, who in an unusual move quietly observed the floor debate from a chair on the Senate floor, slammed the chamber's action as "a vote against the farmers of Wisconsin, period."
"There's nobody that generates more enthusiasm and passion for the state of Wisconsin's agriculture industry than Brad Pfaff," he told reporters after the vote. "We just threw that away."
Pfaff's nomination was unanimously approved in February by a Senate panel — a committee including five Republican members who all voted "no" Tuesday but refused to answer questions on the floor from Democrats. 
On the floor, Fitzgerald said there were "a number of missteps" Pfaff made going back to February and cited a "number of members of the majority that just aren't comfortable with Brad Pfaff."
That includes Sen. Steve Nass, R-Whitewater, who said while Pfaff is "undoubtedly a good person," leading DATCP "is a different question."
But Democrats pointed to Pfaff's experience, including his stint at the U.S. Department of Agriculture Farm Service Agency, and charged Republicans were playing politics on the issue. 
Calling Pfaff "undeniably qualified for the job," Senate Minority Leader Jennifer Shilling urged her colleagues to de-escalate "this legislative nuclear war we are in" and back him. 
"At a time when the ag industry is in a crisis and there is uncertainty of trade wars and tariffs, of weather, of declining prices, Brad is that voice that we need to help family farmers in this state and the agricultural industry," the La Crosse Democrat said. 
In Wisconsin, a state that leads the nation in family farm bankruptcies, some 700 dairy farms shuttered last year while others continue struggling as milk prices decline. 
Officials from the nonpartisan Legislative Reference Bureau said no cabinet secretary has been rejected by the state Senate since at least 1987, though a couple executive appointments have been. As of Monday, LRB didn't have any official information predating that year. 
The debate was derailed by a lengthy argument between Republican Senate President Roger Roth and Democratic Sen. Tim Carpenter over the chamber's rules. 
The scuffle, which lasted well over half an hour, came after Sen. Jeff Smith, D-Eau Claire, sought to read a positive quote from a Republican senator about Pfaff dating back to the committee confirmation vote. Smith eventually read the quote, though the back-and-forth over the rules continued. 
It's unclear what's next for Pfaff. Some floated the possibility that Evers could appoint him as the agency's No. 2, and promote the current deputy secretary to lead DATCP.
Asked about the possibility, Evers said he had "no idea" what he'd do. 
"I don't even know, I can't even think about that right now, I'm so PO'd about the fact that happened today," he said separately. "We'll deal with that as we go forward."
The December 2018 lame-duck laws prevent a governor from re-nominating an individual to the same position after they are rejected by the state Senate.
Ahead of Pfaff's rejection, the Evers administration sought to urge senators support him. Separately, industry groups including the Wisconsin Cheese Maker Association and the Dairy Business Association highlighted their support. DBA officials in a statement said that "at this critical moment for Wisconsin's dairy community, the right thing to do is to keep him in place."
Senators Tuesday unanimously approved two other cabinet secretary picks: Insurance Commissioner Mark Afable and Public Service Commission head Rebecca Valcq.
They join five formerly approved agency leaders: Peter Barca at the Department of Revenue, Joel Brennan at the Department of Administration, Kathy Blumenfeld at the Department of Financial Institutions, Kevin Carr at the Department of Corrections and Mary Kolar at the Department of Veterans Affairs. They were voted on in October.  
It's taken months for Evers' nominees to make their way through the Senate committee and floor approval process, the main hurdle in making their appointments as agency heads permanent. Secretaries don't technically have to be confirmed to continue serving in their roles. 
Fitzgerald in his comments on the floor predicted a similar process with Pfaff could play out with other cabinet nominees.
"Some are going to go through and I don't know if the rest are going to make it," he said. 
Evers, asked if he had any advice for his Cabinet picks that have yet to be confirmed, said: "If I was a cynic, I'd say, keep your damn mouth shut. But I'm not. I want them to be forthcoming. I want them to be professional. That's why we hired them."
He added: "They're the best people for the job. And to think that they're going to have to keep their mouth shut for the next, who knows, four years in order to get approved by this Senate, that is just absolute bullshit."
Other picks that have faced scrutiny include Transportation Secretary Craig Thompson, who has drawn attention from GOP lawmakers over his past at the helm of the Wisconsin Transportation Development Association, a transportation advocacy group; and Safety and Professional Services Secretary Dawn Crim, who's drawn concern surrounding a 2005 child abuse charge along with her professional qualifications.
Share your opinion on this topic by sending a letter to the editor to tctvoice@madison.com. Include your full name, hometown and phone number. Your name and town will be published. The phone number is for verification purposes only. Please keep your letter to 250 words or less.