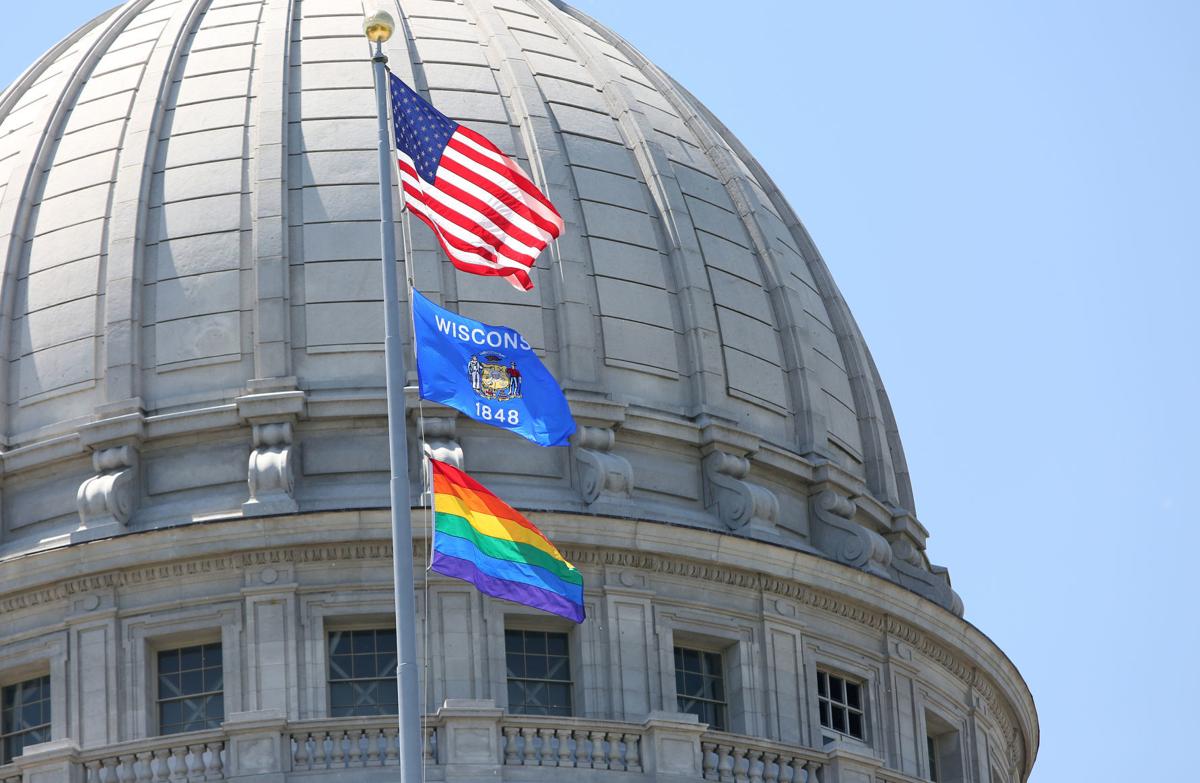 In a gesture that would have been unthinkable a year ago, Wisconsin Gov. Tony Evers Friday ordered a rainbow flag to fly above the state Capitol for the first time ever to mark Pride Month.
One Republican state lawmaker responded with a tweet that appeared to question the move on religious grounds.
"Is this any more appropriate than erecting the Christian flag over the Capitol?" tweeted Rep. Scott Allen, R-Waukesha, who also invoked the "#religious" hashtag.
Allen, whose Twitter bio describes him as a "Child of God," didn't immediately respond to a message asking him to explain the tweet. But he had this response to the Associated Press via Twitter:
"It advocates a behavior or lifestyle that some Wisconsin residents may not condone. Therefore it is divisive."
"It was kind of baffling that he seems to think being LGBT is a religion," said Rep. Mark Spreitzer, one of four openly gay lawmakers in the state Legislature. "I am both gay and a Christian and an active member of my church. He seems to think being LGBT and being Christian are not compatible with each other."
He called the flying of the flag "a historic first."
U.S. Rep. Mark Pocan, an openly gay member of Congress, said Allen should "read a little history."
He added while it's "a very old, antiquated position" to hold, there are "some people who always profit from hate."
The flag's appearance atop the Capitol comes five years after a judge struck down Wisconsin's ban on gay marriage
Pocan noted the country's "really moved on this issue," and he touted the House's passage last month of the Equality Act, a bill that would amend the Civil Rights Act to ban discrimination on the basis of gender identity and sexual orientation.
"We have moved really, really far just in that five years, or even going back all the way to Stonewall, how much has happened — it's really been monumentous," he said.
In his executive order, the Democratic governor, who defeated two-term Republican Gov. Scott Walker last fall, said the measure "sends a clear and unequivocal message that Wisconsin is a welcoming and inclusive place where everyone can live without fear of persecution, judgement, or discrimination."
The flag will be on display until June 30.
Members of the LGBTQ community cheered the move.
State Sen. Tim Carpenter, D-Milwaukee, said the measure signals a "new direction" for the state.
"With this very simple, basic step of raising the rainbow flag over the Capitol and other state government buildings, Governor Evers has demonstrated that he recognizes and accepts all of us for the people we are," reads a statement issued by Carpenter, the only openly gay Senator. "It demonstrates that Wisconsin is welcoming. That is a very big deal."
On Monday, Madison Mayor Satya Rhodes-Conway ordered a rainbow flag to fly above the Municipal Building, located two blocks away from the Capitol. The Municipal building will also be illuminated with rainbow colors at night.
Briana Reilly contributed to this report.
Share your opinion on this topic by sending a letter to the editor to tctvoice@madison.com. Include your full name, hometown and phone number. Your name and town will be published. The phone number is for verification purposes only. Please keep your letter to 250 words or less.