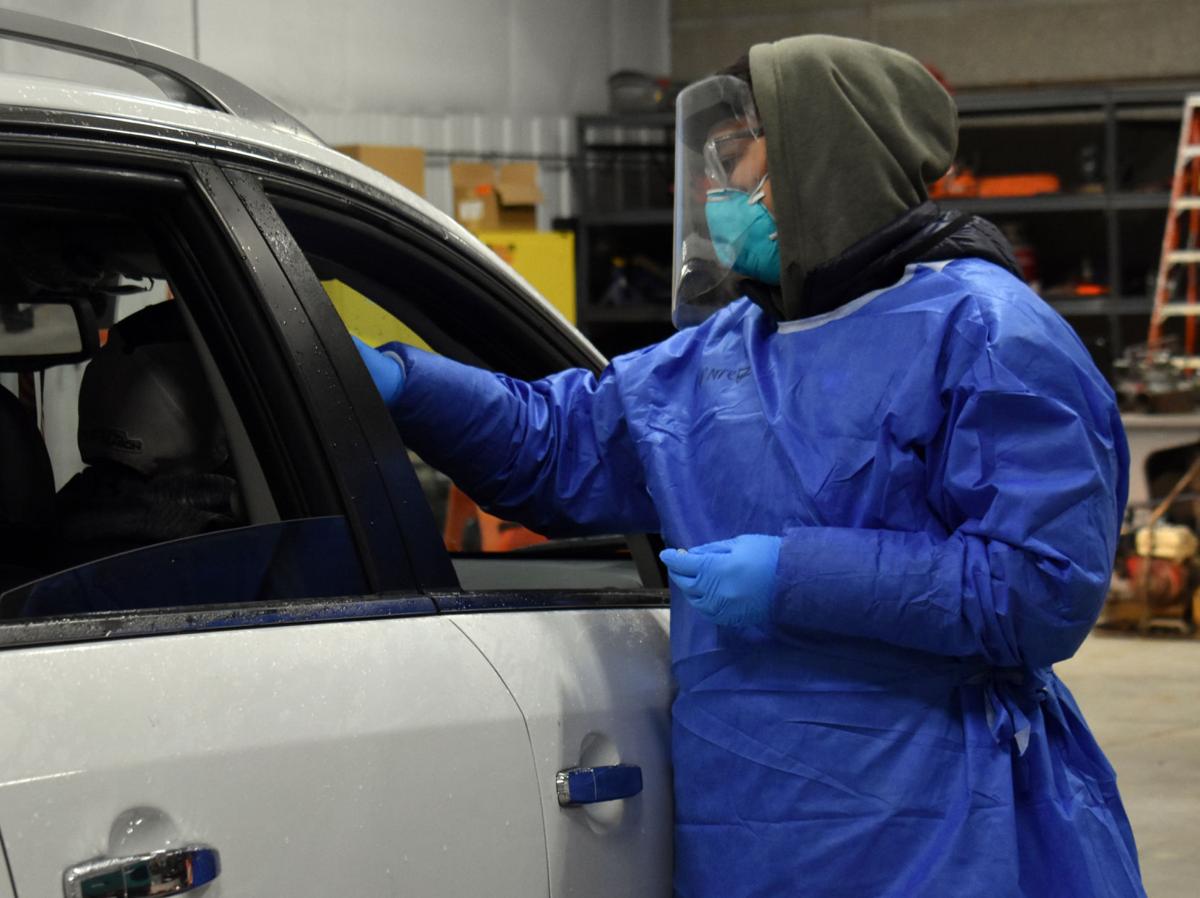 Cases of COVID-19 have been dropping since Wisconsin saw a record high on Nov. 18, but hopes that the state has turned a corner on the disease were dampened by another record number of deaths.
The state reported 107 deaths on Tuesday, after a sharp decline after the previous record of 104, set on Nov. 24. Only six deaths were reported on Monday and a total of 130 over the four-day holiday weekend.
Not yet included in those deaths is Isai Morocho, 16, an East High School junior who reportedly died last week from an apparent "COVID-related" illness, the Madison Metropolitan School District reported. Officials said his death will be reported in the COVID-19 statistics if it's confirmed that the virus factored into his death. 
Tuesday's record tally may be in part due to a lapse in reporting. Officials stress that a more accurate assessment of deaths is the seven-day average, which stands at 44, down from a high of 55 on Nov. 25.
There were 4,079 new cases of COVID-19 reported on Tuesday, compared to the record 7,989 cases on Nov. 18. The seven-day average is 3,905, down from a high of 6,563.
But the state also saw a steep decline in the number of people being tested over the long weekend. A key indication of the prevalence of the virus is the percent of people tested who get a positive result. Officials have a target of 5%, but the seven-day average is at 13%.
Officials are finding little reason to celebrate the lower case numbers, particularly because of an expected spike as families return from Thanksgiving gatherings, putting those who may have been exposed to the virus on a time line to become infected during the approach to the Christmas holidays. 
"We can't really call it good news in the sense that we can work any less hard," said Dr. Ryan Westergaard, the Department of Health Services chief medical officer for infectious disease. "In fact, we still need to work harder because there's still a lot of undiagnosed infection out there, transmission is still occurring at a high level."
The number of hospital patients being treated for the disease also has been declining, from a record 2,277 on Nov. 17 to 1,827 on Tuesday. But state Department of Health Services Secretary designee Andrea Palm said hospitals "continue to report current and eminent critical staffing shortages."
After several weeks, Wisconsin is no longer near the top of the list of states for rates of transmission. But the numbers of cases in the state are still vastly higher than two months ago, when the fall surge began.
"That is still way, way too high," Palm said of Tuesday's case numbers. "I remember the days when we started breaching 1,000 and we were alarmed by that."
It took the state more than seven months to reach 100,000 cases, Palm said, 35 days more to get to 200,000, and only 18 days at break the 300,000 mark.
"Now we're reaching December and we're nearly 400,000 confirmed cases of COVID-19," she said.
Palm said that those who may have been exposed over the weekend and got tested afterward may get a false sense of security with a negative result. The test is not likely to identify an infection within two days of exposure. She recommended waiting three to five days after a possible exposure to get tested.
As the state approaches the new year, the strained capacity for testing and contact tracing will be taxed further as federal funds from the CARES Act COVID-19 relief bill dry up on Dec. 31.
"There isn't a mechanism to jockey around that by putting that money in some secret lockbox and reopening it after the first of the year," said Gov. Tony Evers. "That money's gone."
While a bipartisan group of federal lawmakers on Tuesday announced a $908 billion COVID-19 relief proposal, the prospect for a relief bill this month is uncertain.
Evers said he's been in contact with a "handful" of members of Congress, and his staff has been in contact with the state congressional delegation on a "more than weekly basis."
"They know what we need, and hopefully they'll be able to bring this to some positive conclusion," he said. We absolutely need the help of the federal government. It is imperative that they step up to the plate."
He said the state needs federal dollars to fund testing and contract tracing, as well as to provide support for famers and small businesses, and to fund unemployment benefits.
He was set to meet Tuesday with Republican legislative leaders in the hope of loosening up state funds to keep testing and contact tracing efforts going, as well as other COVID-19 measures.
Evers put the need for the state to pass legislation before federal money runs out in urgent terms. 
"We cannot afford to have any lapse in testing or contact tracing or any of the other things we do around public health," he said. "Taking a vacation from what we need to do ... that would be probably the dumbest thing we could think of doing."