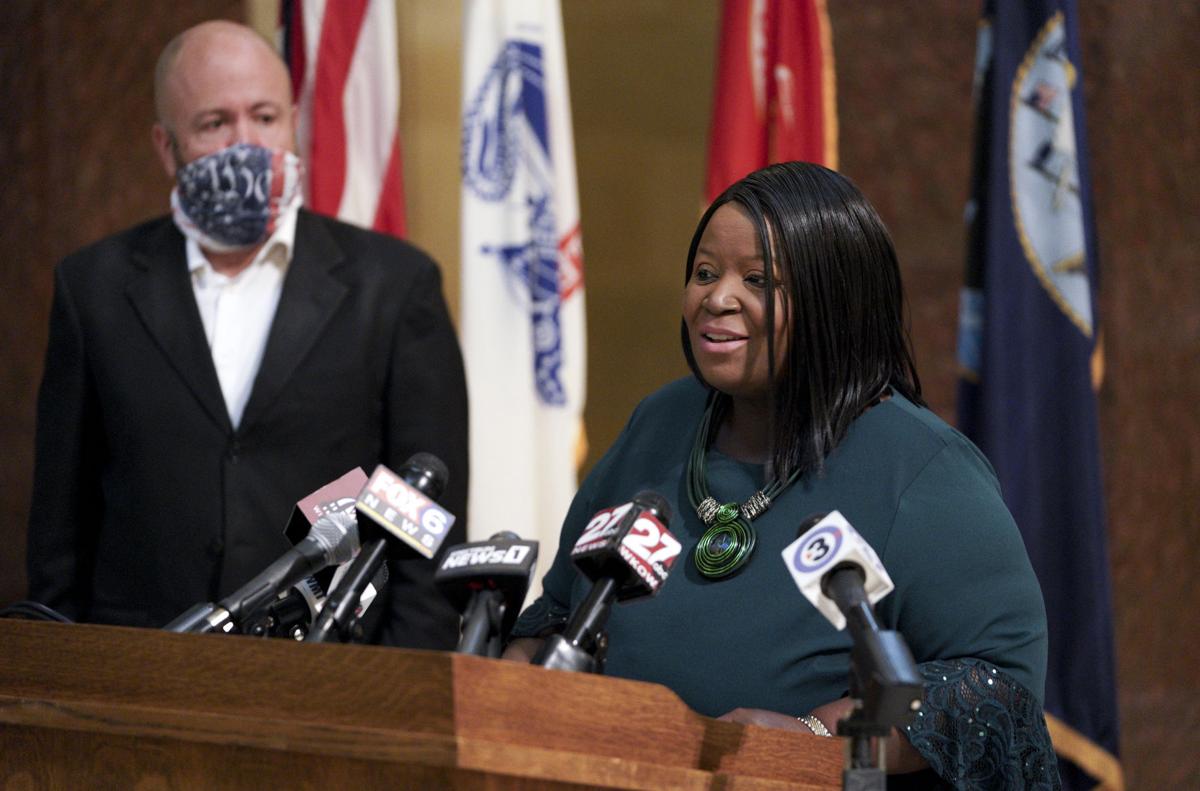 Leaders of a task force seeking to combat racial disparities in Wisconsin have released a series of recommendations on policing ranging from banning the use of chokeholds in most situations to requiring active-duty officers to wear body cameras.
Many of the 18 recommendations, unveiled Wednesday, have already been proposed this session or in prior years, such as requiring use-of-force policies be publicly available on an agency's website and compelling officers to intervene and report when they observer a fellow officer using inappropriate levels of force.
But task force co-chair and Assembly Majority Leader Jim Steineke, R-Kaukauna, said that while task force members looked at existing legislative plans when crafting the report, they also often "recommended going further" than what was proposed. 
"I don't want it to be lost in this whole conversation that somehow the task force just ended up recommending things that were already being recommended because in many cases they went further than legislation that was already out there and in a lot of cases it's going to be brand new legislation," he said.
The same day the body released its police recommendations, Gov. Tony Evers signed an executive order directing Capitol Police, State Patrol and other state-managed law enforcement, to review and update their use-of-force policies.
The report's release marks the end of about half of the task force's work, though one remaining subcommittee, on education and economic development, is continuing to meet and finalize its own recommendations.
Created in the wake of the Kenosha police shooting of Jacob Blake last summer, the task force saw its Law Enforcement Policies and Standards Subcommittee wrap up its final meeting Tuesday just hours before a Minneapolis jury found former police officer Derek Chauvin guilty of the murder of George Floyd.
In addition to being book-ended by those two events, fellow task force co-chair and state Rep. Shelia Stubbs, D-Madison, noted the group stood witness to the grand jury's decision to indict a former Louisville police officer on three counts of wanton endangerment in connection with the killing of Breonna Taylor; and the Kenosha County District Attorney's decision to not charge any of the Kenosha police officers involved in the Blake shooting.
"The work that we did was so important but I don't know if people realize the pressure that we were operating in during this time," she said, adding later: "Just imagine the pressure that we were under to have the deliverables across the state."
'New ground was broken'
While many of the topics in the report aren't new, Steineke and Stubbs stressed that their subcommittee's approach allowed them to dive deeply into familiar proposals and go further in some areas.
For example, past legislation has called for requiring officers to intervene and report any instances in which they observe a colleague using inappropriate levels of force. A new recommendation, Steineke noted, would also create a criminal penalty for an officer's failure to do so.
And rather than banning the use of chokeholds, as Evers and Lt. Gov. Mandela Barnes proposed last June in the wake of Floyd's murder, the task force is recommending that the definition be broadened to include "force that hinders blood flow, such as carotid restraints," which leaves an individual unconscious. 
The panel recommends there be exception for instances in which officers are in life-threatening situations or for self-defense — not the total ban that Evers and Barnes sought.
Beyond that, the report calls for legislation to require law enforcement agencies to create a policy to administer an alcohol and drug test to an officer who shoots someone, caused "great bodily harm to" an individual and more.
Meanwhile, another recommendation calls for new officers hired by law enforcement agencies be give a "psychological examination to determine the individual's personality characteristics and suitability to perform the duties of an officer."
"There's a whole host of areas where new ground was broken or existing legislation was expanded," Steineke said.
There are also areas where the recommendations don't meet previous proposals. For example, another measure Evers pushed for last summer, to bar no-knock search warrants, wasn't advanced by the committee, which lacked consensus on whether to recommend a prohibition against the practice, per the report.
Instead, members suggest the state Department of Justice collect data on the use of the no-knock warrants from all state and local law enforcement agencies, before publishing a report about it one year after the data's collection.
Some recommendations included the use of state dollars, though no funding specifics were listed. That was the case for members' suggestion that the state make money available to assist local agencies with costs associated with body cameras (part of a broader push to require all active-duty officers on patrol to wear body cameras), as well as two community grant programs.
"We know money is an issue when you talk about government, but I think for us what was important was to capture what people were feeling to move us forward," Stubbs said. 
'This is just the beginning'
Going forward, Steineke and Stubbs plan to work with fellow lawmakers whose bills overlap with members' recommendations as well as draft their own standalone legislation on policing. 
For those existing bills, the two co-chairs would need to gauge whether the authors would welcome amendments to reflect the task force's recommendations.
Steineke said based on initial conversations he's had, he's "optimistic that that's going to be the case, where there isn't going to be a whole lot of push back to the things that the task force recommended." But past that, lawmakers will need to win the support of their caucuses in both chambers.
"This is not the end of the process, this is jut the beginning of the process," Stubbs added. "We have a lot of work to do to within our caucuses and working with the governor and then to get this into law."
In the Senate, former Racine police officer Van Wanggaard, a regular leader on law enforcement-related initiatives among Capitol Republicans, was measured. He touted the bipartisan package of bills he introduced in January that would bar chokeholds, create an independent advisory board to analyze use-of-force incidents from police, mandate reporting requirements and establish whistleblower protections and more — measures included in the task force's recommendations.
"To the extent there are new legislative ideas, I will review them with an open mind and hope we will reach agreement," he added. "However, I will not support anything that jeopardizes public safety or the safety of our law enforcement officers."
Leaders also didn't meet the timeline they set out to for conducting their work and introducing their recommendations. While Stubbs in late October said she anticipated "meaningful bills" based on the panel's recommendations would be ready for the Legislature in early January or February, that didn't come to pass.
In an interview Wednesday, Stubbs said had been "optimistic" about the schedule, adding task force members had sought to slow down the process and dig into the work.
"Initially we did think it would go a little bit faster but the conversations were really in-depth, they were really detailed, and just plain took a little longer than what we had thought," Steineke said.