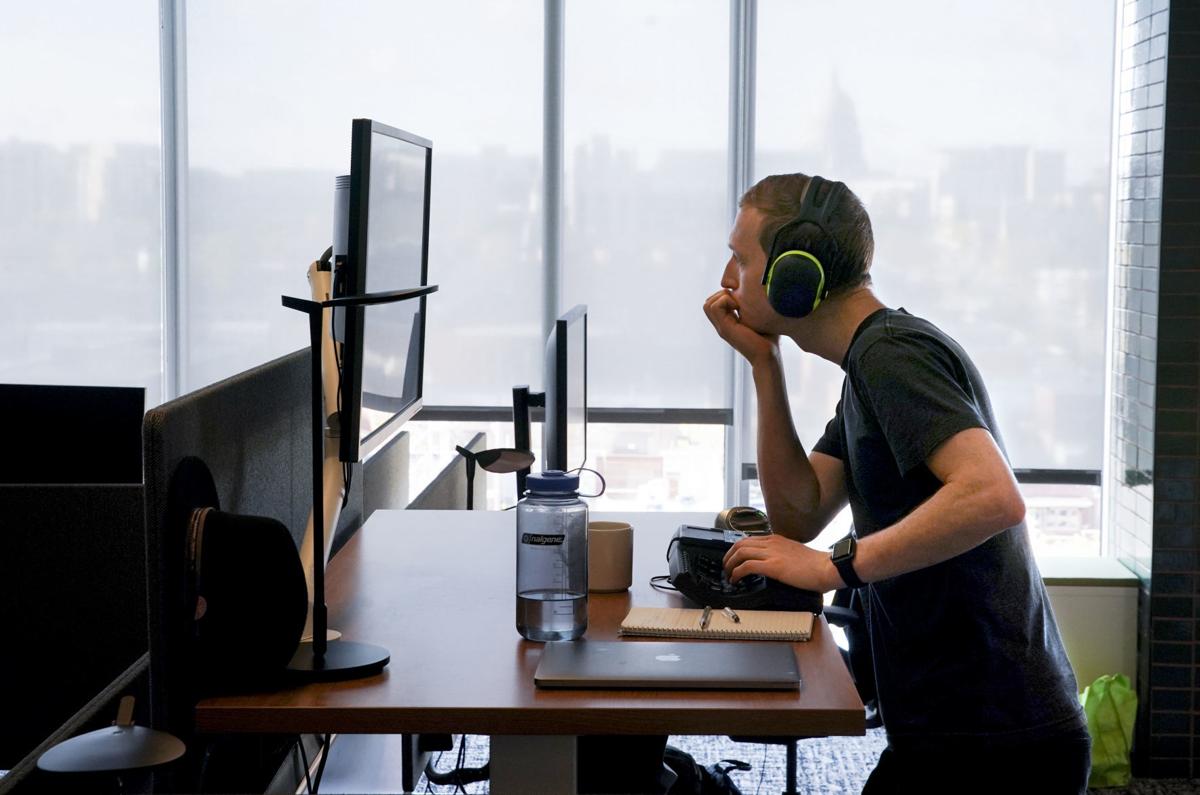 Tech jobs in the Madison metro area increased by over 120% from 2008 to 2018, surging past growth in the sector in Milwaukee and Green Bay, according to a Wisconsin Policy Forum report.
A decade after the Great Recession halted the U.S. economy, Wisconsin has almost 72,000 more jobs than in its pre-recession peak, according to the report. Higher-paying jobs that require more educations have grown more than lower-paying ones but the benefits are not shared equally across the state. 
Computer and mathematical occupations have boomed in Madison, increasing by 120.2% over the 10-year period. Growth has been slower in the Milwaukee and Green Bay metropolitan areas, increasing by 25.5% and 56.1%, respectively.
"We knew that tech jobs were growing in Madison," Joe Peterangelo, author of the report, said. "To see that it was the number one fastest growing was pretty interesting and surprising."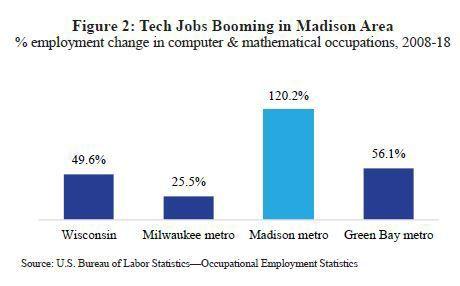 Overall, the report analyzed statewide trends among 22 occupational fields and changes that have occurred in Milwaukee, Madison and Green Bay — the state's three largest metropolitan areas, which account for roughly half of Wisconsin's total jobs.
The report's results showed that generally, jobs in higher-paying occupations have grown more than in lower-paying fields. Occupational groups, including computer and mathematical jobs, that have added the most jobs pay median annual wages of at least $60,000.
Peterangelo said he was surprised that there was such strong growth in higher-wage jobs and that the growth was consistent across metro areas.
"It seems like some of the national conversations around the recovery has been, yes, the jobs have come back, but are they as high quality as they used to be?" Peterangelo said. "In Wisconsin, the ones that have grown faster are higher wages. That was definitely positive."
Employment in the 11 highest-paying occupational groups, which pay median wages of at least $42,000 annually, has grown by a total of 114,870 from 2008 to 2018, according to the report. In the 11 lowest-paying occupational groups, which pay median wages of less than $42,000, jobs have declined by 42,900.
Personal care and service occupations prove an exception to the trend. These jobs grew the most, increasing by 56.2% statewide, over the 10-year period but pay relatively low wages.
Employment has decreased the most in five occupational groups that pay median wages of under $36,000 per year. Employment in healthcare support occupations, like nursing assistants, have declined by about 20% since 2008 whereas higher-paying healthcare practitioner occupations have been among occupations that grew the most.
While the increase in higher-paying jobs is good news, the caveat is that these occupations typically require higher levels of education and training. This highlights a need to increase educational attainment across the state to meet future workforce demands, according to the report. 
In the Madison area, 44.8% of adults 25 and over have at least a bachelor's degree compared to 34.5% in Green Bay. 
"Spreading the benefits of the strengthening economy to other parts of the state likely will require increased college completion in those areas, which in turn may necessitate improved educational outcomes at the K-12 level," the report states.
Previous Wisconsin Policy Forum research has found that Wisconsin lags behind other states in attracting and retaining the most educated workers. Strategies to address attracting college graduates from other states should also be considered, according to the report.
"The growth in high-paying occupations in Wisconsin holds great promise if it can be sustained and distributed across multiple regions of the state," the report concludes. "But continuing to produce those jobs — and the skilled workers to fill them — will require investment, effort, and foresight by state leaders."
Share your opinion on this topic by sending a letter to the editor to tctvoice@madison.com. Include your full name, hometown and phone number. Your name and town will be published. The phone number is for verification purposes only. Please keep your letter to 250 words or less.
Get Government & Politics updates in your inbox!
Stay up-to-date on the latest in local and national government and political topics with our newsletter.