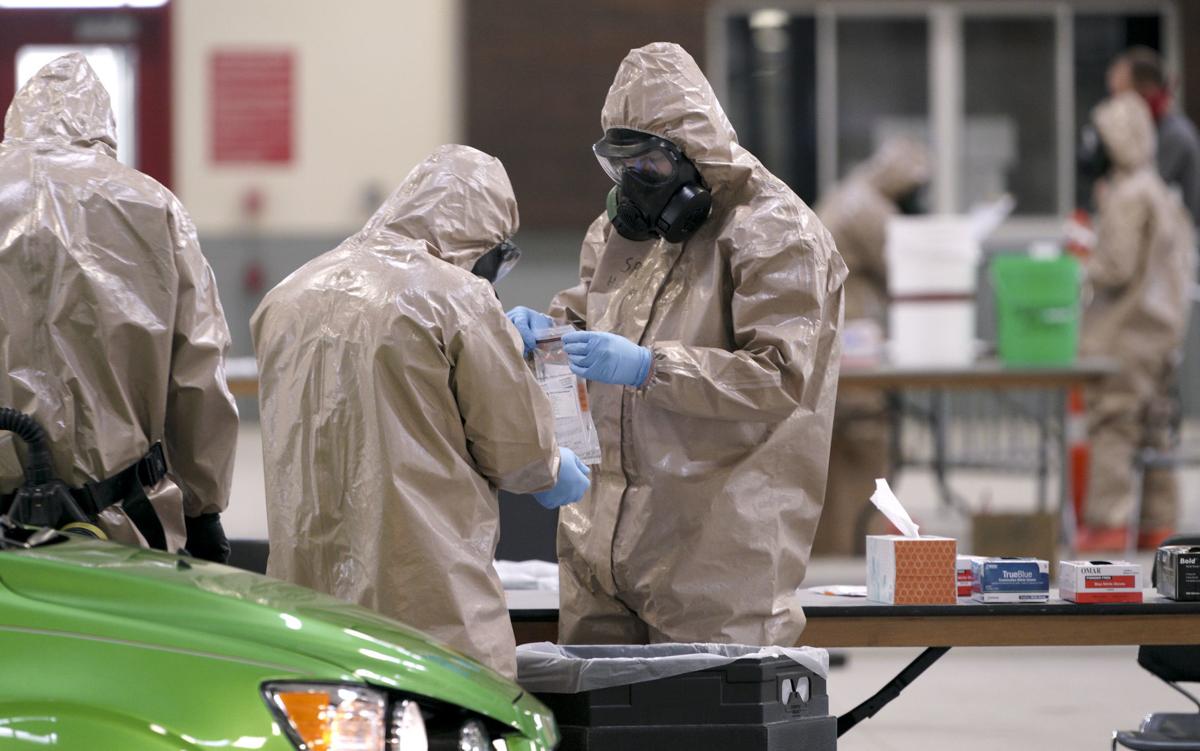 A surge in COVID-19 cases that has put Wisconsin near the top of the list for infection rates, along with an increasing death toll, has state officials pleading with residents to wear masks and practice social distancing as the looming flu season threatens to worsen the crisis.
"We're setting records now at a point that is the beginning of respiratory virus season," said Dr. Ryan Westergaard, the state's top infectious disease official. "The likelihood that this is going to get much worse before it gets better is a real one. And if we do nothing differently I'd say that it's a high likelihood that this is going to get much worse before it gets better."
Officials say the state is in full-blown crisis as COVID-19 cases explode in nearly every county in the state, and they're urging people to wear masks, stay at home when possible and avoid gatherings.
"I cannot stress this enough," said Gov. Tony Evers, "no party, no bar, no gathering is worth it."
The state reported another 2,367 cases of coronavirus infection on Tuesday, capping a three-week span that has seen the seven-day average grow from being measured in hundreds to thousands. It currently stands at 2,255, up from 696 a month ago. On Saturday, the state reported a record 2,817 cases.
The most recent spike has officials especially concerned because the rise in cases that accompanied the start of the fall college semester, driven by infected people between the ages of 18 and 24, is continuing despite a drop in cases among young adults. The increase is now being seen in every other age group, which are more likely to suffer serious health effects or death.
As the U.S. death count marches upward of 200,000, Wisconsin surged to 1,300 total deaths on Tuesday, with 17 new deaths, flirting with the record of 22 deaths on May 27.
"The rising cases, particularly as the increased transmission affects larger populations, is likely to result in an increased number of deaths," Westergaard said. "How soon and how high is really up to us."
Wisconsin, which in past months saw relatively low COVID-19 infection rates, now ranks third in the nation with 40 cases per 100,000 people, surpassed only by North Dakota, with 55, and South Dakota, with 46, according to data compiled by the Washington Post. Both of those states have enacted few measures to discourage the spread of the disease.
Evers, a Democrat, met the crisis with a "safer at home" order in March, which was struck down by the conservative state Supreme Court in April, a move that Evers said contributed to today's high infection rates.
"It created an opening up of our economy at a rate that was unparalleled in other states across the nation," said Gov. Tony Evers. "As a result of that we've been relying on the good will of the people for months and months."
But Wisconsinites are increasingly falling victim to what officials have dubbed "COVID fatigue."
Evers said politics was to blame, as "leadership at the top" has sent mixed signals as to the severity of the health crisis. Republican legislative leaders have consistently pushed back against stay-at-home orders and mask mandates, and Evers' authority to deal with the crisis has been hobbled by conservative judges.
"That sends a message that what we're trying to accomplish is bologna," Evers said.
Last week Evers extended a statewide mask order through November, which is being challenged by the conservative law firm Wisconsin Institute for Law and Liberty.
The geographical spread of the disease has also moved in a worrisome direction. As Dane and Milwaukee counties managed to tamp down a spike that emerged in September, the transmission rate began to climb in other areas, particularly in northeastern counties where hospitals are starting to experience the strain that officials have been trying to avoid since the beginning of the pandemic.
As of Tuesday, the state reported, 640 people are under hospital care for COVID-related sickness, 173 of them in intensive care and 353 of them on ventilators. Eighty-nine of the hospitalized patients are in the northeast, up from 28 at the beginning of the month. In the Fox Valley, where 34 people were under hospital care on Sept. 1, that number now stands at 110.
Westergaard said the concern isn't a lack of hospital rooms or ventilators in afflicted areas, but a shortage of health care workers as more are forced to quarantine after becoming infected or after coming in contact with others that have.
"We need to do everything we can to protect patients, but that sometimes involves keeping health care workers home when they're exposed," Westergaard said.
With some hospitals on the brink of overcapacity, the state has expanded Medicaid reimbursement to out-of-hospital settings and officials are considering opening an alternative care facility at the Wisconsin State Fair Park in West Allis. The facility was built by the Army Corps of Engineers in April to house COVID-19 patients in the event that the health care system became overwhelmed, but went unused as cases tapered off.
"We built that as the ultimate insurance policy," said Department of Health Services Secretary Andrea Palm. "In the worst case scenario, the scenario that we hope we never get to, but that we are closer to getting to than we ever have been."
The rapid geographical spread of the virus has also prompted changes in testing.
Palm said the state is establishing free testing sites in other parts of the state in addition to the community testing site at the Alliant Energy Center and two sites in Milwaukee, which are operated by Wisconsin National Guard personnel.
Because federal funding for the National Guard efforts expires at the end of the year, those sites will be operated by local staff in October. The Milwaukee Journal Sentinel on Monday reported that the change will mean fewer days and hours available for testing at the current sites.
The paper also reported that testing sites are being set up in each of state's seven geographical regions.
Sharpening the political lines that have divided the nation over pandemic policy is the planned stops by President Donald Trump Saturday to La Crosse and Green Bay. According to data compiled by the New York Times, La Crosse now ranks sixth in the nation among metro areas for the rate of infection, and Green Bay ranks sixth. (The Oshkosh-Neenah area ranks second.)
Especially concerning is the Republican president's insistence on staging events where mask mandates and social distancing rules are ignored, raising fears of "super-spreader" events.
Evers suggested that the Trump campaign cancel the events.
Short of that, he said the president could insist that people wear a mask.
"He can make that happen," Evers said. "He could wear one, too. Those are the two things he could do to make sure it doesn't become a super-spreader event."