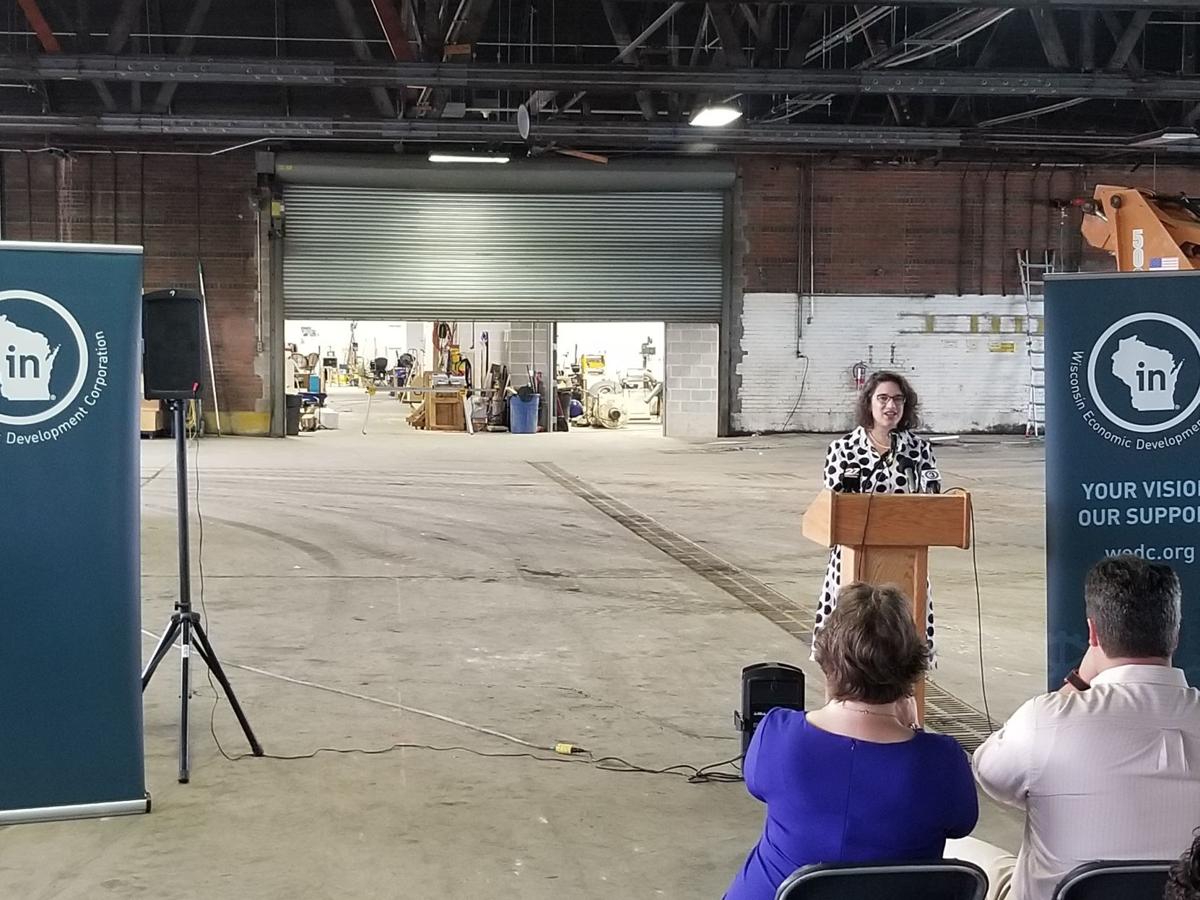 The Oscar Mayer site on Madison's north side is poised to become of hive of commercial activity, according to city and state officials with 700,000 square feet of office space and light industrial ready for tenants.
That's almost half of the 1.8 million total square feet of building space on the sprawling 72-acre property, which was vacated by Oscar Mayer in 2017 after nearly a century.
"We are very much just at the beginning of this story of Oscar Mayer's second chapter for this site," said Madison Mayor Satya Rhodes-Conway. "I'm very excited for the future."
Conway was speaking at a press conference Wednesday announcing a $250,000 grand from the Wisconsin Economic Development Corp. to help renovate a 1940s-era 58,000-square-foot former garage and machine shop into a home for commercial and retail operations. The money will support sewer and plumbing work, construction of entryways, masonry work, energy-efficient upgrades and asbestos removal.
The grant is just a drop in the bucket of the $18 million the developers plan to inject into the rebuild. The city was also awarded a $500,000 WEDC grant in 2018 to help update gas and electricity facilities to buildings on the site.
But the announcement provided an opportunity to update the public on progress at the site. 
"We've got so many assets in this area," said Rhodes-Conway. "There's the connection to transportation. I envision bus rapid transit right out here on Packers Avenue connecting to the rest of the city and to the airport. There are very beginning seeds of what I hope will be a neighborhood business district."
Office tenants at the nine-story former Oscar Mayer headquarters so far include Total Administrative Services Corp., or TASC, which leases 25,000 square feet, and AssuredLeads, an insurance company support startup that rents more than 10,000 square feet. TASC employs 93 people, according to company spokeswoman Melissa Gloudeman, about 60 of whom are on-site at any given time. AssuredLeads employs 23 people, according to the company's Linkedin profile. 
Industrial space adjacent to the garage is being leased by The Bodgery, a growing collective of tinkers, builders, crafters and techies formerly known as MadCity Makers, that hopes to establish itself as a community asset. The group is installing a wood shop in the former Oscar Mayer space used for the same purpose, a forge, a metal shop, machine facilities, a textile room, 3D printers and more. The collective, which has outgrown its space on Robertson Road on the city's southeast side, currently has about 160 members, provides open shop hours for the public and holds classes.
The developer for the property is 910 Mayer LLC, a partnership between Rabin Worldwide, an asset recovery firm out of Mill Valley, California, and Reich Brothers, and industrial real estate firm in White Plains, New York.
Ellis, senior vice president for real estate at Rabin, said the project will be a boon for the north side, where commercial and retail has long been in short supply.
"This side of town, and I don't understand why because I didn't grow up here, doesn't have all of the services built in the same way in other areas," he said. "And the folks who live around here end up having to travel further."
Ellis said the renovations over the past 18 months have entailed totally gutting the buildings and replacing sewer pipes, heating, air conditioning and electrical lines.
"Everything is new except for the concrete," he said.
Not all of the vast amount of building space is suitable for renovation, he said. But the developers are assessing the spaces as they go, concentrating on projects that make the most commercial sense.
"We've broken it down in pieces that we can understand and that we can present to the market," he said.
The uses for the garage currently under reconstruction are undetermined. State Rep. Melissa Sargent, a Democrat whose district includes the Oscar Mayer site and who has made marijuana legalization a central priority, offered her vision.
She said over the past year she's had visitors from Canada, California and Colorado — all of which have legalized marijuana — "who are really excited about the prospect of this being a hub for the cannabis industry in the state of Wisconsin."
Sargent's efforts for legal weed are not likely to pan out anytime soon, as Republicans who control the state Legislature are adamantly opposed to the idea, despite the fact that states surrounding Wisconsin are racing to cash in on the legal marijuana industry. 
"I know I have work to do in the Legislature to pass my bill that I've been talking about for many years," she said. "But hey, a girl's gotta dream."
Share your opinion on this topic by sending a letter to the editor to tctvoice@madison.com. Include your full name, hometown and phone number. Your name and town will be published. The phone number is for verification purposes only. Please keep your letter to 250 words or less.