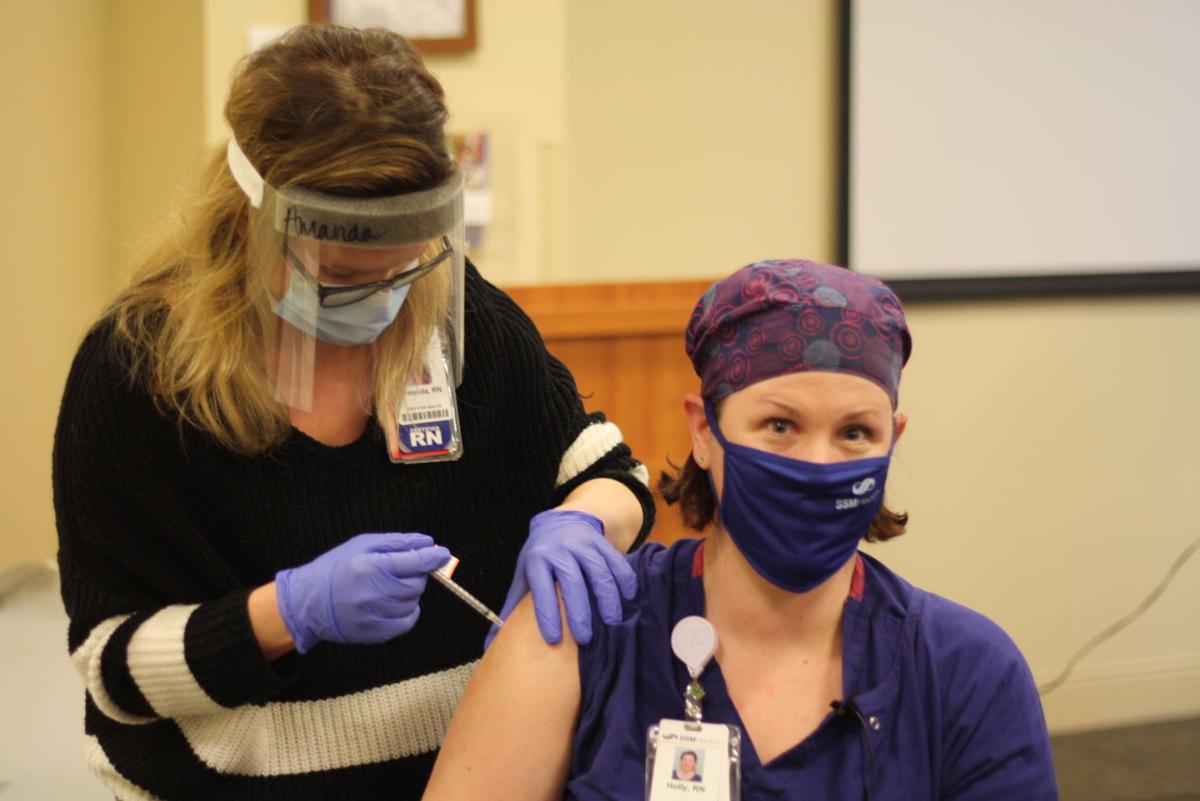 The first doses of a vaccine from drug maker Moderna rolled into Wisconsin on Monday, and health systems across the state were expected to start administering the drug to health care workers as early Monday afternoon.
The Moderna vaccine will add 100,000 doses to the state's vaccination effort as more shipments of Pfizer's vaccine roll in. Though supply of both vaccines is less than were originally expected.
Last week the state learned that because of confusion on the federal level, the government would be shipping only 35,100 doses of the Pfizer vaccine this week, while last week the state received 49,727 doses.
It will be several months before the vaccine is available to the general public. Because both vaccines require two doses, it will take 11.6 million doses to vaccinate Wisconsin's 5.8 million residents.
"We could have all the demand, and we could have the best system in the world," said Julie Willems Van Dijk, deputy secretary of the state Department of Health Services. "And if we're still only getting 35,000 doses (of Pfizer vaccine) a week, and we heard we're not going to get 100,000 doses of Moderna next week … that's not going to go very far."
In an unexpected development, last week it was discovered that some of the five-dose glass vials containing the Pfizer vaccine contained a sixth dose, boosting the number of people who could get vaccinated. 
The vaccine allotments are overseen by the Centers for Disease Control and Prevention, and health officials across the nation have complained that late notice of shipment numbers is hampering planning efforts. Though Willems Van Dijk said the state expects about 35,000 doses of the Pfizer drug "for the next few weeks," with new projections expected "sometime in January."
It was unclear how many doses of the Moderna vaccine will arrive next week.
"Sometime after the first of the year the federal government will revisit this and give us better estimates of how much Pfizer vaccine and how much Moderna vaccine we'll receive moving forward," she said.
In coming months, Willems Van Dijk said, the process for receiving, storing and administering the vaccines is expected to improve.
"I can assure you, you are very quickly going to start to see rising numbers of vaccination," she said.
The lower numbers complicate the state's plan to get more than 400,000 health care workers and about 57,000 skilled nursing home residents and staff vaccinated in the first phase of the vaccine rollout. After that will be essential workers, people with health problems that put them at risk for severe complications from COVID-19 infection and elderly people, though officials have said vaccinations of one group don't have to be complete before moving onto other groups.
As of Monday morning, 10,358 nurses, doctors, respiratory therapists and other front-line medial staff had received the vaccine from Pfizer, which was approved by the U.S. Food and Drug administration on Dec. 11.
Vaccinations started at SSM Health St. Mary's Hospital and University Hospital last week. SSM Health received its second shipment of the Pfizer vaccine on Monday. The company is vaccinating employees at St. Mary's Hospital and hospitals the company owns in Fond du Lac and Waupun.
SSM reported Monday that it's vaccinating between 500 and 600 employees a day and plans to open a vaccination site at its Monroe Clinic on Monday and other sites in coming days.
"We're hoping that by sending the vaccine out to more vaccination sites that more health care workers across the state will have access to it, so we can begin vaccinating health care workers not just in main urban centers but across the state at large," said Mo Kharbat, SSM Health vice president of pharmacy services.
UnityPoint-Meriter was the only Madison hospital that hadn't started vaccinating employees last week, but the hospital received a shipment of the Pfizer vaccine on Monday.
"We actually just got our first shipment today and will be giving our first vaccination within the next couple of hours," said spokeswoman Leah Huibregtse.
The Moderna vaccine, which gained emergency-use approval on Friday, was expected to arrive on Monday, Tuesday and Wednesday, more than doubling the amount of vaccine coming into the state.
Unlike the Pfizer vaccine, the Moderna version doesn't have to be stored at ultra-cold temperatures, enabling it to be shipped directly to vaccinators rather than to hubs that have special freezers.
The federal program to vaccinate nursing home residents and staff is expected to start next week with 29,000 doses of the Moderna vaccine that have been set aside. The government has contracted Walgreens and CVS to administer the vaccine on-site.
There have been concerns about side effects from the Pfizer vaccine, with the most extreme reactions being anaphylactic shock, an often life-threatening allergic reaction, which can be treated with a shot of epinephrine. So far, no such reactions have been reported in Wisconsin.
"They're finding that most people will wind up with a sore arm, some fatigue and headache, especially after the second shot, it's much more common than the first shot," said Thomas Haupt, a DHS research scientist and epidemiologist. "But we are really concerned mostly with severe reactions, the anaphylactic shock where you cannot breathe and you require medical attention very quickly."