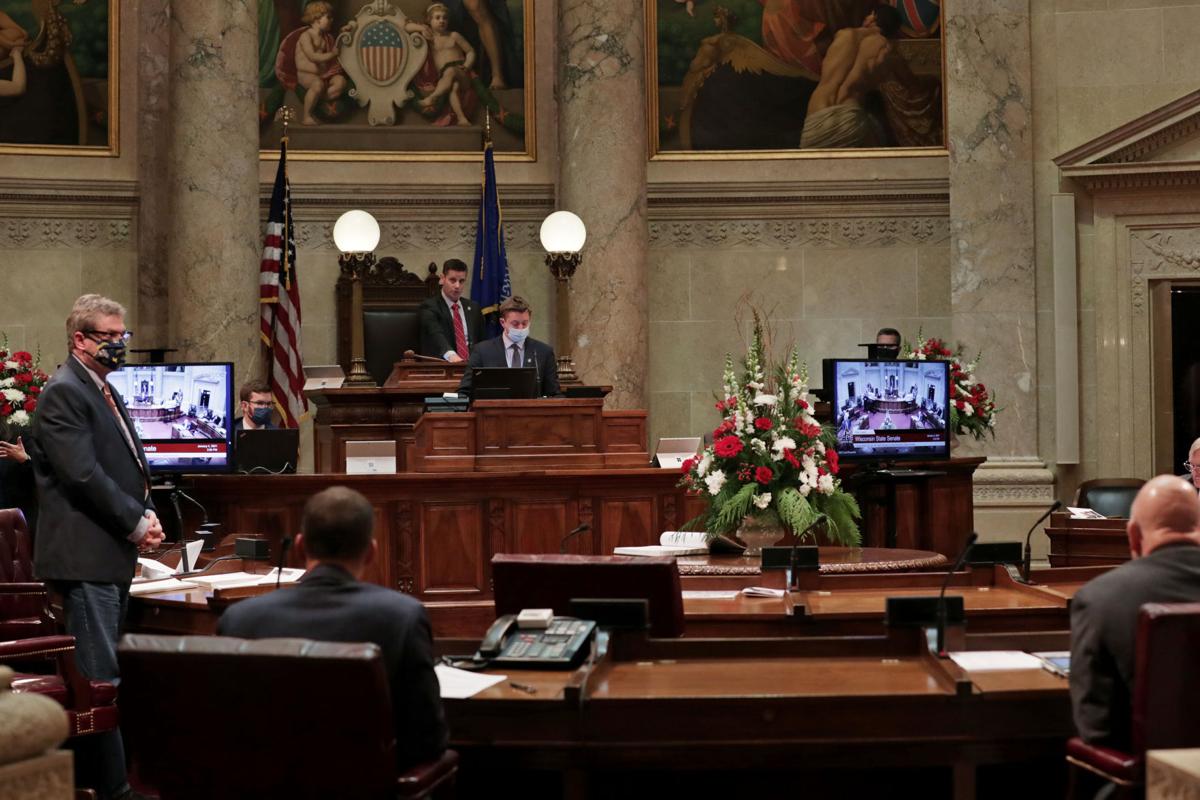 In the hours after Wisconsin lawmakers Friday afternoon passed the state's first bill to address COVID-19 since April, Gov. Tony Evers vetoed it.
The bill, which has ping-ponged between both chambers of the Legislature over the last month as lawmakers made changes to the plan, finally came to rest at Evers' desk — but the version that made it there was one the Democratic executive said Republicans "knew I wouldn't sign."
"Wisconsinites know a compromise when they see one, and this isn't it," Evers said in a statement.
But Assembly Speaker Robin Vos and Senate Majority Leader Devin LeMaieu slammed Evers' decision in a joint statement, countering that "it appears Governor Evers cares more about his own power than the people of Wisconsin."
In its current form, the bill would have prevented health officials from barring gatherings in places of worship, given the Legislature oversight of the distribution of federal funds that are allocated to Wisconsin related to combating COVID-19, not allowed employers and health officials to require vaccinations against the virus and provide liability protection for businesses and others tied to COVID-related claims. 
It would also have covered COVID vaccinations under the SeniorCare program for elderly individuals; allowed the Legislature's powerful budget panel to transfer up to $100 million in certain appropriations for COVID expenses; and broaden open enrollment options for students seeking in-person education, among a host of other things.
The most recent amendments to the bill came as Republicans sought to eliminate Evers' statewide mask mandate. After learning that doing so would jeopardize millions in federal food stamp funding for poor Wisconsinites, the Senate tweaked the bill to allow the governor to issue public health emergency declarations for the sole purpose of obtaining federal dollars. That language was further narrowed by the Assembly on Thursday.
While the Senate hadn't originally planned to convene again until later this month, leadership called an extraordinary session that allowed the chamber to hit the floor on Friday.
The sudden action comes in the days before the state's suspension of the one-week waiting period for unemployment benefits, waived in the first and only COVID relief measure the Legislature approved last spring, is set to expire on Sunday. That bill also allowed Wisconsin to capture millions in federal dollars to buoy its welfare program, among other things.
Republicans sought to use the deadline to put pressure on Evers to sign the legislation.
"This is a true consensus bill and we expect a quick signature to preserve the enhanced federal UI benefits which will expire Sunday without this law change," said LeMahieu earlier this week. He had previously warned that Evers may veto the bill after the compromise version was amended by the Senate. 
Ahead of the floor session Friday, Wisconsin Democrats introduced new legislation that would instate a statewide mask mandate. The measure would be in effect until the end of the national emergency declaration tied to COVID-19.