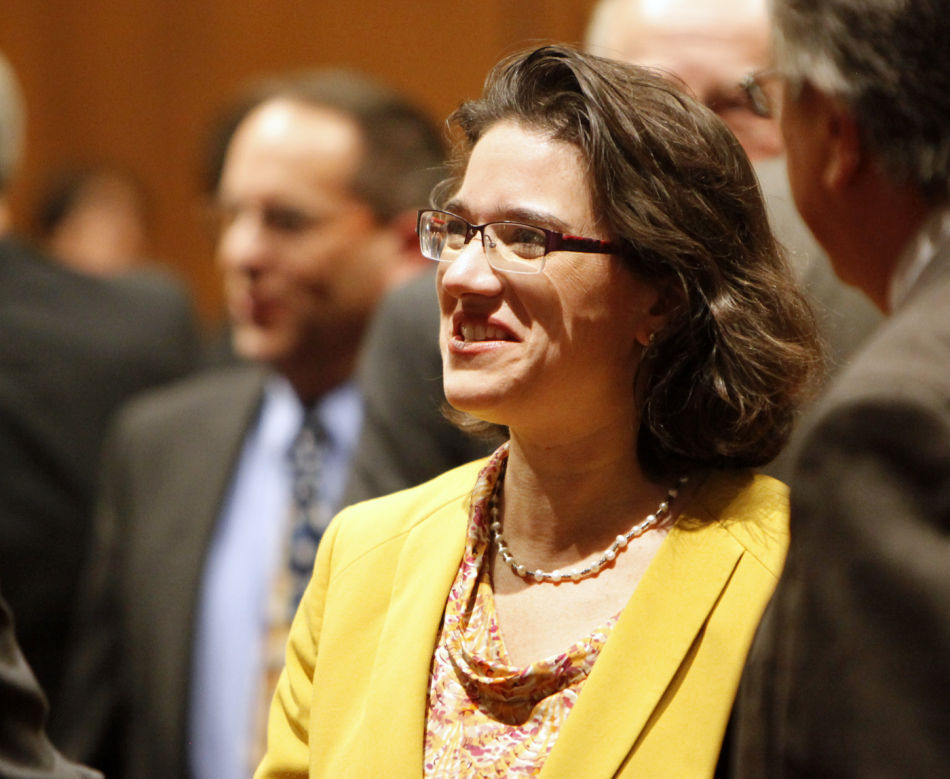 State-run buildings in Wisconsin, including schools, would be required to offer free feminine hygiene products under a bill being proposed by a Democratic lawmaker.
Rep. Melissa Sargent, D-Madison, likens tampons and sanitary napkins to other necessary hygiene products stocked in restrooms, like toilet paper and soap. 
Her bill would require restrooms in any building owned, leased or occupied by the state to dispense feminine hygiene products at no cost to those using the facilities. That would include public schools, independent charter schools and private schools participating in the state's voucher program. A fiscal estimate hasn't yet been completed, so there is currently no cost estimate available for the bill.
The logistics of implementation would be left up to the state Department of Administration, which would be charged with producing a plan.
"I don't see how this is different than basic hygiene products in a public bathroom," Sargent said, arguing that to her, it seems like common-sense legislation.
After introducing the bill for co-sponsorship last week Friday, a few lawmakers have signed on in support, Sargent said. But she's also received some negative feedback through social media, email and phone calls. Some comments have been particularly "childish and untethered," she said, adding that it has "overwhelmingly" been men who are troubled by the legislation.
She chalks their responses up to the fact that they've never "been caught in a situation where they've gotten their period" unexpectedly and needed to deal with it at work or school.
"Now you WANT the government in your vagina? Make up your mind," wrote another.
Sargent said she's seen similar proposals discussed in other states and other countries, but Wisconsin would be the first to implement such a statewide policy.
Still, she doesn't expect the bill to gain much traction in Wisconsin's Republican-controlled Legislature. It is her hope that some local governments might consider adopting proposals at the city or county levels, in the meantime.
Asked why her legislation would mandate the products be available for free — rather than, for instance, requiring restrooms to dispense the products for a small fee — Sargent responded, "We're not charging people for toilet paper and paper towels."
According to the national campaign Free the Tampons, which aims to make tampons and pads free in public buildings throughout the country, 86 percent of women in the U.S. have gotten their period in public without the necessary supplies. That organization frames the issue as one of "restroom inequality" and argues that "every bathroom outside the home" should have these supplies "freely accessible."
An amendment has also been proposed to the Dane County budget that would require county facilities to dispense those products for no charge. Dane County supervisor Heidi Wegleitner said she was inspired in part by the effort in New York.
"Access to menstrual products is a big issue, especially for low-income, homeless women," Wegleitner said.
Wegleitner's proposal would be implemented as a pilot project in eight county buildings, selected based on their accessibility for low-income women in the area. 
"The first time we do something like introduce a piece of legislation, quite often there's a lot more questions associated with it," Sargent said. "That means people are thinking about something that they haven't thought about before — and I see that as a win."
Cap Times reporter Bryna Godar contributed to this report.
Share your opinion on this topic by sending a letter to the editor to tctvoice@madison.com. Include your full name, hometown and phone number. Your name and town will be published. The phone number is for verification purposes only. Please keep your letter to 250 words or less.