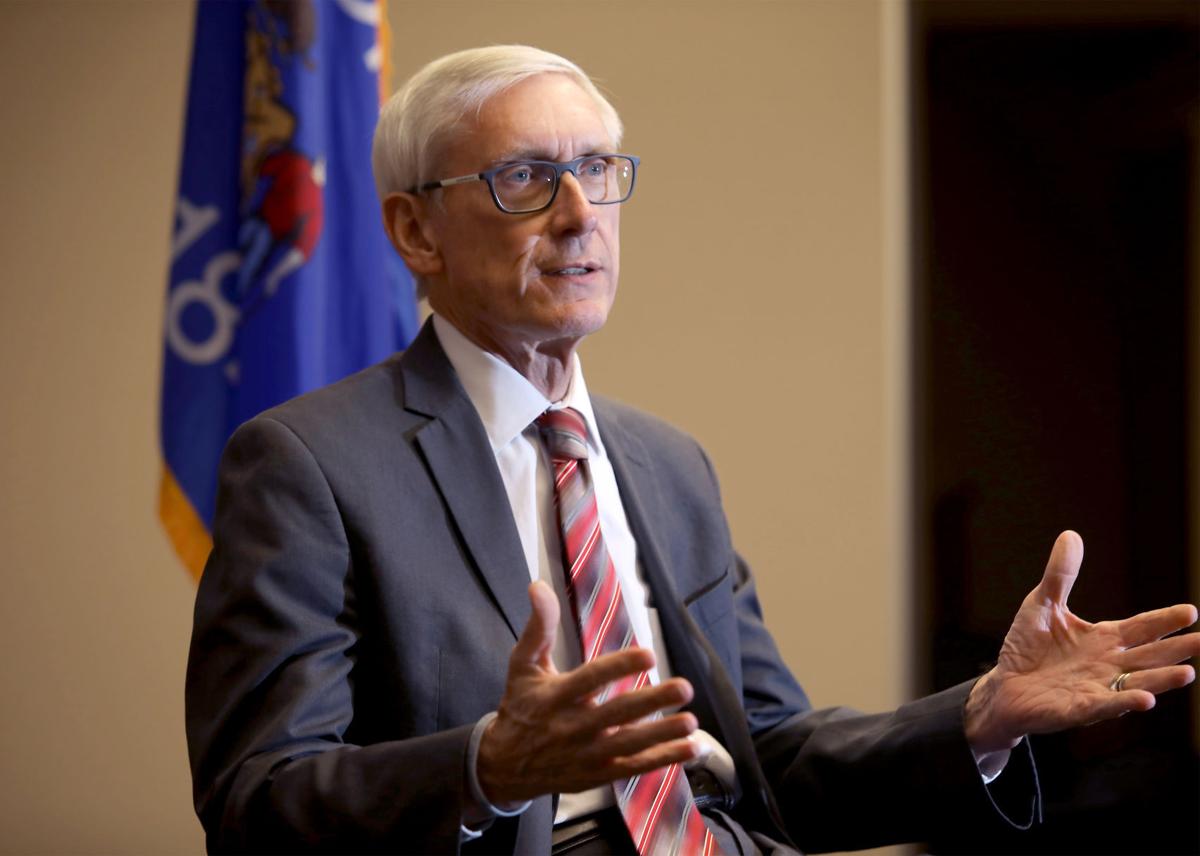 Gov. Tony Evers more than doubled the total number of bills he has signed into law in the last week, approving nearly three dozen measures in the last four days. 
But he also vetoed another four bills, bringing his tally up to 11 pieces of legislation that he's rejected in their entirety. 
Evers' actions come as lobbyists and Capitol observers say they're adjusting to a new reality in the building as legislation moves slower and fewer items are getting passed. 
At the start of last week, Evers had only signed 21 bills into law, which WisPolitics.com reported was the fewest at that point in a session since 2001, when 18 were codified. But by Friday, that number had risen to 55. 
Additional bills Evers signed let pharmacists administer vaccines, allow riders to operate electric bikes on the state's bike paths and trails, create a new five-year minimum sentence for a drunken driving homicide, require commercial drivers be trained to combat human trafficking, and let those with disabilities who aren't able to state their name and address present an ID card to vote.  
While Evers did sign off on a bipartisan measure making it a felony to trespass or damage oil and gas pipelines, he warned the Legislature should "engage in meaningful dialogue and consultation with Wisconsin's Tribal Nations before developing and advancing policies" that impact them. 
Meanwhile, Evers took his veto pen to four separate bills in the last week, which he rejected in their entirety. 
One bill would have lessened the number of training hours nursing aids need to complete, a proposal Evers wrote in his veto message he rejects because "there are better ways to address the shortage of nurse aids than reducing the quality of training programs."  
Sen. Rob Cowles, R-Green Bay, who co-authored the legislation, said in a statement the bill "is needed more than ever to address the CNA shortage; especially in our rural and northern communities."
Another veto — on a bipartisan bill to set parameters on the naming of memorial highways and bridges — came the same day Evers signed legislation to name part of a south-central Wisconsin highway after Sergeant Daniel Busch, who fought and died defending the crew of a downed helicopter in Somalia in 1993. 
Evers, in his veto message, argued that setting naming standards would set an "unconstitutional limit" on future lawmakers. He also said he opposed "limiting the ability to commemorate those who have made significant contributions to or sacrifices for the people of Wisconsin."
But Assembly Speaker Robin Vos, R-Rochester, slammed Evers' action and argued in a statement that the legislation sought "to preserve the integrity of the tradition of honoring worthy individuals in our state."
Evers' third veto is of a bill that would have added the names of students' parents to school directories, information that's currently confidential. In his veto message, Evers called it a "mandate" and wrote it would "negatively impact" parents' privacy. 
Still, Rep. Mark Born, R-Beaver Dam, who co-authored the legislation, wrote on Twitter the bill sought to give school boards the option to include the information in their directories, rather than require its inclusion. 
The final bill would have allowed sex offenders to live within 1,500 feet of schools, youth centers, places of worship and more to give certain areas of the state more flexibility in placing those individuals. Former Gov. Scott Walker partially vetoed similar provisions out of a 2018 bill he signed into law.
Evers in his veto message Friday wrote he opposed weakening the protections in current law, adding that giving kids a safe place "to grow, learn and play is one of the most vital responsibilities of our society."  
The latest actions came after the state Assembly sent all 28 bills that were enrolled in the chamber to Evers' desk, while the Senate passed along the 24 bills that were enrolled there on Tuesday. Legislation is periodically sent to the governor on pre-designated dates, though leaders in both chambers can choose to move up the time frame, or the governor can call for bills to be sent to him. The next closest date for bills to be sent to Evers is Dec. 5.  
Share your opinion on this topic by sending a letter to the editor to tctvoice@madison.com. Include your full name, hometown and phone number. Your name and town will be published. The phone number is for verification purposes only. Please keep your letter to 250 words or less.