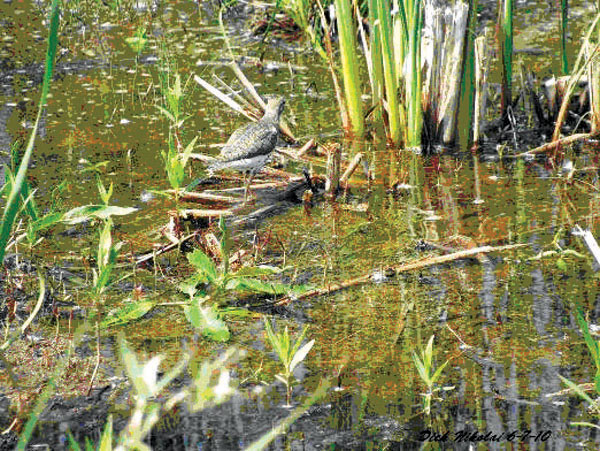 Environmental advocates clashed with developers and lawmakers on Tuesday over a bill that would scale back regulations for development on Wisconsin bodies of water.
Authors of the proposal say they seek to clear up laws that lead to uncertainty for homeowners and builders in regulatory and permitting disputes, but opponents are concerned it poses dangers to the environment.
"This bill seeks to rebalance the scales between property owners and government, putting the power back in the hands of the hardworking taxpayer," said bill author Rep. Adam Jarchow, R-Balsam Lake, during a public hearing.
Jarchow said opposition to the bill from conservation groups is fueled by emotion rather than common sense. Much of the criticism amounts to hyperbole, he said.
Jarchow said he believes "we can have both" when it comes to preserving the environment and encouraging economiv development.
"We can have clean, pristine lakes and rivers and vibrant wetlands while also promoting economic growth and job creation," Jarchow said.
Parties on both sides of the argument acknowledged the bill, introduced by Jarchow and Sen. Frank Lasee, R-De Pere, is long and complex. It includes some changes Jarchow classified as "technical fixes," but also introduces some new policies.
"For a lot of people this looks like a special interest Christmas tree," said Rep. Cory Mason, D-Racine.
Under current law, the state Department of Natural Resources' board can designate certain bodies of water as areas of special natural resource interest. Construction projects in those areas require permits. The bill would limit the kinds of water bodies to which that designation can be given, and those designations would be approved by the Legislature's Joint Finance Committee rather than the DNR board.
The bill also places limits on what the DNR can require when granting permits for activities conducted in or near navigable waterways, and exempts some activities — such as dredging of an artificial body of water that doesn't connect to a navigable waterway — from the permitting requirements.
It also makes changes to regulations involving piers, boathouses, boat shelters, seawalls and riprap. Projects emitting discharge from a roadside ditch or stormwater retention basin would be exempt from permitting requirements under the proposal.
Under the bill, a waterfront property owner would be allowed to dredge 30 cubic yards of sediment per year from shallows in front of their properties. That is, as several opponents pointed out, enough to fill three dump trucks.
Representatives from Wisconsin Trout Unlimited, Wisconsin Ducks Unlimited, Clean Wisconsin and the Wisconsin League of Conservation Voters voiced concerns with the bill's dredging provisions.
Jennifer Giegerich, legislative director for WLCV, said there may be some provisions in the bill that, with discussion, legislators and environmental groups could reach common ground on. But she said they would not be able to agree to the provisions allowing owners to build on lakebed, changing rules for filling in wetlands and expanding dredging abilities. 
Rep. Scott Allen, R-Waukesha, said real estate developers shouldn't be seen as the "bad guys" in the debate, arguing that most developers want to act responsibly.
Tom Larson, a lobbyist for the Wisconsin Realtors Association, said the bill is the product of a years-long discussion. Its goal, he said, is to clarify existing law, codify recent court decisions and streamline the permitting process.
Representatives from the state Department of Natural Resources and U.S. Army Corps of Engineers raised concerns. Neither agency came out against the proposal, but both said it leaves several questions unanswered as to its potential impact.
Share your opinion on this topic by sending a letter to the editor to tctvoice@madison.com. Include your full name, hometown and phone number. Your name and town will be published. The phone number is for verification purposes only. Please keep your letter to 250 words or less.