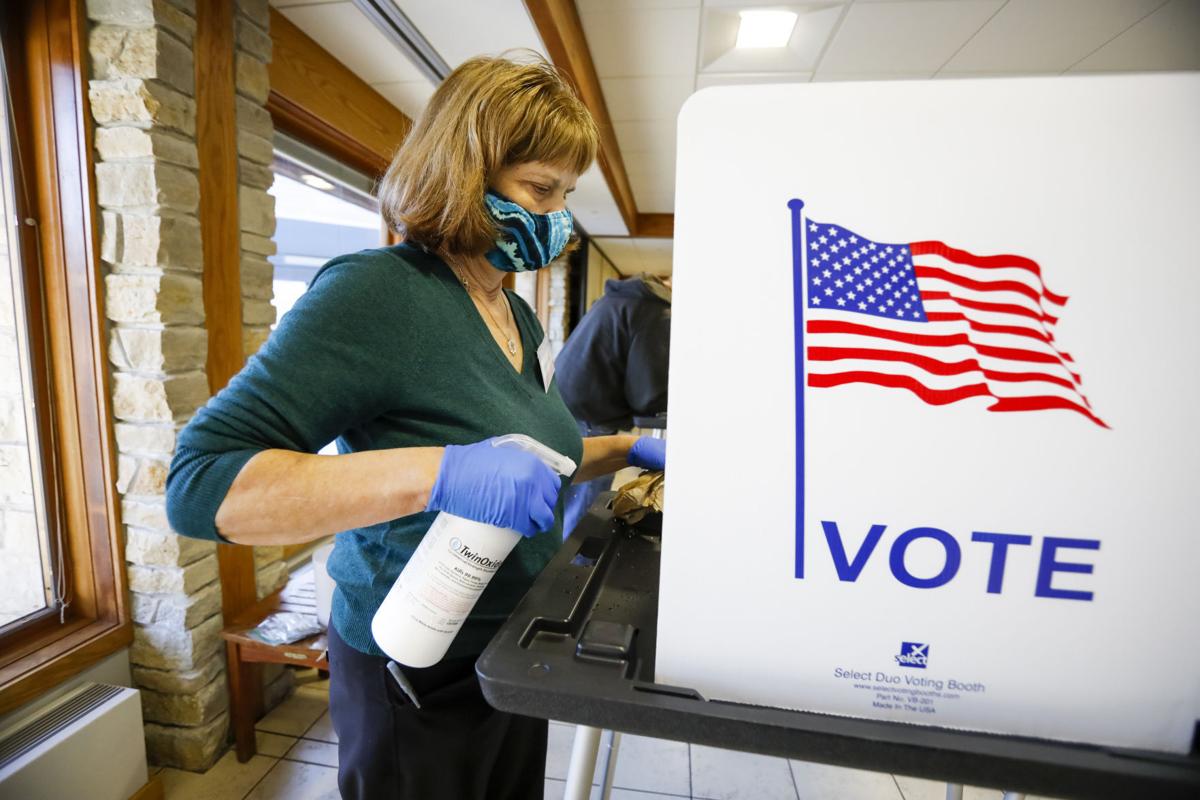 The 2020 election may be over, but the process of hashing out the voting practices that fell under scrutiny during last year's pandemic era contests is still underway.
Fueled by new data from the Wisconsin Elections Commission recapping the November presidential election, partisan members of the panel on Wednesday debated topics surrounding special voting deputies and the use of the indefinitely confined designation, as well as the utility of a list that seeks to identify individuals who may have moved in Wisconsin and thus need to re-register to cast ballots.
Commissioners on both sides of the aisle expressed hope the Republican-controlled Legislature would consider specific law changes to address practices thrown into the spotlight by the COVID-19 crisis, including the ability for special voting deputies, who aid nursing home residents in casting ballots, to perform their roles.
Nursing homes haven't allowed the deputies to enter their facilities because of the coronavirus, leading the commission to issue guidance that allows clerks to mail absentee ballots to those facilities rather than sending someone to the sites in-person.
Republican commissioner Marge Bostelmann noted that while some laws "worked okay" pre-pandemic, the commission now needs to encourage lawmakers to address some issues that have since emerged.
"We need to look forward now and we need to address things that are the concerns that have come up because of the pandemic, because of people being at home, because of nursing homes that won't allow people to come in," she said. "These are all thing we've never had to deal with before and we now have had to deal with it."
Democratic commissioner Julie Glancey echoed the sentiment, but cautioned the Legislature against rewriting "everything that has been working for years simply because the pandemic threw a wrench into how things normally operate."
"I would like to see the legislators focus on what happens if we have another issue like this, but not look at throwing out everything that has worked for years and years and starting over," she said.
WEC's analysis, though, showed that nearly 80% of the 216,490 voters who returned ballots while claiming that designation either have a photo ID on file or presented one when voting in an election dating back to 2016.
The figures in part refute the narrative Trump sought to perpetuate in the wake of the election that voters were claiming that designation simply to get around the state's voter ID laws. The claim was part of a litany of baseless fraud allegations Trump made to undermine the results in this key swing state, which President Joe Biden won by fewer than 21,000 votes.
In all, 11% of absentee ballots were cast by indefinitely confined voters in November, versus 14% in April. Those figures are up from the November 2016 presidential election, when just 6.9% of returned absentee ballots were cast by individuals claiming to be indefinitely confined.
Movers list
The number of Wisconsinites who were previously labeled as voters that had potentially moved and may need to re-register to cast ballots declined significantly ahead of the November election.
In all, WEC has been able to shrink the list, which originally identified some 232,000 voters, by more than two-thirds. None of the remaining 71,578 individuals on it participated in the presidential contest.
The broader voter purge issue was the foundation for much misinformation, including from Trump himself. In early December, he falsely identified those individuals as "illegal voters." Anyone on the list is able to re-register prior to Election Day or in person at the polls if they had moved, and the WEC data shows that is what largely happened.
Chair Ann Jacobs, a Democrat, called assertions that those individuals improperly cast ballots "a complete and total fabrication," adding: "It is a lie. It is not true."
The debate over the topic dates back to fall 2019, when commissioners sent mailers to the around 230,000 individuals who were identified as having potentially moved. Rather than automatically purging them from the voter list if they didn't respond to the mailing within a month, the commission agreed to keep them on an active list until after the April 2021 election. 
WEC's report showed some 17,000 individuals, or 7.2% of those identified in the original movers list, had not moved. Another 58% registered at a new address, while 3.6% were deactivated and 30.8% remain on the list.
Going forward, the commission is likely to send mailers to voters identified as having potentially moved more than once every year-and-a-half. Members Wednesday discussed the possibility of quarterly mailings, and the commission is likely to finalize a plan for more frequent contacts at a future meeting.
Dane County voter stats
In the November presidential contest, Dane County topped Wisconsin in the percentage of ballots cast by mail, according to the new WEC figures.
The WEC data shows that 57.7% voted by mail in the county, nearly 17% higher than the statewide percentage of 40.8%. In all, Dane County voters cast 199,054 ballots by mail.
Rounding out the top five were Green-Bay area Brown County (49%), Milwaukee County (47.4%), Appleton-area Outagamie County (43.8%) and suburban Milwaukee's Waukesha County (42.8%).
Across the state, absentee voting either early in-person or by mail was down from the April 2020 election, Wisconsin's first pandemic-era contests. Meanwhile, voting at the polls on Election Day increased from just a quarter of ballots cast last spring to more than 40% in the fall, though WEC noted the figure "remains well below" the state's historical average of between 70% and 80%.
In all, nearly 3.3 million Wisconsinites voted in the November election, or 72% of the state's voting age population. That's an almost 10% increase over the 2016 presidential race.
Meanwhile, Dane lagged behind most of the other counties in the state in the percent of absentee ballot requestors who claimed to be indefinitely confined. Dane County's 71st ranking means it logged 9.8% of absentee ballot asks, or 26,674 requests, compared to the 12.6% statewide. Dane only surpassed north-central Taylor County, where 9.7% of absentee ballot requestors claimed indefinitely confined status.