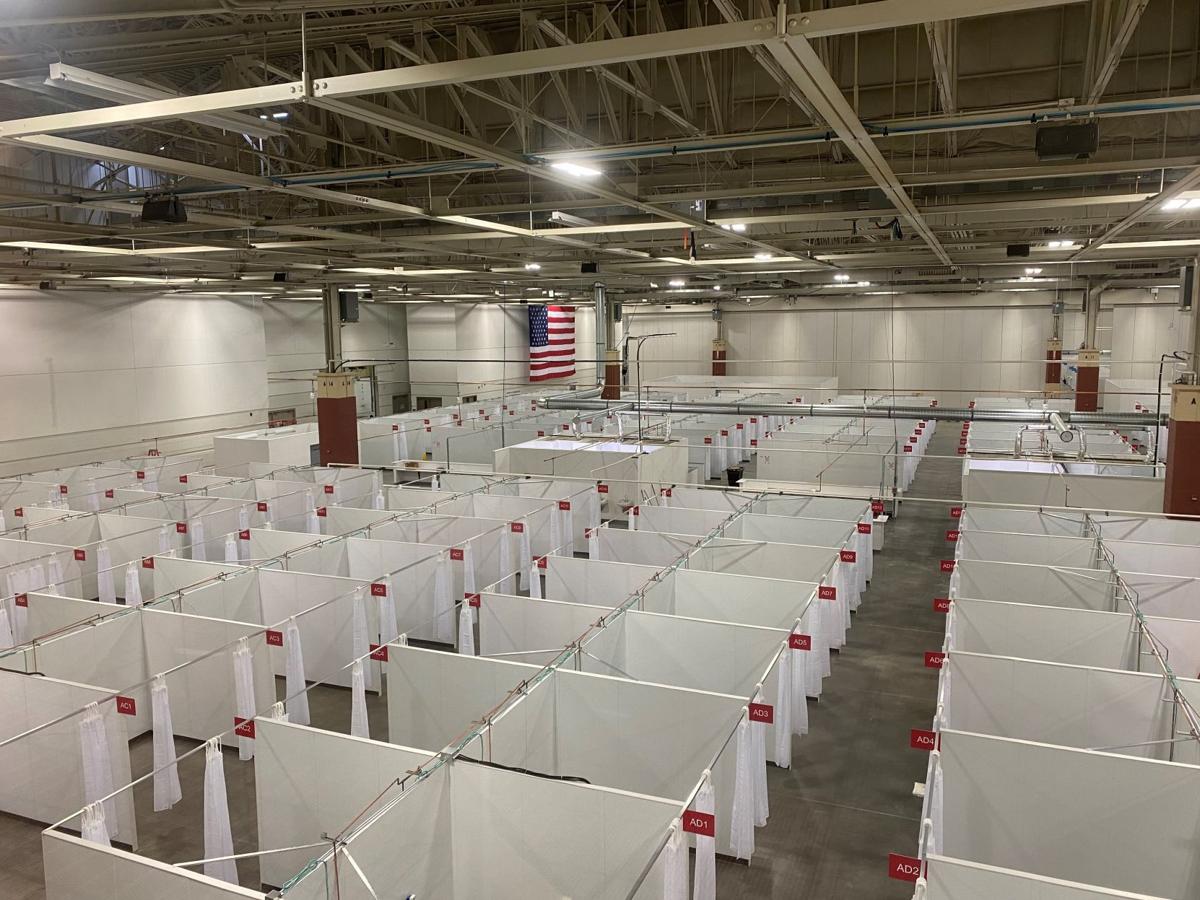 Wisconsin's seven-day average for new COVID-19 cases has now surpassed that of New York City at the height of the Big Apple's dramatic spring outbreak, and the surge here continues to accelerate at an alarming rate.
Just six days ago, the number of new cases for the first time surpassed 6,000. On Thursday, the state recorded 7,497 news cases, a new record, and the seven-day average crept to 6,209, well above the average of 5,292 at the height of New York's crisis in April.
"Here in Wisconsin, COVID-19 is that bad now, and worse," Julie Willems Van Dijk, deputy secretary of the state Department of Health Services, said at a press briefing on Thursday.
"Wisconsin's daily average is not only that much higher, but it's higher and our population is smaller by 2.5 million people," she said.
The Wisconsin surge is so bad that Department of Health Services this week created a new "critically high" category to mark counties that have passed a threshold of 1,000 cases per 100,000 people — a step up from the previously highest category of "very high," designated to counties that had at least 350 cases per 100,000. 
Sixty-five counties have been placed in the new category, while the remaining seven are at the "very high" level. 
Since Sept. 12, when the state began to see the effects of the fall outbreak, the daily average has risen more than fivefold. The daily average for deaths has increased by more than seven times. With the 56 reported on Thursday, deaths now average 46 a day.
Wisconsin remains at the top of the list of states for the rate of virus transmission, even as the nation as a whole is gripped by a devastating second wave. Hospitals are brimming with COVID-19 patients, and health care providers are issuing warnings that the system will soon be too swamped to care for them and patients suffering non-COVID-19 medical emergencies.
But in Wisconsin, the mayhem is not as obvious as the highly publicized chaos at New York medical centers last spring.
"With so many people living in such close proximity, you could see the devastation the virus was creating in the city," Van Dijk said. "The residents of our state are more spread out, so it's easier to miss the crisis. But this virus and the death it brings with it are everywhere in this state."
On Tuesday, Evers delivered a prime-time address announcing an order urging the public to stay at home whenever possible, and for businesses to take further precautions. He reiterated that message on Thursday.
"The science is clear, folks," he said. "If we don't treat this pandemic like the urgent crisis it is, Wisconsin could lose thousands more friends, family, loved ones and fellow Wisconsinites by the end of the year."
Evers' emergency order has no teeth. It's an advisory for people to take the virus seriously, avoid even small gatherings, practice social distancing and wear face coverings. It's also evidence of how limited his choices are as he tries to convince a population in which containment measures have become a bitterly partisan issue.
Conservative justices on the state Supreme Court overturned his spring safer-at-home order, an appeals court has blocked for now his capacity limits on bars, restaurants and other businesses, and his mask mandate, set to expire on Nov. 21, is under attack in court by Republican leaders.
Evers said he's likely to issue another order or take some similar measure.
"We're doing everything in our power to make sure that people understand the importance of this," he said.
Until recently, Republicans, who control the Legislature, have been nearly silent on the pandemic. Evers' calls to meet with them to devise statewide measures have gone unanswered. After Evers' statewide address on Tuesday, Assembly Speaker Robin Vos said he called Evers and left a message offering to meet, though no date has been announced.
Evers also said he plans to unveil a COVID-19 relief package soon, but offered no details.
If any of the pleas by Evers and health officials are changing Wisconsinites' behavior, it's not evident in the numbers. And unless people change their behaviors, the holiday season is projected to be a bleak one.
According to the University of Washington Institute for Health Metrics and Evaluation, current projections are for 5,059 coronavirus-related deaths in Wisconsin by the end of the year — about double the current number of 2,515. That number drops to 4,239 if the state adopts universal facial coverings, according to the projections, and increases to 6,959 if current measures are eased.
In Dane County, the rate of increase is not as dramatic as the statewide rate. Since Sept. 12, the seven-day average has roughly doubled, from about 200 to about 400. The county broke a case record on Nov. 6 with 528, and three days later reported 516 new cases. On Wednesday, there were 330 new cases. 
Also on Wednesday, there were 160 people hospitalized in the county because of COVID-19, a record. Forty-one were in intensive care.
Local hospitals have been beefing up their intensive care capacity by repurposing hospital space into COVID-19 care units, which are taking several patients from surrounding counites where hospitals aren't equipped to handle severe cases.
Hospitals in some areas of the state report they are already at capacity. According to the Wisconsin Hospital Association, there were a record 2,102 COVID-19 patients in the state, with 441 in intensive care. But staffing, rather than bed space, is the biggest concern as workers become sick or have to quarantine because of possible exposure.
"I believe we're getting to the point where hospitals are strained and are likely to run out of staff before they run out of physical space," said Dr. Ryan Westergaard, the state's top infectious disease official.
Some hospitals are running out of space and staff, he said. Some are diverting patients they can't provide adequate care for, and the state is on a trajectory for that situation to worsen.
"The concern is that as this becomes more prevalent and more widespread there may be instances where people who have needs for emergency medical care that won't have a place to go in time," he said. "So that's the real concern of an overwhelmed health care system."
On Thursday, a 530-bed alternate care facility, or field hospital, outside Milwaukee built to take overflow COVID-19 patients was caring for just 14 people. Use of the hospital has been hampered by criteria that allows for only recovering patients to be admitted, who often can be returned home.
Van Dijk said the state is looking for ways to make more use of the facility. 
"We're working on ways to enhance the alternate care facility … to further look at the admissions criteria around how we can further care for patients," Van Dijk said.