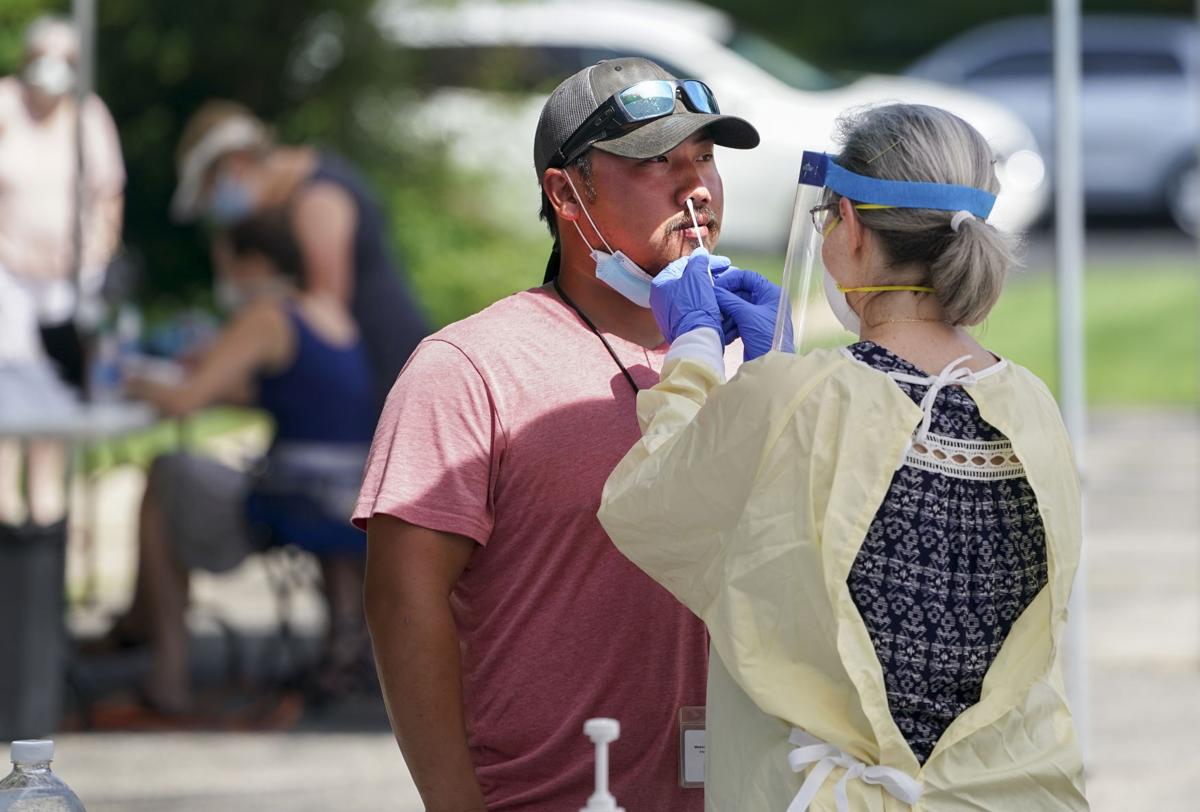 Wisconsin's COVID-19 cases continue to spike, with the seven-day average and hospitalizations hitting records.
The state Department of Health Services posted a record-shattering number of cases on Monday, 4,591, well over the 3,921 reported on Sunday. The state also reported 33 deaths, one off the record number reported a week ago. But officials said the numbers are skewed because of a backlog from a weekend upgrade of the state's Electronic Disease Surveillance System. The state COVID-19 dashboard left the tally from Saturday blank. Prior to the upgrade, the record, reported on Friday, was 3,861.
Andrea Palm, Department of Health Services secretary designee, said a more accurate assessment of the state's COVID-19 situation is the seven-day average, which hit a record 3,287 on Tuesday. A months ago it was 1,720. She said 62% of the total 178,482 cases since the pandemic began have been reported in the past two months.
"We're in a much worse place now than we were in March and April," Palm said Tuesday during a conference call with reporters. "So now is the time for all of us to double down and do our part."
Palm said hospitals continue to see the strain, although the Alternate Care Facility opened last week outside Milwaukee for overflow patients has not been utilized.
"The Alternate Care Facility really is our ultimate insurance policy," she said. "We want to make sure that it's there should our hospitals need it."
On Tuesday, the Wisconsin Hospital Association reported a record 1,192 COVID-19 hospitalizations, 315 of those in intensive care, also a record.
Dane County has seen a steady decline in cases since Thursday, when 256 cases were reported. On Monday there were 41 cases, though there was also a record 84 inpatients. 
Palm and Gov. Tony Evers renewed their pleas for Wisconsinites to mask up, wash hands and stay at home. As the situation worsens, their focus is increasingly on gatherings.
"We know that gatherings are exactly what we need to be avoiding at this time," Evers said. "Large and small, we know that they can turn one positive test into 10 positive tests in the blink of an eye."
But there are indications that among many, the warnings are falling on deaf ears.
A report last week from the White House Coronavirus Task Force showed that Wisconsin's "mobility rate," or the rate at which people move around on a daily basis, is at the same level as before the pandemic.
There's anecdotal evidence suggesting that many communities are ignoring the governor's mask order and limits on social gatherings, both of which have been challenged in court by conservatives. In a court win for Evers on Monday, his 25% limit on gatherings at bars, restaurants and other venues was reinstated after a judge last week suspended it temporarily.
But Evers complained that the tools available to boost public compliance with those orders are limited by conservatives on the state Supreme Court who in April struck down his stay-at-home order.
"As much as we don't want to admit it, use of mitigation strategies has become a political issue," Evers said. "And we're at the height of a political season, so it has played out in a very bad way."
Part of the problem, he said, is a president who doesn't take the problem seriously.
"He has been extremely inconsistent about his belief that this is a thing," Evers sad. "It is a thing, and unfortunately people who believe the president and everything he says, they will be discouraged to wear masks and to socially distance."
Evers has repeatedly called on state Republican leaders to meet with him to devise a plan to deal with the disease. He blamed their inaction — the Legislature hasn't met in 188 days — and the Supreme Court ruling for Wisconsin's dismal record on COVID-19, one of the worst in the nation.
On Monday, Wisconsin, with just under 1.8% of the U.S. population, contributed nearly 6% of newly reported cases.
While Wisconsin is among the hardest hit by the coronavirus, but the trend toward worsening numbers is widespread.
On Friday, the daily count of U.S. COVID-19 cases topped 70,000 for the first time. On Friday, nine states set single-day case records. According to the website covidextistrategy.org, a project by prominent public health experts, there are 31 states where the spread of the virus is "uncontrolled."
But Wisconsin, is a standout, with 17,266 cases in the last seven days, a number surpassed only by vastly the more populated states of Illinois, Texas, Florida and California. According to data compiled by the New York Times, six metro areas in Wisconsin are on the top 10 in the U.S. for rates of transmission, all of them within a widening scope of infection that has radiated outward from around Green Bay and the Fox Valley, where the virus gained an alarming foothold last month.
Michael Osterholm, director of the Center for Infectious Disease Research and Policy at the University of Minnesota, said the spread is generally due to a "perfect storm" of factors that include pandemic fatigue, a growing segment of the population that don't believe the pandemic is real or is hyped for political reasons, and a retreat indoors as winter-like weather sets in.
"People don't understand that weddings, funerals, family reunions, class reunions, city meetings, all of these things are now playing into the transmission of the virus," he said Monday on PBS News Hour. "And last but not least is bars and restaurants, which we're opening up more of, not closing them down. We see tremendous transmission in these areas."
Osterholm warned of potentially dramatic spikes during the upcoming holiday season unless we "reconsider, how do we do the holidays."
"Based on the number of experiences that I have personally been involved with where young adults take home the virus to Mom and Dad, Grandpa and Grandma, Uncle Bill and Aunt Jane for some kind of celebration, only to have them become infected and be dead three weeks later," he said. "We don't want that to happen at the holidays."
For those who believe President Donald Trump's promise that a vaccine is around the corner, he said we could still be waiting for wide distribution this time next year, and the nation's leaders need to tell people that. He said the country is in dire need of an "FDR moment."
"We need leadership that will sit down and tell us what is happening, where are we going, what's our plan to get there, not sugarcoat it, not over-scare people," he said. "Just tell them the truth, and right now, we just don't have that happening."
Get Government & Politics updates in your inbox!
Stay up-to-date on the latest in local and national government and political topics with our newsletter.